Bali is one of the most popular travel destinations in Asia – the island has a lot to offer! I spent more than two months backpacking Bali and explored many different regions of the island. Read more about the best places to visit and all the information you need for your next Bali Backpacking trip!
You can see some highlights of my time in Bali and Flores in this video:

Backpacking Bali – General Information
Safety in Bali
Travelling and backpacking in Bali are pretty safe. The Balinese are incredibly friendly and open and you feel immediately welcome as a tourist. Nevertheless, one must, of course, be careful and be prepared for the usual scams. Do not have your cell phone lose in your hand when you're riding on a scooter because it could be ripped out of your hand. Do not wear your handbag loosely around the shoulder, but rather in front and secure on the body. If you are stopped by the police on the scooter and you can not show a driver's license, negotiate and pay a small bribe (about 200,000 IDR). In general, Bali is very safe, but you should be prepared for these little scams and rip-offs while backpacking in Bali.
Transport in Bali
That's easy to summarize – nothing really works without a scooter. If you want to stay here longer and explore the island and all Bali attractions, there is no way around leasing a scooter. This is very cheap (60,000 IDR per day, 600,000 IDR per month) and no one is interested in a driver's license. Nevertheless, you should be very careful, especially if you have no experience with it. To wear a helmet is absolutely mandatory! Unfortunately, there are far too many tourists who are absolutely irresponsible on their scooter – drunk, barefoot, without a helmet. This behaviour is completely stupid and there are regularly serious accidents that involve tourists. Nevertheless, that should not scare you. Be careful, get used to scootering in a quieter area (not Denpasar or Kuta) for a few days, and you will not have any problems. I love scooters on Bali and it's part of the bali backpacking experience.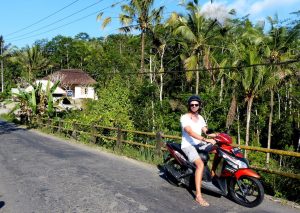 For other routes you can hire a driver otherwise – this should cost around 600,000 IDR per day. Highly recommended are the apps Go-Jek and Grab, where you can easily order (as in Uber) drivers both in the car and on the scooter for shorter distances. Road taxis are to be avoided since especially in the south of Bali there's a veritable taxi mafia with tourists getting ripped off with absolutely crazy prices.
Budget for Backpacking Bali
Bali Backpacking is relatively inexpensive, but still a bit more expensive than in other Southeast Asian countries. For about 200,000 IDR you already get a nice private room in a guest house, for a hostel bed you pay even less. If you stay longer – I paid 6 million IDR for my room in a nice guesthouse with a pool in a central location in Canggu – depending on your needs and the region, that will be cheaper, or more expensive, if you want to rent a villa directly. While local food is very cheap (20-30,000 IDR), you pay a little more (60-80,000 IDR) for Western food in a good restaurant, but still, everything is very affordable. Entrance fees for temples and waterfalls are roughly between 10,000-50,000 IDR. If you do not let yourself get ripped off by taxi drivers or the like, you can definitely travel and backpack around Bali very cheap and easy.
Food in Bali
The food in Bali is awesome. The Indonesian cuisine is not very varied (Fried Rice / Noodles from morning to evening), however, there are many great and beautiful cafés and restaurants with fresh, healthy food from all over the world. Especially in the tourist areas in the south, in Canggu and in Ubud, food is healthy, good and looks perfect on Instagram!
Party in Bali
The party hot spot in Bali is probably Kuta, flooded with party-loving Australians. If you want to go a little more expensive and chic, the clubs and bars in Seminyak, north of Kuta, are ideal. Canggu has no clubs, but some surf bars and beach parties to offer. The other parts of the island, also Ubud, are rather quiet and less suitable to go wild.
Health when backpacking Bali
Bali is a tropical country, and the biggest threat here is of course mosquitoes. There is no malaria risk here, but dengue fever can be transmitted. Only a good mosquito spray helps – especially at sunset. The medical care in Bali is fortunately very good and there are some western doctors and hospitals with a high standard for tourists. There are also pharmacies on every corner, and people all speak good English. Also, it may be that the well-known "Bali Belly" hits and you have stomach problems. That's annoying, but not dangerous. Just go to the nearest pharmacy and get some medicines. Tap water is okay for brushing your teeth, but should not be drunk. I ate salad and fruit here almost every day and never had any problems.
ATMs / Money in Bali
ATMs are almost everywhere – but here I advise caution, since at the ATMs in Canggu, Seminyak, etc. sometimes copiers were attached to read your card data. I therefore recommend using ATMs only in closed buildings (such as the Canggu Club) or in banks.
Visa for Bali
If you stay in Indonesia for less than a month, you will receive a free passport stamp on arrival at the airport (at least many nations including Germany). If you stay longer than 30 days, there are two options. Either you pay at the airport for a visa on arrival and have it extended by an agency for another 30 days, or you make a "visa run" and leave the country for a day – here you can do a short trip to Singapore, Kuala Lumpur or Timor-Leste.
The best places you cannot miss when backpacking Bali!
Although Bali is a relatively small and accessible island, there is a lot to see and to discover. But beware: I feel like many backpackers are rather disappointed by Bali. And not without reason, because many places and attractions in Bali are now very crowded and touristy. Nevertheless, the island has much to offer and as soon as you leave the tourist centers you will have a great trip. Here I tell you about the best attractions and destinations you have to visit when backpacking around Bali. If you have only 10 days, this Bali itinerary might be helpful for you.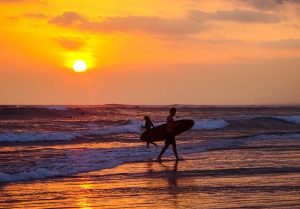 Backpacking in Ubud, Bali
Let's start directly with Bali's most popular tourist destination and the spiritual center of the island – Ubud. I visited Ubud for the first time four years ago and fell in love with the place. The rice fields, the temples, the good and healthy food. I enjoyed Ubud and spent days riding the scooter around the beautiful area. Now I came back for a few days this year. Unfortunately, this time I remember the negative things more. The traffic, the many tourists, the busy street vendors and tuk tuk drivers. Ubud's tourist attractions are the highlight in Bali for many backpackers and you should definitely visit Ubud. Nevertheless, I would not necessarily settle here for a long time (and rather go to Canggu).
Nevertheless, you should spend at least 2-3 days in Ubud. And you should not miss these Bali attractions when backpacking Ubud.
The Tegalalang rice terraces
These rice terraces just outside of Ubud are world famous and arguably one of Bali's most recognizable attractions. The terraces are located about 20-30 minutes away from Ubud and are easily accessible by scooter.
Here is also true again what is generally true for Bali – the scooter is the best means of transport. Without a scooter, you cannot really move around and you're dependent on strenuous tours or fraudulent Tuk Tuk driver. Although the traffic in Ubud is a bit exhausting, once you leave the city and drive around Ubud's nature, scooter driving is incredibly fun.
The rice terraces in Ubud are of course a tourist magnet and to see these deserted, you must be here for sunrise. The terraces are located directly on the main street and you already have a great view from above. Now you have to fight yourself through the souvenir markets and cafés to slowly descend and walk on the narrow paths through the rice fields. Here you are also regularly addressed by locals who want to sell you souvenirs or offer you to pose together for a photo (and in return, of course, ask for a tip). Also, as you walk through the rice terraces, you will pass several field checkpoints where you will be asked for a tip. However, the term tip is probably misunderstood here, as the locals literally insisted that you leave a donation. How much you give is up to you, you should have enough small change. In the meantime, swings have been set up on every corner, where you can fly over the rice terraces of Ubud for a few Euros for the perfect Instagram photo.
Even though the Tegalalang rice terraces in Ubud are very touristy and crowded, the nature is very unique and you should visit them on your backpacking Bali tour.
Goa Gajah – the Elephant Cave
Just outside of Ubud and about 15 minutes away by scooter you will find the elephant cave Goa Gajah. This temple complex is well worth a visit and is beautifully situated in nature.
The parking lot is full of souvenir markets and the local ladies are doing everything to convince you that you're not allowed to enter the temple when you wear shorts and that you need to buy a sarong from them. They are right that you need a sarong in the temple. However, you can borrow one at the entrance for free! So do not fall for this rip-off.
Now you can explore Goa Gajah. You can enter the cave yourself, but there is not much to see in it. Just off the cave, there is another temple in the green and it is quite nice to walk through the nature.
The Monkey Forest in Ubud
The Monkey Forest in Ubud is also a well-known attraction in Ubud. This park is full of monkeys! But beware, the monkeys are very cute, but can also be aggressive quickly. Pay attention especially to your valuables and jewelry such as sunglasses. Also, you should not have food and especially no fruit in your pockets. Before my eyes, a little girl was attacked by a monkey because she had thrown an apple at him.
Some years ago you could buy bananas on every corner and feed the monkeys and place them on your own head or back for a photo. However, this is not really done anymore. In general, you should note that although the monkeys are entertaining to look at, they are still wild animals. If a monkey actually bites or scrapes you, you should immediately go to the nearest hospital to take the necessary precautions against a rabies disease.
The Campuhan Ridge Walk
This little hike directly in Ubud takes you out into nature and is a quiet and nice change from the heavy traffic of Ubud. That's why the trail is considered one of Bali's most popular Ubud attractions. The start of the hike can be easily reached on foot or by scooter in the city center. The paved trail takes you over a small hill out of the city, past nice cafés, guest houses and yoga studios. After about 20-30 minutes you are in the middle of the rice fields. There are also some cafés with great views. If you like nature and do not necessarily want to explore the surrounding area of Ubud by scooter yourself, the Campuhan Ridge Walk is definitely worth the hike.
Pura Saraswati Temple
This Hindu temple is located in Ubud and is beautiful to see thanks to the ponds full of roses and the symmetrical structure. The temple is just off Ubud's main street and you should not miss this Ubud landmark when backpacking Bali.
Pura Tirta Empul Temple / Water temple Ubud
The Pura Tirta Empul Temple, also called the "Water Temple", is located just outside of Ubud and is a Bali landmark that you should definitely visit. Although there are many temples in Bali and especially in Ubud, this one is unique. At the entrance you have to borrow a sarong again, then you can enter the area.
The temple consists of several pools of water that are considered sacred to the Balinese and countless locals wash themselves in the sacred springs. Tourists are also allowed to take a bath. The water temple is different from most other temples in Ubud and well worth a visit.
Yoga in Ubud
Although not necessarily a tourist attraction in Ubud, but a must-do, is probably yoga. Yoga is part of the spiritual life in Ubud (and generally in Bali) and there are many yoga studios that also offer courses for beginners. Even if you have never done yoga at home, you should at least attend one yoga class, as there is no better place in the world for yoga than Bali. Yoga is not expensive and it is incredibly relaxing and beautiful as many yoga studios in Ubud are built directly into the rice fields with open spaces and great views. Time to relax and recover from our backpacking trip in Bali!
Tegenungan Waterfall
This waterfall is located just south of Ubud and near the Elephant Cave. Conveniently located between Ubud and Denpasar, the waterfall is ideal for day trips from every corner of Bali – and that's the bad thing about it. The waterfall is completely overrun by tourists and I personally would not recommend a visit here. I rather recommend a trip to the waterfalls in the north of Bali.
Backpacking in northern Bali
The north of Bali is slightly less crowded than the southern tourist centers and Ubud. Here you will find great and wild nature, waterfalls and volcanoes. Since the island is very small, you can explore northern Bali even as a (long) day trip by scooter from Canggu or Ubud. Note, however, that you will spend a lot of time on the scooter and if you want to get to know the area really well, you probably need more time and should plan an overnight stay. By the way: The areas have a high altitude and especially in the morning and in the evening it is very cold and often rainy, so take a jacket!
These are the places you cannot miss when backpacking Bali's north
Pura Ulun Danu Beratan Temple
This temple in northern Bali is one of Bali's most famous temples and attractions. The temple complex is built in the Bratan Lake and in a beautiful setting. But be careful – as this temple is considered to be one of Bali's best-known attractions, it is also well-visited. Especially around late afternoon and at sunset hundreds of tour busses and tourist groups arrive and the temple complex is hopelessly overcrowded.
The Bali Gate – Handara Golf Resort
Everyone knows the famous Bali Gate, which has become a popular photo stop (especially through Instagram) and is now one of Bali's most famous attractions. Funnily, the gate is not even part of a temple, but belongs to a golf resort and is built directly on the main road. A short photo stop is a good choice. However, a table was set up a few months ago, where the locals now demand a few euros from anyone who wants to take pictures. Since the gate is right on the street and basically public, this tourist rip-off is rather annoying. Nevertheless, the gate was well visited on my arrival and you had to queue to take a picture.
Danau Buyan Lake
Danau Buyan Lake is on the left side of the main road north of Bali. Here the road splits and you can either turn right and continue north to the waterfalls and finally to the beaches around Lovina. However, you should turn left to visit the lake. The road will lead you north past Danau Buyan Lake. Here are some great viewpoints and you can see the volcanoes and mountains in Bali's north.
From the road along the lake, you can also take a trip to some waterfalls, such as Munduk Waterfall and Banyumala Twin Waterfall. I wanted to visit Banyumala Twin Falls, but the road was so bad a few minutes after I had left the main road so that riding my scooter became impossible and I had to turn around again.
Waterfalls in northern Balis
If you follow the winding road north of the lakes, you will slowly descend again, and you will pass some of the most beautiful waterfalls of Bali. Waterfalls are generally considered great attractions in Bali and you should definitely visit some of them while backpacking in Bali.
Git Git (Twin) Waterfalls
Just off the main road, you will find the parking lot to the Git Git Waterfalls, which you can reach via a short walk. Here you have to be careful – there are two Git Git waterfalls, once the Twin Falls and once the "normal" Git Git waterfall. Since I did not know that, I parked at the Twin Falls, saw the two smaller waterfalls, and then spent forever running around the entire area searching the famous Git Git that I knew from the pictures. Only later did I realize that for this waterfall I had to drive down the street quite a bit further since there are a separate parking lot and a separate entrance. Of course, if you have time, you can see both waterfalls. The Twin Falls are less crowded, but the original Git Git waterfall is bigger and more spectacular.
Jembong Waterfall
If you head north down the mountain, you'll have to turn sharply left at a certain spot to see some more waterfalls. Here you drive for a while through small Balinese villages and beautiful rice fields, until you arrive at the Jembong waterfall. This waterfall area is very beautiful, many children play in the lower pools in the water and only a few tourists come here.
Aling Aling Waterfall
In the same area of the Jembong Waterfall is the Aling Aling Waterfall. Park your scooter in a small village and hike down a fairly steep path to the falls. Attention, the climb is quite exhausting in the heat and sun. Particularly popular is the Aling Aling waterfall for cliff jumping, for which there are also extra guides which you can / should / must book. If you want to jump from a waterfall you should visit Aling Aling, if you just want to have a nice view, the other waterfalls are a bit more impressive.
Lovina Beach
If you drive further and further north you will eventually reach the coast. Here, the beaches are made of black sand and are a lot less touristy than the beaches on the southern side of Bali. Especially Lovina is also known for dolphin observations.
Mount Batur
The volcanic climb of Mount Batur is one of Bali's most popular attractions, especially for backpackers. First of all: I did not climb Mount Batur myself, as I have already climbed some other volcanoes (for example in Java) and according to other travelers, Mount Batur cannot keep up with other volcanoes. Although the hike for the sunrise offers beautiful views of the volcanic landscape in the north of Bali, you should make the trip rather for the view – because you will not see an active volcano. In addition, one is forced to take a guide despite easy ascent, which leads to unnecessary costs. Tours can be booked in the tourist centres like in Ubud at every corner, but you should compare prices and negotiate. Also, the mountain is extremely crowded, especially at sunrise. My conclusion: If you have never been to a volcano before or would like to see the sunrise, you should climb Mount Batur. If you have already seen other volcanoes, you will probably not experience anything new here and might even be disappointed.
Backpacking around Bali's East
The east of Bali is generally not very popular, but there are some cool sights to see. You can either visit the sights in Bali's East in during a long day trip by hiring a driver or on scooter, or you can spend the night in the area. The best option is the coastal town of Amed.
Amed
The coast around Amed is full of fishing villages and much less developed than other parts of the country – which is why Amed is also popular with backpackers in Bali. Amed is a good starting point to visit some of the other attractions in Bali's east. In addition, Amed is also known for diving.
Pura Lempuyang Temple
The famous Pura Lempuyang Temple became a popular Bali attraction especially with photos of the gate on Instagram. In particular, when Mount Agung erupted in the winter of 2017, some Bali backpackers visited the temple to take a photo of the volcano's ash cloud in the background and everyone wanted to visit the same spot.
The temple is generally very nice, but a bit cumbersome and time-consuming to reach because it is high on a mountain, which leads to a steep and winding road. The temple's famous Bali Gate looks much smaller and less impressive than on the Instagram photos – be forewarned. Also, Mount Agung looks much smaller in the background and is often completely obscured by clouds. In general, I would recommend visiting the Pura Lempuyang temple while backpacking in Bali, but I would lower the expectations of the famous gate a bit because the great pictures are created only by a lot of Photoshop and the right angle.
Besakih Temple
Directly at the foot of Mount Agung lies the Besakih Temple – the most important and holy temple of Bali. The complex is huge and consists of several temples, from the top you also have a great view of Bali. Although the Besakih Temple is a bit difficult to reach, it's still worth a visit. Admission is not cheap, but the price includes a tour guide (who would still like to have a tip later).
Tukad Cepung Waterfall
The Tukad Cepung waterfall is roughly located between Ubud and Besakih and is one of Bali's lesser known waterfalls. From the parking lot, you have to walk down the hill for a while until you are finally in the cave with the waterfall. The nature is incredibly beautiful and the waterfall can be combined when visiting other Bali attractions, such as the Besakih Temple, when backpacking around Bali.
Backpacking western Bali
The west of Bali is extremely little touristy and little visited. Generally, there are no well-known tourist attractions in the west of Bali and most of the destinations are more on the eastern half of the island. The westernmost area I visited was probably the area around Pasut Beach. If you have time and a scooter, however, it certainly is fun to drive up the coast a bit further. I'm sure there are some more unspoiled beaches here!
Backpacking Bali's South
The south of Bali is generally very densely populated, especially with the huge area around Denpasar and the beach areas around Kuta and Seminyak. Those were distinct villages a few decades ago, but these days flow smoothly into each other. This area is extremely dense and the traffic is exhausting, but you will not be able to avoid this area completely because the airport is built there as well.
Kuta
Kuta is located in the immediate area of the airport and was once a paradise for Bali backpackers. However, today Kuta is incredibly crowded, stressful and is mainly seen as a base for party-loving Australians who fly up for a crazy party weekend. The beach is overcrowded and dirty. My advice – better avoid Kuta.
Seminyak
Seminyak joins seamlessly from Kuta up the coast. As Kuta became more and more commercialized a few years ago, many backpackers in Bali who were looking for beach vacation and relaxation have fled to Seminyak. Unfortunately, however, Seminyak has also developed extremely. Seminyak is generally a bit fancier and more expensive than Kuta, but you will not discover the real Bali here either. Seminyak is full of clubs, bars, restaurants, resorts and beach clubs these days. If you like to party, Seminyak is the place to go, if you want to get to know the culture and sights of Bali, you should avoid Seminyak.
Canggu
West of Seminyak, Canggu is next along the coast. Canggu has become incredibly hip in recent years, especially for digital nomads and long-term travellers who settle here. Canggu is also touristy and there are countless western restaurants and good cafés. With these nice amenities, you live very well in Canggu and the perfect is awesome as a base to relax or to work online. For backpackers who only have limited time in Bali, in my opinion, a visit to Canggu is not worth it. Because apart from the beach and countless good restaurants, there is nothing to do and no attractions to see. Further, Canggu is very spread out and you are stuck without a scooter.
If you want to relax for a few days and enjoy the beach, Canggu is perfect and a lot better than Seminyak or Kuta. If you want to see and experience as much as possible, it's better to visit other areas that have more sights to see in Bali.
From there, however, you can easily reach the Tanah Lot Temple west of Canggu, one of Bali's most famous Bali temples and attractions. However, especially at sunset, hundreds of tour groups and busses will get to this spot and you have to share the temple unfortunately with countless other tourists.
Pasut Beach
Here's an insider tip for backpackers in Bali! Pasut Beach is still very unknown, but beautiful. You can reach Pasut well from Canggu or Seminyak by scooter up the coast (past Tanah Lot). The beautiful black beach is deserted, wide and offers a great sunset. There is little infrastructure and only a beach hotel, so you can almost have the beach only for you.
Jimbaran
Just south of the airport lies the Jimbaran region. Although there is not much to see, the area is well suited as a base from which to explore the south around the Uluwatu Peninsula, as well as to get to know Kuta.
I was invited to spend a weekend at the Watermark Hotel & Spa in Jimbaran. The hotel was very nice, with two great pools on the roof and behind the reception. Especially if you do not want to travel that far after arriving at the airport in Bali or before the departure and if you are looking for a nice hotel near the airport, I can recommend the Watermark Hotel & Spa.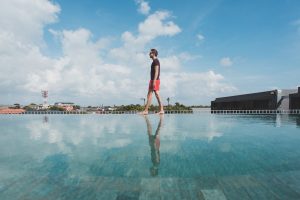 Backpacking in Bali's Uluwatu peninsula
The Uluwatu peninsula south of the airport has some great Bali attractions to offer. That's why you should not miss this region when backpacking in Bali. One day is enough to see the sights around Uluwatu and to enjoy the beach, but of course, there are enough hotels to stay in Uluwatu and to get to know the area a bit better. Especially for surfers Uluwatu is very popular.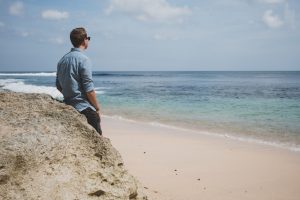 Balangan Beach
The small beach area around Balangan has great cliffs and offers above all a nice view of the clear water. Also for surfers, the beach is very popular and there are a few bars and cafés right on the beach.
Padang Padang Beach
I was a bit disappointed with this beach. The beach is quite small, but when I was there it was very crowded, there was almost no shade and generally not really enough space to enjoy the beach.
Nyang Nyang Beach
This is probably my favorite beach on Uluwatu and a paradise for Bali backpackers. The beach is incredibly long and almost deserted! In front of the cliffs above, you have a great view and there is also a small restaurant. Through a path, you can walk down to the water. At low tide, you can wade through the water east of the beach to get to the next stretch of the beach. Keep going and you'll find two cool-looking shipwrecks in the sand.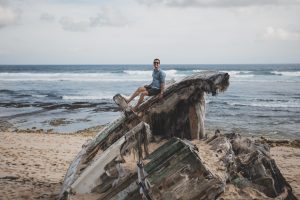 Pura Luhur Uluwatu – Uluwatu Temple
Of course, the Uluwatu Temple – one of the most famous Bali attractions – should not be missing from this list. Especially popular is a visit to the temple at sunset. Although the temple area is extremely crowded, the view over the ocean is still wonderful. Accordingly, I would recommend a visit to the Uluwatu Temple and you should take the time to walk the path in both directions along the cliff for great views.
Summing it up – Backpacking Bali
As you can see, Bali has some awesome attractions for backpackers to offer. At the beginning of the article, I mentioned that many tourists are often disappointed with Bali. If you only see Kuta and Seminyak and maybe do a day trip to Ubud, that is very understandable. However, if you take your time and explore the rest of the island by scooter, you will learn to love Bali. Sure, Bali is becoming more and more touristy and is certainly not an undiscovered place more (for this you should rather visit neighbouring islands such as Lombok), but you will be rewarded with all amenities such as good internet and great food.
Read more: I created a summary of my experiences as a Wanderguide about Bali on Travelade.com – make sure to check it out!
Have you been backpacking Bali already? How did you like it? Let me know in the comments!
MerkenMerken
MerkenMerken
MerkenMerken
MerkenMerken
Did you like my article and find it useful? Let me know in the comments - I'm always happy to hear from you :) Cheers, Patrick
*This post includes affiliate links. If you buy a product or a service through these links, I earn a small commission. There is no extra cost for you and your purchase helps me running this website and providing free information. Thanks for your support!