Normally, my travel blog focuses more on practical and helpful articles and less on my private life. However, I'd still like to share with you a personal review of everything that happened in my life in 2018.
Generally, 2018 was a great year for me. Sure, like every year, it had some ups and downs – but that's normal. It was a year of big travels and also of big changes.
As you probably know, I kept traveling intensively in 2018 and explored amazing destinations all across the world. Looking back, I visited a total of 19 countries: Ukraine, Egypt, Sudan, Ethiopia, India, Indonesia, Timor-Leste, Hong Kong, Italy, Austria, Cyprus, Sri Lanka, Pakistan, Kyrgyzstan, Northern Ireland, England, Scotland, Spain and Malta.
I spent New Year's Eve with friends in the Ukraine. Soon after, I started my big overland Africa journey in my semester holidays with a friend, from Egypt via Sudan into Ethiopia. An invitation to the Kerala Blog Express campaign in India gave me the final push to leave Germany in March and to continue from Kerala straight to Bali, to settle down and write my master's thesis on this paradise island (probably the best idea I ever had). With my time in Indonesia coming to an end, I celebrated my 26th birthday in Hong Kong in early June before flying straight to Italy for another campaign. I returned to Germany for literally 3 days before flying off on a press trip to Sri Lanka. After two weeks at home and my official graduation at university in July, I was hosted on a private press trip around Paphos, Cyprus. And then, the next big adventure started: I was invited to attend the IESS summer school program in Pakistan as well as the World Nomad Games in Kyrgyzstan right afterwards and returned back home in September. For the rest of the year, I had to force myself to slow down a little bit (more on that below) and rather focused on shorter campaigns and trips around Europe, such as Belfast, London, Aberdeen, Barcelona, Madrid, Austria and Malta.
With all those trips, it's difficult to pick one highlight. But if I'd need to choose one "best trip", it would probably be Pakistan, since my 3 weeks there were nothing less than awesome. The "most unique" travel experience in 2018 was probably attending the World Nomad Games in Kyrgyzstan – the Olympic Games for the nomadic people. But to be honest – every trip this year was great, I had no bad experiences and certainly enjoyed all the travels I had.
During all those trips, I realized that I travel differently than a few years ago.
In 2018, my passion for traveling as well as my professional career started to mix more and more. While I just launched my travel blog in fall 2017 and was proud of my first two press trips (New Zealand and Romania) last year, I took blogging and content creation much more serious in 2018. I went to big tourism fairs such as ITB Berlin and WTM London, attended conferences such as STS Belfast and got multiple sponsored or paid press trips and campaigns all over the world (just to name a few of them: India, Cyprus, Sri Lanka, Pakistan, Italy, Kyrgyzstan, London and Scotland) – something I never believed to be possible one year ago. Therefore, traveling wasn't only traveling anymore – but work, where I had to get good pictures, video footage and information for my articles.
Unfortunately, I couldn't properly focus on my website and blogging for the first half of 2018, since I still had to finish my Master in Management degree. Therefore, I spent spring focusing on writing my master's thesis – a tiring and time-consuming task, but at least, I was able to get my work done from Bali instead of the library of my university in Germany. I'm a digital nomad after all! On the downside, during this time (and especially later this year) I also realized the "dark side" of long-term travels and the nomadic life – but more on that below.
2018 was more than "just" traveling
I always travelled a lot in the past years. However, I always had my studies at university very comfortably as my "red line". I would enjoy my student life, study for exams, go on exchange semesters, do part-time jobs and leave for some extensive travels during the semester break. For the past years, this was my life and a busy but perfect balance between routine and excitement. I loved my student years with all my friends around me; as well as the extensive travels every few months. No one would ask me when I'd start a "real" job, when I'd settle or how I'd earn money. I was a student after all and I did very well with my studies.
With my graduation in summer, this comfort was taken from me and suddenly, every friend and family member would start asking me about my future plans, if and how much money I'd earn from my blogging and what my long-term plan would be. After handing in my master's thesis and graduating, I was free. And I had to ask myself – free for what?
If you'd have asked me one year ago, I would have told you that I'd finish my Masters, would take a few more weeks or months to travel a little bit and then to finally settle and start my corporate career in late 2018. I studied business for several years after all. However, with my graduation coming closer, I was in a period where I felt like things would go very well and I was constantly invited for new campaigns and press trips while slowly building up my blog. I quickly realized that this is a chance I need to take and that I'd regret it to jump right into a job if my alternative would be to travel the world "for free" on sponsored trips. I always knew that this wouldn't be forever, but I also knew that I need to take these opportunities since they won't come back. I'm not necessarily a risk-taker, but I do have my master's degree and those job opportunities won't run away from me.
After I returned back home to Germany after my extensive travels over the summer, I moved back to my parent's place since I gave up my beloved student apartment in Mannheim. Me as well as all my friends were done with university after all and while everyone started their corporate careers all across Germany and Europe, I knew that renting my own apartment somewhere in Germany would be unnecessary and financially unsustainable – I was traveling most of the time anyways, and let's be honest: A "new" blog like mine also doesn't generate a stable income (yet) to fund a life in Munich or Berlin.
I always enjoy spending some time at home in between my travels, but not having my own base anymore after living on my own for more than 7 years was a weird feeling for me, especially since my parents' home is deep in the German countryside, far away from the big and exciting cities as well as my friends. On the other hand, I was just too exhausted to leave again on a big trip or to live somewhere abroad just for the sake of not living at home. I had to slow down, and I had to catch up on lots of work ("free trips" are not "free" after all, since you're expected to create deliverables in return). But soon, I would certainly miss the excitement of traveling or at least of living in a cosmopolitan city. Luckily, my fall wasn't as quiet as I first expected, and I had several shorter press trips as well as private travels to Belfast, London, Aberdeen, Barcelona, Madrid, Austria and Malta; which kept me entertained. And I was very much looking forward to spending Christmas at home with my family, before leaving Europe again.
Travel Blogging is perfect, isn't it?
While the first half of 2018 was full of excitement about all those blogging opportunities and possibilities, I also perceived the downsides of professional travel blogging. I realized more and more that traveling and especially sponsored trips are actually not always relaxing holidays, but real work. I also realized again that too much traveling is certainly exhausting and that such a thing as "being over-travelled" exists. I also realized that a life without a routine, without a stable income and with friends all over the world but rarely next-door is actually not as perfect and awesome as people would expect it to be. Being nomadic and therefore commuting between various locations around the world and my child's room at my parent's place is fun for a limited time, but certainly not how I picture my life for the next five years.
I had incredible opportunities and awesome times this year, but I also have to admit that I certainly miss having my own apartment in an exciting city, surrounded by a circle of friends and a "normal job" which brings me a reliable salary every month on my bank account. Yes, I do make some money with my blog and my social media channels to fund my travels. However, it is difficult to make enough money from a travel blog and it takes most bloggers several years of hard work to slowly generate a proper income (which is most of the times still far from the salary you'd receive when working in a corporate environment). But it's also not only about money. While we always see routine as our biggest enemy, there are parts about it that I start to miss. I don't want to complain too much though. My trips and opportunities this year were pretty epic, and I probably travelled more in 2018 than many other people in a lifetime. I just want to emphasize that nothing is perfect and that everything comes with its price. And it's always the same – the grass is greener on the other side and you desire what you don't have.
Looking back on this year, I realize that my perception changed and that I'm seeing the life as a travel blogger or digital nomad more critical, but also more realistic. And that's a good thing I guess.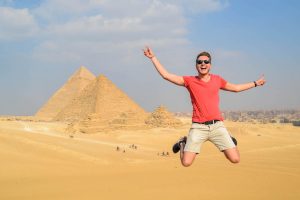 Welcome 2019 – What's Coming Next?
With the advent of 2019, we can't help but thinking and forecasting about what the next year might bring. Just to realize in the end of the year that everything always comes entirely different than planned. Still, let's give it a try.
So far, all I have planned is to spend January and February in Southeast Asia. I love this part of the world since it's a backpacker's dream, and after spending already much time in the region, I still haven't been yet to Myanmar and Vietnam – time to change that! On January 4th, I will take off to Bangkok, which is actually the city where I first set foot in Asia and where I started my first big solo backpacking adventure 4 years ago. Looking back at 2014, I will probably travel a bit differently this time – I'm happy to spend 5$ extra for a private room instead of sharing a dorm with 20 strangers and I'm happy to skip a few places and therefore travel slower and actually enjoy the destination. Am I getting old?
I will fly back home in the end of February, right in time to attend ITB (the biggest tourism fair in the world) in Berlin. Afterwards, everything is open. I have a few destinations on my bucket list which I'd love to visit and explore this year – such as Jordan, Iran, Lebanon and the Caucasus.
However, I'm also considering starting to apply for corporate jobs around summer 2019. Yes, you've heard right – I'm not planning to be a world traveller and digital nomad for the rest of my life. I actually never did, and while this life looked so sweet from the outside, my thought process this year confirmed that I wouldn't enjoy to be nomadic forever. By now, I do actually get used to the idea of settling somewhere in Europe in 2019 and I'm excited to start a new chapter in an exciting city. This certainly won't mean the end of my blog or my travels though. Sure, taking on a job means giving up the flexibility of traveling nonstop. But nowadays, I strongly believe that you don't need to give up your entire freedom for your work routine and that there will always be time for trips, travels and blogging.
But again, everything might come completely different. All I know is that I'm super excited for 2019 and for all the travels, experiences, new friends and changes it will bring!
[no_toc]