Bali Canggu is one of the most popular digital nomad and backpacker hotspots in Asia. During my first trip to Bali three years ago, almost no one knew Canggu – but nowadays, the place is a hyped Bali destination – especially for young people and for people who settle in Bali for a longer period. Because Canggu Bali is just perfect for that!
So I also decided to live in Canggu in the spring of 2018 to write my master's thesis for my university from there. Because Canggu in Bali had everything I needed – fast internet, good food, cheap living expenses and a great community.
This could be interesting for you as well: My ultimate guide about backpacking Bali as well as the best places to visit when backpacking Indonesia!
I really enjoyed my time in Canggu Bali and tell you the reasons why I love Canggu!
The Cafés and Restaurants in Canggu Bali
Canggu is famous for the healthy and good food that can be found in countless restaurants and cafes. Here you can eat very well for very little money and during my stay in Canggu, I found innumerable cafes and restaurants, none of which disappointed. You will find healthy salads, delicious smoothie bowls, good coffee and various cuisines – Italian, Thai, Japanese, Mexican, and much more! There are also many vegetarian and vegan restaurants. Especially for breakfast brunch, the cafes in Bali Canggu are a dream.
Here are some of my favorite cafes and restaurants in Canggu Bali that you should definitely visit: Nudes Café, Crate Café, Thai Kitchen, Hungry Bird, Satu-Satu, Peloton Supershop … and much more!
Of course, you will also find local Indonesian food. Personally, I'm not a huge fan of Indonesian cuisine, because I miss the variety there. However, you can eat in these Indonesian restaurants very cheap.
The cheap living costs in Bali Canggu
In Canggu – and generally, in Bali – you can travel and live very cheap. How much you spend in the end depends entirely on you. If you want to spend much less than in Europe, you can take a cheap room outside of Canggu and away from the beach and eat mainly in Indonesian restaurants. So you will be able to live very cheap in Bali.
However, if you want to spend a little more, there are no limits and you get already for (relatively) little money a nice room in a guest house or in a shared villa with pool and cleaning service.
During my time in Canggu, Bali, I decided to live on a medium budget and had about the same monthly expenses as in Germany, but at a much higher standard of living.
For my room in a nice and new guest house in Berawa, Canggu I paid about 350 €. This included daily cleaning, fast Internet and a pool. This can get much cheaper away from the tourist centres or more expensive (if you want to have a private villa in Bali Canggu, for example).
Also, I was several times a day in the beautiful cafes and restaurants for food. Here you pay roughly 4-5 € for a good menu – for Asia that is quite expensive, compared to Europe, but still cheap (especially for the good, healthy food quality you get). However, if you don't mind eating Indonesian food, life is much cheaper and you do not have to spend more than 1-2 € per meal. Of course you can also cook yourself, there are some larger supermarkets in Canggu Bali.
Note: If you travel around Southeast Asia for several months, Canggu and Bali will generally be very expensive for you, as you are sure to spend more here than in other parts of Thailand or other islands in Indonesia. But you also have a very high standard of living and good quality in Bali Canggu. I also never got the famous Bali belly (food poisoning), although I ate salads and fresh vegetables every day.
The fast internet in Bali (Canggu)
For the many Digital Nomads in Canggu, Bali, a fast and reliable internet is essential for survival. The internet connection in Bali is extremely good compared to other regions of Asia. In almost every café and restaurant there is good Wi-Fi and many people sit here for hours in their favorite cafés and work from there.
While the internet in the shared villa where I spent my first month was not quite as fast and reliable, the guesthouse where I moved into afterwards worked perfectly and without any problems. For reliable Internet, the Coworking Spaces are also suitable (see below).
If there are any problems with wifi, I recommend you to have a cheap mobile SIM card. Here you can get 8-10 GB of fast 4G Internet for just a few Euros, which works well in most parts of the island. The best provider is Telekomcel, here you have the best reception. Sim cards from other vendors may be a euro cheaper, but you might have poor reception. If you also want to see other and a little less tourist parts of Indonesia, Telekomcel is the best option. In Flores in the Komodo National Park, for example, only Telekomcel works and while I had 4G reception in most parts, other tourists were without internet for days.
You can also buy a SIM card directly at the airport, but you pay a lot more here.
Note: Since a few months, the Indonesian government has demanded that sim cards need to be registered. You can do that yourself, but it is rather cumbersome and complicated. Make sure that your SIM card you're planning to buy is already registered, otherwise, the card might get blocked after a few days. I bought my prepaid mobile sim card from Happy Cells in Canggu, Bali. Here the cards are already registered, cheap and work without problems.
Yoga in Canggu, Bali
Life in Canggu in Bali is healthy – and you should not miss yoga! In Canggu there are some great yoga studios, I myself went to the "The Practice" studio, which I can only recommend. The Practice has a great location just off the main road and close to the beach and Old Man's.
The Practice offers several different yoga sessions daily with different instructors. There is yoga for both beginners and advanced and you can either book individual yoga classes or get a monthly pass.
The yoga studio at The Practice is open and close to nature, the equipment is new and in good condition, and the teachers are doing their best to give a good workout. After class, there is free tea and you can sit with other yogis and have a rest. For me, it was part of my routine to finish the working day with a yoga class in The Practice, and I can only recommend the yoga studio.
The Coworking Spaces in Bali's Canggu
Especially if you work online and spend some extra time in Canggu Bali, it's worth using a coworking space. Here you pay an amount (per day / week / month / or per internet volume – depending on you). The largest coworking space is the Dojo Canggu Bali. I have been told, however, that Dojo is perfect for networking and getting to know people (there are events almost every day), but it would not really be suitable for concentrated work as it is generally extremely crowded and does not provide a proper working atmosphere.
Since I had to work a lot on my master's thesis, I chose District Canggu – a new coworking space in the Berawa area. District Canggu was my office for two months and I can only recommend it. The coworking space is relatively small but there are always enough seats available. The building is multi-level, downstairs is a café / restaurant with friendly staff, on the first floor the actual coworking space with desks, good desk chairs, enough power outlets and air-conditioned rooms. On the roof terrace, there are a few bar tables, where you can Skype pretty well in peace, for example. The District Canggu is also much cheaper than Dojo and the internet works fast and reliably. In the restaurant downstairs you can order drinks and food, which are brought up to your workplace. Very easy!
I could work well and concentrated in a great atmosphere and open views of the rice fields – I can only recommend District Canggu.
Bali Canggu's beaches
Canggu is right on the beach – that's all I have to say. Although Bali has no white sand and turquoise waters, the beach in Canggu Bali is perfect for surfing or sunbathing. There are sometimes quite high waves and many surfers here, so for swimming, you should be a bit cautious. While the beaches in Kuta and Seminyak are extremely crowded and packed with hotels and beach clubs, the beach in Canggu is a bit quieter. However, there are already the first beach clubs, so the area around Canggu will probably also develop rapidly.
The beautiful sunsets in Canggu Bali
Canggu is located on the west side of Bali, so you get every evening to see a beautiful sunset. Bali is generally known for great sunsets and you will not be disappointed. It was a nice routine for me to work on my master's thesis in my coworking space during the day and to go to the beach in the evening, to watch the sunset and finish the (working) day.
Canggu, Bali isn't completely overrun by tourists
Do not get me wrong – Canggu is definitely full of foreigners and expats. However, most people come to Canggu to spend more time here, to relax or to work. There are no real tourist attractions in Canggu (unlike Ubud), so many tourists who are only on a short break in Bali have no reason to visit Canggu. Also, there are no coaches and (Chinese) tour groups. Accordingly, one is also generally left alone and not annoyed by the touts wanting to sell a tuk tuk ride, a sarong or others.
The beach bars in Bali Canggu
Canggu is in direct competition with Ubud in Bali for the perfect digital nomad spot in Bali. In my opinion, Canggu has two distinct advantages: the beach and the nightlife.
Fortunately, Canggu is not full of clubs and loud music like Seminyak or Kuta, but at least there is something to do in the evening. I myself had a relatively quiet time and a good routine in Canggu, so I got up early and went to bed early. However, if you want to party or just meet some new people, you have the option in Canggu.
The most famous and biggest bar of Bali Canggu is Old Man's – right at the end of the main road through Canggu on the beach. There's always something going on here, but especially Wednesday evenings Old Man's is bursting at the seams. There is a Beerpong tournament and the bar is full of party-loving tourists and expats. Even though it is sometimes too crowded here, you should not miss a Wednesday night at Old Man's.
What I particularly like about the Old Man's: Basically it's a surfing bar and therefore the atmosphere is very relaxed and laid back. You can easily meet other people, and there is no dress code, and you can celebrate in a shirt, bathing suit or flip-flops.
On other days of the week, Pretty Poison with its famous skate ramp is also popular, and it is well worth a visit too.
Canggu, Bali is the perfect base for daytrips
Canggu has a good location to explore more parts of Bali as a day trip by scooter. In less than an hour, you are in the cultural centre of Ubud, and you can also reach the pristine beaches west of Canggu such as Pasut Beach. If you want to go to a proper club, you can reach Seminyak quiet fast (depending on traffic). If you start early, you can also visit the south of Bali with the Uluwatu Peninsula. Unfortunately, here you have to fight yourself through the notorious traffic around Denpasar.
Even a day trip to the north to the waterfalls and lakes is possible, but you have to leave very early, as the ride up there will take over two hours by scooter.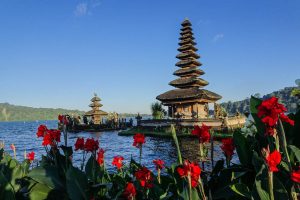 The atmosphere in Canggu, Bali
Canggu has a unique atmosphere for me and offers a great sense of freedom. The cafés and beaches are full of hip, tanned and happy people, the locals always have a friendly smile on their faces. Since the scooter is the most popular (and only meaningful) means of transportation, you have great freedom and you're also quickly out of the city and in the rice fields around Canggu. You get to know people from all over the world, you can have healthy and good food, a lot of sun – you can get used to a good routine and most people find it difficult to leave Bali after a few weeks or months.
Now is the perfect time to visit Bali's Canggu!
Canggu (and Bali in general) are developing extremely fast and in the few months I've spent here, new cafés and restaurants have opened almost daily. Especially tourists, who were already here 3-4 years ago, have clearly noticed the rapid change. Accordingly, it is unfortunately only a matter of time until Canggu will get similar to Seminyak and Kuta and therefore more and more developed, modernized and expensive, with large hotel complexes and beach clubs occupying the beach.
Of course, Canggu Bali is already touristy and you will not get to know the "real Bali" anymore. However, that's not the goal, since Canggu attracts exactly the people who want to stay a little longer and enjoy the benefits of good internet and western food. Those looking for untouched culture, nature and adventure should, in my opinion, generally avoid Bali and explore other Indonesian islands such as Lombok, Flores or Java.
I would not say that Bali Canggu is not touristy or should be – it clearly is. Canggu is definitely touristy, but in this case, I see the good and pleasant sides of a tourist destination as an advantage, while the negative sides are not (yet) so clearly visible. I hope it stays that way and I hope that the tourist and expat paradise of Bali Canggu is preserved!
MerkenMerken
MerkenMerken
MerkenMerken
Did you like my article and find it useful? Let me know in the comments - I'm always happy to hear from you :) Cheers, Patrick
*This post includes affiliate links. If you buy a product or a service through these links, I earn a small commission. There is no extra cost for you and your purchase helps me running this website and providing free information. Thanks for your support!