Let's be honest – a backpacking Sudan trip is probably something that only a few backpackers and tourists have in mind. We know too little about this African country, the security concerns are too big. In fact, Sudan has a turbulent political past with the civil war and the subsequent secession of South Sudan. Accordingly, probably no one sees Sudan as a typical backpacking destination and my Sudan travel plans have (as so often) left people with disbelieving faces.
I decided relatively spontaneously to go start my backpacking Sudan trip. I wanted to travel to Africa once again, first I only considered backpacking Ethiopia. But I also was interested in Egypt's incredible sights. Finally, a look at the map made me ponder whether these two destinations could not somehow be linked – but in between was Sudan! After a thorough Internet research on security, visa issues and the sights in Sudan, I decided to start my backpacking adventure in Egypt and travel from there over land to Sudan and further into Ethiopia.
By the way, in this video you can find the highlights of my Sudan Backpacking trip:
The best backpacking Sudan travel tips
In the following, I would like to give you some important Sudan travel tips, so that nothing goes wrong with your backpacking Sudan adventure.
Travel tip #1: Sudan Security – A backpacking Sudan journey is safe, as long as you avoid certain areas
Security concerns are probably the main reason that keeps many people from backpacking to Sudan. The civil war and the subsequent secession from South Sudan makes it easy to stamp the country completely as a war zone. But as always, it is worth to take a different look at Sudan.
If you're traveling from Egypt to Sudan, your backpacking trip will take you along the Nile, from Wadi Halfa to the ancient pyramids of Jebel Barkal and across the desert to Khartoum. As a result, you are in the northeast of the country – and this part of Sudan is completely safe to travel. In fact, I felt safer here than in Egypt or Ethiopia. Especially since people are incredibly friendly and no one wants to rip you off or scam you here.
However, what you should clearly avoid is a trip to the south and west of the country, especially the border region to South Sudan and Chad. Although foreigners are not targeted in particular, this region is quite problematic – and there can be incidents if you're in the wrong place at the wrong time. Personally, I consider the northeast of the country as very safe and can definitely recommend a Sudan trip along the Nile. The other mentioned regions should be avoided when backpacking in Sudan.
In case you're curious: South Sudan is very unstable at the moment and it is not advised to travel there – especially not overland.
Sudan travel tip #2: Get information about the Sudan visa and the necessary registration
You need a visa for your Sudan backpacking trip. Thr easiest and cheapest way to get this one was (until recently) Aswan, Egypt. However, according to new information, Cairo might be the best way to get your Sudan visa. You also need to register your visa when you arrive in Sudan at the police station.
You can find all detailed information about the Sudan visa and the registration here!
Travel tip #3: Bring Enough Cash (Dollars $) on your Sudan backpacking trip
Very important – bring enough dollars on your backpacking Sudan trip. ATMs are difficult to find in the country. In addition, the official exchange rate differs significantly from the unofficial exchange rate on the black market. That's why you should not exchange your dollar notes in official banks. You would make a huge loss.
So how do you get money in Sudan? It's easy – everywhere in the country (especially in Wadi Halfa and Khartoum) you can exchange money on the street and in small shops for the unofficial exchange rate. This sounds weird at the beginning, but it is totally unproblematic and safe. The people were always honest, nobody wanted to rip me off.
By the way, the exchange rate in Sudan is constantly changing and increasing. In February 2018, you received $ 1 SDG for $ 30 while the official exchange rate was $ 1 = $ 7 SDG. The difference is huge. As the unofficial rate changes very fast, I recommend just asking a few different people about the exchange rate. At an official place, you'll only get a fraction of it and your trip would suddenly be a lot more expensive.
UPDATE September 2019: Apparently, by now the official exchange rate is 1$ = 45 SDG, while you can even get 1$ = 67 SDG at the black market! As you see, things change quickly so make sure to ask around and get up-to-date information once you're there.
Travel tip #4: Backpacking Sudan is unbelievably cheap
Sudan is probably the cheapest travel destination I've ever been to. The dollar exchange on the black market and the generally low cost of living make backpacking in Sudan incredibly budget-friendly. A hotel room (low standard) costs you about 2-4 €. A bus ticket from one city to another about 2-3 €. We ate (for two!) for 70ct. You see – Sudan is extremely cheap and your journey will only cost you little.
Backpacking Sudan travel tip #5: You will get tired of the Sudanese food eventually
The food in Sudan will probably not be the highlight of your Sudan trip. The standard meal you'll get anywhere is foul – a porridge of beans and oil, eaten with flatbread and sometimes topped with egg. The locals in Sudan eat this day after day – in the morning, at noon, in the evening. And that's how it will be for you as well. I barely saw fresh vegetables and fruits anywhere. You can sometimes buy grilled chicken, but I avoided it for reasons of hygiene. Therefore, get ready for a foul diet. Don't worry, the food in Sudan does not taste bad, it is just always the same …
Travel Tip #6: The infrastructure for a Sudan trip is surprisingly good
I was very surprised about this. Actually, I had expected that it would take incredibly long and be challenging to travel through Sudan. However, since the country is largely flat and consists of desert, there is basically a single, surprisingly good main road that runs from the border of Egypt along the Nile and up to Khartoum. On this road, you can travel surprisingly fast.
The means of transportation in Sudan are colorfully decorated and often overcrowded minivans that travel from one place to another and start as soon as they are full. There is no exact timetable here and it can often take a while to get started. Be patient!
By the way, you can also hitchhike through Sudan! I did this to continue to Khartoum after visiting the impressive Meroe pyramids (located on the main road but away from any civilization). Sometimes you need a bit of patience, but sooner or later a bus or truck will take you. The people are incredibly friendly.
Travel tip Sudan #7: Buy a mobile SIM card in Sudan
The bad news: Wlan does basically not exist in Sudan (apart from a few expensive hotels in Khartoum).
The good news: You can easily buy a cheap mobile sim card for Sudan. Keep in mind that you have to register the sim card with your passport in the shop, but this is all easily done without any problems. And you'll have 4G Internet access on your entire Sudan trip – even in the middle of the Sahara. I was very surprised about the good network. There are different providers, I had MTN and thus a very good experience.
Backpacking Sudan travel tip #8: The hospitality in Sudan is incredible
There are only a few countries in the world where I have experienced such hospitality as in Sudan. The people are all extremely warm, curious and happy to see visitors in their country. Unlike Egypt (where I had quite a few negative experiences with the locals), the Sudanese always make you feel welcome.
I was regularly greeted and addressed by strangers, I was invited for tea or food. If I wanted to pay for my own tea / meal, it was gratefully rejected, and people insisted to invite me. Not a single person was rude or unfriendly, everyone I met was helpful and open. Believe me – the hospitality in Sudan will be the best experience of your backpacking trip.
Travel tip #9: Take enough time for the great places to visit in Sudan
Sudan has a lot to offer, and those who think that there are only sand dunes and desert are wrong. The landscape around the Nile is incredibly green! In addition, Sudan has more pyramids to offer than Egypt. Since not many people travel to Sudan, you will have most of Sudan's attractions for you alone. Further, you shouldn't only tick off sights, but also take the time for a walk through the villages, to get a good feel for the country and the people. To travel from Wadi Halfa to Khartoum, I recommend you plan about a week – with this, you'll have plenty of time to stop on the way.
Sudan travel tip #10: Use couchsurfing in Sudan's capital Khartoum
While most places in Sudan are quite manageable and easy to explore, Khartoum (with nearly 10 million inhabitants in the metropolitan area!) is rather overwhelming and difficult to navigate. Here it is worthwhile to get help from locals. Khartoum has a small but active couchsurfing community and you can make good use of it. The locals are extremely interested and happy to show you their city. Like this, you can get to know the real life in Sudan and gather great personal experiences on your backpacking Sudan trip.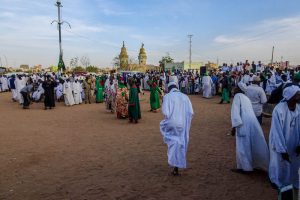 Travel Tip #11: Combine your backpacking Sudan adventure with an Egypt and / or Ethiopia trip
Most backpackers in Sudan will probably not "only" travel to Sudan. The country can be perfectly combined with a trip around Egypt and / or Ethiopia. You can easily cross the land borders and experience a great Africa overland trip.
Travel tip #12: Expect a language barrier in Sudan
Unfortunately, it is often difficult to communicate with the Sudanese. Some people speak English, and this is usually enough to get along in the country. However, you will surely come across some language barriers and have to communicate with hands, feet and Google Translate. Do not worry – in the end it will work out somehow!
Travel Tip # 13: A backpacking Sudan trip is not luxurious
In most places in Sudan (or anywhere else outside of Khartoum) you will only find a few hotels and accommodation options to choose from. Also, there are very few mid-range accommodations for a medium budget. In Karima, for example, you can stay at the luxurious Nubian Rest House for $ 220 (!) Or at the local Al-Nassar Hotel for $ 4 (!). This will be the only choice you'll have. In the latter, you still get a private room, but you won't find hot water or other luxury.
You see – if Western food, fast WiFi and hot water are your top priority, a backpacking Sudan trip will not make you happy.
Travel tip #14: You will not find much information about a Sudan trip
I found it pretty difficult find enough information about traveling Sudan – if you want to plan and organize your trip down to the last detail in advance, it will be rather difficult. Further, the vast majority of hotels can not be booked online (as I said: Wi-Fi does not exist). Therefore, be ready for spontaneity and surprises. Nevertheless, I recommend backpacking Sudan and I can promise that you won't regret it.
Sudan travel tip #15: Don't let other people scare you – and enjoy your Sudan trip!
If you tell your friends and family that you want to travel to Sudan, you will probably see some shocked faces. I had to deal with the same reactions. Nevertheless, I'm very happy to have done my backpacking Sudan trip, since I had the opportunity to travel to an undiscovered country, far away from mass tourism. As already mentioned, you will experience one of the most hospitable and open-minded nations in the world, all of whom are incredibly pleased to welcome visitors to their country – this should be reason enough to visit Sudan.
The best places to visit in Sudan
Most people have no idea what's to do or see in Sudan. Since the country is still undiscovered for tourists, probably not many people would know what to expect on a Sudan backpacking trip. One could easily think that Sudan consists only of boring sandy desert. But this is not true! Sudan actually offers an incredible cultural heritage. For example, did you know that there are more pyramids in Sudan than in Egypt? In the following, I'll tell you about the places that you should visit on a backpacking Sudan tour!
Backpacking Sudan: What to see in Wadi Halfa
If you enter or leave Sudan by land (like most visitors), you will visit at some point Wadi Halfa. This little place is just behind the border crossing of Egypt. Although Wadi Halfa has no must-see places to visit to offer, the open main street with its street restaurants, mobile phone shops and money exchange offices is the best place to start a Sudan backpacking tour. Here you can buy a mobile SIM card for Internet, exchange your dollar bills on the black market to the local currency and recover from the long and exhausting border crossing. You can also register your Sudan visa directly in Wadi Halfa (which you have to do after entering the country).
However, there is not much more to see here – an evening or a morning should be enough for you to spend in Wadi Halfa on your backpacking journey through Sudan. On the main street you can find some cheap hotels (just ask around), and with the minivans in the center you can easily travel on.
If you're travel from Wadi Halfa further south, you could stop Abri, a village directly on the Nile. Here you can visit the Nubian villages along the river and get a good impression of the Nubian culture of the Sudan. If you do not have that much time, you can skip Abri and head straight to Karima via Dongola (I skipped Dongola, apparently there's nothing to see there).
Sudan Travels: What to do in Karima
The city of Karima was probably my favorite destination in Sudan. That's why you should certainly not miss this place when backpacking Sudan. Karima is an important cultural and archaeological center, filled with Nubian pyramids and historic ruins. Karima is right on the Nile and you should take at least a full day to explore the area.
The city of Karima itself is rather small and easy to explore. In the center, there is the typical big market square, which also serves as a bus stop. Here you will also find street restaurants offering foul as well as chai stalls and smaller shops. Just around the corner, I stayed at the simple but cheap Al-Nassr Hotel (about $ 4 for a private double en-suite room).
Visiting the pyramids of Nuri, Sudan
Opposite Karima, on the other side of the Nile, you'll find the Nuri Pyramids. These can be easily reached by tuk-tuk. The pyramids are no longer perfectly preserved, but still very worth seeing. Here we were also far and away the only tourists and were allowed to explore the place after a (slightly exaggerated) entrance fee of $ 10 for the Nuri pyramids. In fact, I've heard that other people didn't need to pay anything to visit the pyramids though, but the guard asked us for a travel permit which we didn't have (you can only get it in Khartoum, but apparently, it's not needed anymore at all – slightly confusing!). So probably, our $ 10 entry was more like a bribe in the end.
After visiting the pyramids of Nuri, we took our time to walk through the small villages along the Nile without any plan. Like this, we met friendly locals, saw school children on the way home and had a nice stroll through the green palm forests on the bank of the Nile.
Visiting the pyramids of Jebel Barka, Sudan
Just outside Karima, you'll see the large stone rock mountain Jebel Barka – which is considered sacred to the Sudanese. Directly in front of the mountain are the well-preserved Jebel Barka pyramids, which you can visit without admission fee. On the other side of the mountain, you can also visit the temple ruins, where you have to pay a small (negotiable) entrance fee.
I recommend visiting Jebel Barka in the late afternoon. You should definitely also climb the mountain after visiting the pyramids. A short but steep hike takes you to the plateau, which offers incredible views of Sudan. From here, you can see the Pryamids and the vast desert, but also the Nile, which winds its way through the Sudanese desert as a green lifeline. The sunset from up here is beautiful and was probably my greatest experience in Sudan.
Backpacking Sudan: Visiting the pyramids of Meroe
The pyramids of Meroe are probably the most famous and popular attraction in Sudan. In the middle of the desert, you will find countless ruins and pyramids of a bygone civilization. Definitely worth seeing!
You can visit Meroe as a day trip from Khartoum (by public bus). But if you come from the north, you can just stop on your journey since it's right on the way to Khartoum. Just keep in mind that the journey from Karima to Khartoum, including Meroe, will be a long day and you should start early. I left Karima very early in the morning with the first minibus to Atbara where I boarded a bus to Khartoum and told the driver with hands, feet and Google images that I want to get off at the Meroe pyramids. The pyramids are located directly on the main road in the desert. On my offline map maps.me (highly recommended) I was able follow our route and was dropped of directly at Meroe.
A short but exhausting walk (since I had to carry my backpacks) took me to the entrance of the pyramids. This is probably the most "touristic" place of Sudan and you will soon be surrounded by camels and their owners, who want to sell you a ride.
I read reports that in the past, you were able to negotiate the official price for the Meroe pyramids to a minimum. However, when I asked for a discount, an unfriendly lady just threw a note on the table where it is written that all tourists would have to pay $ 20 entry, period. Only after a long discussion and the help of another employee, we were able to negotiate a 50% discount with our international student cards. It can be exhausting, but negotiating is well worth it. My friend and I were able to leave our heavy backpacks in the office at the entrance and were finally able to explore the beautiful Meroe pyramids.
Afterwards, we had to face one of the more difficult parts of the backpacking Sudan adventure – the transfer from Meroe to Khartoum (or at least to the next city). For this, you have no choice but to stand on the main street in the Sahara and stretch out your hand. Be patient, sooner or later, a bus or truck (as in my case) will stop and take you. After about 20 minutes, a nice truck driver took us to the next town (called Shendi), where we had to wait until locals stopped the next bus to Khartoum. Also we left Karima very early, unfortunately we only arrived in Khartoum after dark (something that I always try to avoid – luckily, we were picked up by our couchsurfing host directly from the bus drop-off point).
As you can see – backpacking from Karima via Meroe to Khartoum on one day is a bit cumbersome, but doable. Just make sure to get off early in the morning – you do not want to stand on the pitch-black main street near Meroe at dusk, hoping for a ride. Also, if possible, you should try not to arrive too late in Khartoum (especially if you have not arranged accommodation before). If you're running out of time, a spontaneous overnight stay in Shendi may be a good decision.
Sudan backpacking travels: What to do and see in Khartoum
You did it! After a long Sudan backpacking trip from Wadi Halfa through Karima and Meroe, you arrived in the capital of the country – Khartoum! That's how I felt. In the following, I will tell you about the things to do and see in Khartoum. As mentioned before, Khartoum is huge and can be difficult to explore on your own. Nevertheless, no travels around Sudan are complete without exploring the Sudanese capital for at least 1-2 days.
Visit the National Museum of Sudan, where you can learn more about the history of the country (but do not expect many English information boards). The museum is located directly on the Nile and you can further cross over a bridge to the "Tuti Island" island, which you explore on foot. You can also take a boat trip to the spot where the Blue and White Nile mix (however, I skipped that).
One important travel tip for Khartoum: Try to plan your visit to Khartoum on a Friday. On this day, the famous Sufi dance takes place in the Hamid El-Nile Mosque in Omdurman (the adjacent town on Khartoum) in the afternoon. This religious ceremony is well worth seeing and you should not miss it. You can see how Sunni Muslims get into a trance state and dance wildly! This spectacle attracts normally many tourists and was probably the only place where I saw several foreigners in Sudan.
If you've travelled Sudan for a few times, you also might want to enjoy wifi and western food again. In this case, I recommend the café in the lobby of the Corinthia Hotel. Here you can sit down with your laptop for an afternoon, have good food and coffee and recover from the (sometimes chaotic) Sudan travels.
While Khartoum can be exhausting, I still enjoyed my stay – mainly because of my couchsurfing host. I was able to get a great insight into the life of my local host Yaqi, who took us to the mosque, the market and restaurants.
From Khartoum you can continue on the land route to Ethiopia. However, I've heard that the border region may be a bit dodgy, therefore you should inform yourself again about the current situation. Alternatively, you can fly from Khartoum to Ethiopia (or home).
My resume on backpacking Sudan
As you can see, a trip through Sudan has much more to offer than just sand and desert! I enjoyed my Sudan backpacking tour very much. The previously described itinerary / route for a backpacking Sudan tour should take you about a week (minimum). If you have more time, you can also travel slower and add more stops and detours – for example, to the beach in Port Sudan. There are many more places to explore in Sudan and I hope to return one day.
Let me know in the comments – have you been to Sudan before? Do you consider traveling there? What was your experience?
Did you like my article and find it useful? Let me know in the comments - I'm always happy to hear from you :) Cheers, Patrick
*This post includes affiliate links. If you buy a product or a service through these links, I earn a small commission. There is no extra cost for you and your purchase helps me running this website and providing free information. Thanks for your support!