Morocco was the first country where I went solo backpacking – and I loved it! While a backpacking Morocco trip is very different from traveling through other African countries, such as Kenya, Egypt, Sudan or Ethiopia, I can highly recommend it. In the following, I will give you several reasons why Morocco is perfect for travelers. Further, I will present the best places to visit in Morocco and I will also give you further travel tips for backpacking Marrakech als well as Morocco in general.
Reasons why you should go backpacking Morocco
Morocco is a great destination and has a lot to offer. In the following, I will give you the most important reasons why a backpacking trip to Morocco is highly recommended.
Morocco is easy and cheap to reach
This is probably the main reason why Morocco has become so popular as a backpacking destination in recent years. From Germany (and from all over Europe) it is incredibly easy to reach Morocco. Marrakech (and also other cities in Morocco) are regularly served by low-cost airlines such as Ryanair. Thus, you can reach Morocco for little money (often even for less than 100 € for return flights). Morocco is served by most of European airports, making it the perfect option for an exciting backpacking trip.
Backpacking Morocco is cheap
This is a big plus for all backpackers who want to travel in Morocco on a low budget. In general, Morocco is a very cheap travel destination. For just a few Euros you can stay here in hostels or guesthouses, and even nicer and more luxurious accommodations are affordable. You can also eat cheap on the street and of course go shopping in the many souks (markets) of the old town.
Tours do not cost much money either. In the tourist meccas like Marrakech, you can find travel agencies on every street corner, where you can book the most popular excursions, such as a day trip to Essaouira, to the Cascades d'ouzud waterfall and a desert tour to the Sahara. You will need to pay about 25 € for the day trips mentioned above, and I paid about 85 € for my 3-day Sahara Desert tour.
Important: In Morocco, no price is fixed, and you have to bargain every time. Especially in the old town of Marrakech, the locals are well-trained to rip off tourists. That's why I advise you to negotiate every single price and to fix all prices in advance. This also applies, for example, when you take photos of locals. If someone appears aggressive and demands more money in the end, stay strong and stick to your point of view.
Morocco is perfect for solo backpackers
Morocco was actually the country where I was backpacking on my own for the first time. This was rather unplanned – the trip was originally booked with three friends, but all had to cancel spontaneously due to various reasons. Well, the flight was already booked – and I decided to fly alone for a week to Marrakech.
Of course, I was nervous and did not know what to expect. However, I can say that Morocco is great for backpackers, and even counts as a "beginner destination" for traveling alone (as in my case).
There are some good hostels in Morocco, and I had no trouble getting to know plenty of other travelers from all over the world in my accommodation in Marrakech (*the Marrakech Rouge Hostel*), with whom I explored the country.
You will get to know a completely different culture
For me, it was really amazing how a short and cheap Ryanair flight could take me to such a completely different culture. Here you can immerse yourself in the (North) African chaos – with exotic food, narrow streets and chaotic markets. Morocco is full of life and offers a great mix of tradition and modernity. If you have never left Europe, you will certainly experience a culture shock here – but that's what makes backpacking in Morocco so exciting!
The Moroccan food is delicious and exotic
If you travel Morocco, you will get to know a completely new cuisine (which is quite different from Europe). The national dish in Morocco is Tajine – served and prepared in clay pots and consisting of vegetables, potatoes and / or meat. There is no way around Tajine in Morocco!
You are particularly brave and willing to try? Then you can try "delicacies" like sheep's head on the markets in Morocco (yes, I actually tried this with some travelers of my hostel …).
In addition, you will find everywhere delicious grilled meat, flatbread and the famous mint tea. On the main square in Marrakech's medina, countless sellers also offer freshly squeezed orange juice for just a few cents.
You can see a lot in a short time when backpacking in Morocco
Morocco is a big country, and if you really want to do a backpacking tour all over Morocco, you will probably need 2-3 weeks. But even if you have less time, you can see and experience a lot in Morocco in a short time.
If you only fly to Morocco for a weekend, you should focus on one city (for example, Marrakech). But if you have a week, you can already see more. I myself had about 7 days in Morocco and took Marrakech as my starting point. While I had plenty of time to explore the city, I also had the opportunity to go on several trips. I spent a day in Essaouira, further explored the Cascades d'ouzud waterfalls and – my big highlight – went on a 3-day desert tour in the Sahara.
You see – in just one week of backpacking in Morocco, you can see and experience so much!
Morocco is touristy and yet exciting
Sure, Morocco is no longer considered an undiscovered insider tip among backpackers. But that's not bad for me either. Although many markets and attractions are tailored to tourists, I still had the feeling to see the "real" Morocco. And the rising tourism also has its good sides – in Morocco you will get to know other travelers without any problems while backpacking and there is a good network of hotels, hostels and transport options. And if you are tired of the overcrowded tourist center of Marrakech, you will also find other destinations that are still largely undiscovered for many tourists.
A Morocco backpacking trip is safe
Fortunately, Morocco is considered a safe destination that has been spared by the turmoil of several other North African and Arab countries. This is precisely why Morocco is so popular among European tourists – it is considered a safe, unproblematic gateway to the Arab world. In Morocco, you can move around freely without any security, the political situation is pretty stable, and you rarely hear about incidents here.
Attention:This does not mean that you should not be careful in Morocco. Above, I'm referring only to violent incidents and the political situation – pickpocketing and scams are a completely different matter here. When it comes to these issues, you should be careful in Morocco! In my hostel I met some Morocco backpackers, who fell victim to the many tourist traps. Especially in crowded markets and the medina in Marrakech, you have to pay close attention to your valuables as pickpockets lurk here.
Concluding, you are safe in Morocco from raids and riots, but you should not underestimate the pickpockets and scammers, so always be mindful. Passport and credit cards should always be left in the hotel / hostel safe!
A backpacking Morocco trip is diverse
Anyone who believes that there is only desert and markets to see in Morocco is wrong! The country has a lot to offer and it certainly will not be boring for you as a backpacker here. From the relaxed harbor town of Essaouira to the sand dunes of the Sahara and the mountains of the Atlas Mountains, everything is offered here. Whether you prefer nature or rather the wild bustle of the cities, in Morocco you will find what you are looking for. In Morocco you can visit mosques, taste extraordinary food, relax in the traditional hammam (bathhouse), go shopping in colorful markets and sleep in the desert. What more do you need for a great, impressive backpacking trip?
Places to visit when backpacking Morocco
Here you will find the best Morocco attractions and highlights that you should not miss on a backpacking Morocco tour!
Backpacking Marrakech – Places to Visit & Tips
Although Marrakech is not the official capital of Morocco, it is arguably the most important tourism city in the North African country. In recent years, Morocco, but above all the city of Marrakech, has become a popular destination for tourists from all over the world. And for good reason! Because Marrakech has much to offer and is considered as a starting point for many other places and regions of Morocco. In the following, I will tell you about the best Marrakech attractions, as well as give you some important tips for backpacking Marrakech.
In the royal city of Marrakech, with about 1 million inhabitants, there is much to see and to discover! Here I will introduce you to the best sights of Marrakech that you should visit on your backpacking Morocco journey.
Marrakech's Medina (Old Town)
The medina of Marrakech (= the old town) is the tourist center of the city and the district where you will find most of the sights of Marrakech. In addition, the medina is also the part of Marrakech where you can immerse yourself in the culture of Morocco and observe the traditional life. That's why I recommend that you spend most of your time in Marrakech in the medina.
The Djemma el-Fna square
This large square is the center of Marrakech's medina. It is almost impossible to miss the Djemma el-Fna square in Marrakech. Here you will find street vendors, jugglers, snake charmer, henna painters, monkey owners, street kitchens, cafés – and much more! The place is full and chaotic and a little culture shock for European tourists. I recommend you stroll across the square and enjoy the chaos. Treat yourself to one of the cheap, freshly squeezed orange juices of the countless sellers, taste typical Moroccan delicacies and sit down for sunset on one of the many roof terraces and let the day fade away with a hot mint tea. Especially in the afternoon and early evening, the place is full of life and a sight that you should not miss in Marrakech – during the day and at night. You will probably find the place only in the early morning hours really quiet.
The souks of Marrakech
The souks are the markets that run through the entire medina of Marrakech. The narrow streets are full of stalls and I recommend you to just drift off here. If you get lost (yes, that will happen for sure), the above mentioned Djemma el-Fna place is a good orientation possibility as everyone can probably describe the way to get there. In the souks you can shop cheaply (be sure to negotiate!) or just watch the market life. Even if you're not usually a fan of shopping (like me), it's part of a Marrakech backpacking trip to wander the colorful souks for a while.
The food markets in Marrakech
In the medina of Marrakech, especially on and around Djemma el-Fna Square, there are plenty of street kitchens and food markets to visit. Here you can taste typical Moroccan food and find various grilled meats, cheap tagine and – for the brave among you – also exceptional "goodies" such as sheep's head. Whether you try it or just watch the different dishes from afar – it's a fun experience.
The Koutoubia Mosque
The mosque, easily recognizable by the tall minaret tower, will be quickly spotted on a walk through the Medina of Marrakech. Unfortunately, as a non-Muslim, you will only be able to see the mosque from outside (this is true for all the mosques in the country). Nevertheless, the Koutoubia Mosque is one of the most famous Marrakech attractions and it is well worth seeing it.
The tanneries in Marrakech's medina
One of the most interesting sights in Marrakech is the many tanneries you will find in the medina. The best part? You can easily visit them. I was approached in the streets of Marrakech if I would like to be shown a tannery and immediately agreed. A local has led me through the plant and explained more about the process. Of course, a tip was expected at the end of the tour. Here again, I recommend that you ask in advance how much money is required and agree on an amount that you are willing to pay (I paid 2€). Otherwise, it is quite possible that you will experience a nasty surprise at the end of the tanning tour when suddenly you will be asked for much more than you would like to spend.
The Bahia Palace
The beautiful Bahia Palace is an architectural masterpiece and one of the most remarkable buildings in Marrakech. The magnificent palace includes a hammam, several riads, courtyards and fountains. It's worth a visit – specially to recover from the noise and crowded streets of Marrakech.
Maison de la Photographie de Marrakech
Located in Marrakech's old town, this photography museum is one of Marrakech's little-known landmarks. Countless photos show the stories of Marrakech. It's worth a visit! Incidentally, the museum is in close proximity to the Koran school (see next point).
The Medersa Ben Youssef (Koran school)
The former Koran school is one of the most popular attractions in Marrakech and perfect for beautiful photos! If you've wondered where most of the gorgeous Instagram images from Marrakech are taken – here's the answer. However, you should come here either in the morning or in the evening, as it can get very crowded during the day.
Dar Si Said Museum
This is another museum in Marrakech that you should visit. It's all about art and culture, and plenty of utensils are exhibited, such as jewelry, carpets, weapons and ceramics.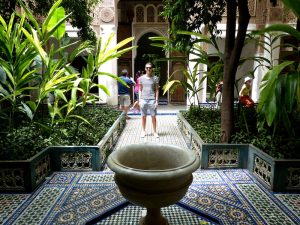 Get lost in the narrow streets of the medina
This is not a classic sight, but an experience that is part of every Marrakech backpacking vacation. Besides, it will be inevitable that sooner or later you will be lost in the streets of the medina of Marrakech. Enjoy it! Just let yourself drift through the markets, watch the locals doing their daily work, treat yourself to a mint tea. And do not worry – in Marrakech all roads lead to Djemma el-Fna!
Visit a hammam in Marrakech
This is another unique experience that you should gather in Marrakech. A hammam is traditionally an Arabic bathhouse. Here you have the choice between the tourist version and the local alternative. For tourists, a hammam is basically a spa, where you can relax and be massaged in some incredibly luxurious facilities.
You are adventurous? Then I recommend you look for a traditional hammam for the local people in the medina of Marrakech. The entrance here is very cheap, there is no luxury – but it is a real bathhouse, where the Moroccans wash themselves. A cool experience that I can recommend to you!
Marrakech's new city
As you can see, most of Marrakech's sights are located in the old town or medina. Here you will probably spend most of your time. Nevertheless, it is also worthwhile to discover the modern part of Marrakech. There are fewer attractions, but an interesting insight into how modern parts of the city are.
Jardin Majorelle
The beautiful gardens of the painter Jacque Majorelle are located outside Marrakech's old town but are worth a visit. After being almost forgotten, the gardens were bought by Yves Saint Laurent and turned into the beautiful, magnificent gardens that they are today. The deep blue buildings around which the gardens are created remain particularly memorable. The Jardin is a true oasis of tranquility in the stressful Marrakech – but you have to pay 70 Dirham entrance fee (+30 extra if you want to go to the museum).
Shopping & Nightlife in Marrakech
Besides the Jardin Majorelle, Marrakech's New Town does not have much to see and do – but it is well-suited for shopping and visiting restaurants and even bars (you will hardly find them in the medina). That's why I recommend you take a stroll along the main streets of the new town to get a feel for the modern part of Marrakech as well. If you want to party, you can go to the club Pacha in the new city.
The most important backpacking Marrakech travel tips & other information
I hope I could tell you more about the best Marrakech attractions. Now I will give you some more information and travel tips for your backpacking Marrakech vacation.
How do I get to Marrakech?
Marrakech has its own airport and is well connected to many European airports. Luckily, Marrakech is also served directly by some low-cost airlines, such as Ryanair. Accordingly, you can fly to Marrakech for little money (if you're lucky for under 50 €!)!
How do I get from Marrakech Airport to the city?
Here you have the choice between the bus and a taxi. Whatever you choose – you should know where your accommodation is and how much the route will cost you, so that you won't need to pay too much here. The best thing to do is ask via email in your accommodation for a fair price.
How do I explore Marrakech?
Marrakech is easy to explore on foot. Cars do not really fit in the narrow streets of the medina anyways! In the new town and outside the markets you also have buses and taxis to choose from. However, all the sights in Marrakech mentioned above are within easy walking distance and there is no reason to use public transport.
Is Marrakech a good starting point for other parts of the country?
Marrakech is also a perfect base for day trips to other sights in Morocco. I did a day trip from here to Essaouira and also a day trip to the Cascades d'ouzoud waterfalls. I also started my 3-day desert tour in the Sahara from Marrakech. All these tours can be booked directly on site. But beware, compare prices and negotiate a lot!
How do I get from Marrakech to the Sahara Desert?
Here you have several options, but to get to the famous sand dunes, you need a tour operator. There are plenty of tours available with different duration. See more below about my experience of the Sahara Desert tour.
Is Marrakech safe?
In general, Marrakech and Morocco are considered safe destinations. But you should watch out for pickpockets in the crowded markets and lanes. In addition, you should always negotiate all prices (taxi, photos, henna tattoos, etc.) and determine prices exactly in advance to avoid nasty surprises.
Where do I stay in Marrakech?
I recommend staying in the Medina of Marrakech, where you have a wide choice of accommodation. From cheap hostels to expensive luxury resorts, you have the freedom to choose, depending on your needs and budget.
How much budget do I need for backpacking Marrakech?
In general, Morocco and Marrakech are considered as a cheap holiday destination. The important thing is that you always negotiate all prices, otherwise you pay too much money. In general, you can sleep in Marrakech for less than 10€ and you will also find cheap food. Even shopping in the markets is very cheap depending on your negotiating skills. Day trips to Essaouira should cost about 25 €, for my 3-day desert tour, I paid 85 €. In Marrakech you can see and experience a lot for little money!
What do I eat best in Marrakech? And where?
Moroccan food is one of the reasons why a visit to Marrakech is worthwhile. Especially in the old town there are countless restaurants and food markets, and in addition to classic Moroccan cuisine (tagine) you will also find international dishes. You should definitely not miss the various tagine dishes, couscous, mint tea and freshly squeezed orange juice. At sunset, I recommend you sit on the roof terrace of the Café de France, right on Djemma el-Fna square and enjoy the view over the chaos with a Moroccan tea.
How many days should I stay in Marrakech?
This is of course very subjective. In general, I would say that two days are enough to see Marrakech and the sights of the city. Of course, there is the possibility of excursions and tours. I had a total of one week in Marrakech and after some sightseeing in the city of Marrakech, I used it as a base for day trips to Essaouira and the Cascades d'Ouzud waterfalls, and I did a 3-day tour to the Sahara Desert.
Backpacking Morocco – Essaouira
The port city of Essaouira is one of Morocco's best attractions and should not be missed on any backpacking tour of Morocco! Here you can explore the narrow streets of the old town and enjoy the view from the city walls to the sea. The city is also known as the location for "Game of Thrones". Essaouira is easily accessible as a day trip from Marrakech, there are some tour operators offering transport. I had one day to discover Essaouira's sights, but of course you can stay longer.
Morocco Backpacking – Atlas Mountains
The mountains are located just outside Marrakech and offer great viewpoints and hiking opportunities. On my trip to the Sahara, we crossed the Atlas Mountains and stopped in some places to enjoy the view. Of course, you can spend a lot more time here. Especially if you like to hike, this is the perfect place!
Morocco's sights in the north
• Attractions Chefchaouen: The "blue city" is world famous, especially through Instagram. Even though there is not much to see here, Chefchaouen is perfect for walking around the streets and taking beautiful pictures. Of course, the place is also very touristy.
• Asilah Attractions: A visit to Assila is well worth the effort for the nice beach. In addition, the Mediterranean and Atlantic meet here, which can be seen from a hike to a lighthouse.
• Attractions in Tétouan: This place is a little less touristy than, for example, Marrakech, but offers some beautiful squares and mosques.
A Morocco desert tour in the Sahara – My Experience
Sure – Morocco has some exciting cities to offer, such as the colorful Marrakech or the seaside town of Essaouira. Nevertheless, it is worthwhile to leave the cities on your journey. A desert tour in the Sahara of Morocco is a big highlight of the Morocco backpacking trip for many tourists and you should not miss it!
Here I will tell you about my experiences on my Morocco desert tour in the Sahara!
How do I organize a tour into the Sahara of Morocco?
For a desert tour in the Sahara, there are plenty of offers and opportunities in Morocco. Especially in the tourist centers, like in Marrakech, you will find one tour operator next to the other and you are spoiled for choice. Often you can also book different tours directly from your hostel or hotel. You may pay a bit more here but (hopefully) have the guarantee that the tour provider is good.
In general, you have several options for a desert tour, depending on your time and budget. The most common tour, which I have chosen myself and can recommend you, takes three full days. During these days you will not only see the Sahara, but also some other great sights along the way (see below). Since these 3 days are already pretty packed (do not underestimate the travel time to get to the Sahara from Marrakech), I can hardly imagine that a 2-day tour makes sense. If you have enough time, you could spend more than 3 days on your Sahara tour. However, I personally found the duration optimal and will also tell you in this article why.
How much costs the Morocco desert tour?
As you may have heard, prices in Morocco are mostly undefined and often very flexible. So how much does a desert tour to the Sahara in Morocco cost? Personally, I paid about 85 € at that time for 3 days (as of May 2014), including guide, food, transport, accommodation. I found this a reasonable price and for comparatively little money you will experience a lot. Here it is worth comparing prices and offers. If you're traveling with more people, you can ask for a group discount. In addition, make sure in advance what is included or if there are extra costs during the tour. It is also worth asking about the size of the group and if the guide or driver can speak English (unfortunately that was not really the case for me).
How long in advance should I organize my Morocco desert tour?
No need to hurry – it is probably not necessary to book the desert tour well in advance. In general, the prices that you find on the Internet are usually more expensive than the offers once you're there. Therefore, I recommend you arrive without having anything booked in advance.
The best place to organize the desert tour into the Sahara is probably Marrakech. Here you can book the desert tour (as well as other excursions and tours) spontaneously at every corner in agencies or accommodations. There are always enough offers.
Personally, I was in Marrakech during the peak season (May) and still had no problems finding a desert tour the following day. No reason to worry!
Can I also participate as a solo traveler on a Sahara tour in Morocco?
Sure! Some providers may want to offer you in this case an "individual tour" for several hundred Euros, which is of course unnecessary. Even if you are traveling alone, you can easily participate in a group tour that has been put together.
We were about 10 people in our group (as many as in the transport van fit). Our group was mixed and from all over the world. There were solo travelers, couples and friends; and it was easy to talk to people and become friends. The accommodation was in double rooms, but since there was no other male solo traveler, I had my room to myself!
Is a Sahara Desert Tour worth it?
That is probably subjective – in my opinion, definitely! The desert tour into the Sahara was definitely the big highlight of my Morocco trip. Above all, if you have never been in a desert, the Sahara will impress you. I also liked to see more of Morocco's landscape, especially the Atlas Mountains that you drive through. Of course, I would have liked to spend much more time there but at least I could have a look from the various viewpoints where we stopped.
In addition to the great night in the Sahara, the other stops on the tour, such as Ait Benhaddou and the Dades Gorge, were well worth seeing. Accordingly, you get more than a pure "desert tour" for your money. Of course, a trip to the Sahara also has its disadvantages. You are very dependent on your tour guide and your tour group and have little flexibility., I do not think that such a tour can be reproduced well alone – and certainly not in just 3 days and at such a low price. Even if you (like me) usually like to travel independently, you will probably depend on a tour for a trip to the Sahara.
What should I take with me on the desert tour to the Sahara?
You should leave your luggage, especially suitcases, in your accommodation in Marrakech. For the three days, it's worth packing a backpack with all the essentials. Because on the second day you will be traveling on the camel and do not want to have too much luggage.
Do not forget your camera and a power bank (as you'll probably not have power at least on the second day), as well as sunglasses and sunscreen. It is also worth it, depending on the travel time, to take a slightly warmer sweater or jacket, as it can be cold in the desert at night. You do not need much more, and you can leave most of your belongings behind in Marrakech.
How exactly does a tour into the Sahara Desert of Morocco look like?
Now I would like to describe in more detail my experiences during the desert tour and give you a short travel report on my tour in the Sahara Morocco.
Day 1 of my Morocco desert tour in the Sahara
The first day of my Saharan tour started very early – at 7 o'clock in the morning I was picked up in Marrakech in a van. First, I was driven to a meeting point and had to change vans again, then I was together with my travel companions and the tour started!
We left Marrakech behind and continued through the breathtaking Atlas Mountains, through the small Berber settlements. Here you could watch the traditional life in Morocco from the van and at some viewpoints, we stopped and took pictures.
In the afternoon we visited Ait Benhaddou, the film city in the desert, which has already served as a backdrop for some famous series and films; such as Game of Thrones and Gladiator! We had a tour of Ait Benhaddou and plenty of time for photos before continuing.
Our next stop was the Dades Gorge, which was spectacular and had a great photo opportunity. Afterwards we went to a hotel where we had dinner, sat together and finally went to bed.
Day 2 of my desert tour in the Sahara Morocco
This morning we started again early, at 8 o'clock was our departure! Our first destination was the Gorges du Todra – a great gorge that also had a green oasis. Afterwards, we finally left civilization and drove deeper and deeper into the desert for several hours.
Finally, we arrived at the edge of the sand dunes near Merzouga in the late afternoon. Here we had to fight first with a small sandstorm (and even raindrops!) and had to wait a bit, until the weather calmed down. Then we started!
On camels led by a native Berber boy, we went in the caravan into the Sahara. We spend about one hour riding through the sand dunes of Erg Chebbi, as the sun slowly lowered. Here we were already very close to the border of Algeria. Finally, we arrived at our desert camp!
We had a great evening in the Sahara. First, we could watch a beautiful sunset from the sand dunes, then we were served delicious food in the camp. Afterwards a campfire was started, the local Berbers made some music and danced. Finally, I climbed the sand dunes with a few other travelers at night and enjoyed the clear desert night.
Since the temperatures were very pleasant, we also decided to take our mattresses out of the covered camp and slept under the stars in the Sahara under the clear sky. A great and unforgettable experience!
Day 3 of my tour to the Sahara in Morocco
Today we had to get up very early at 5 in the morning, before sunrise, and quickly pack our belongings. Just in time for the rising of the sun, we sat on camels again and were transported through the sand dunes. After a short breakfast on the edge of the sandy desert, the long drive to Marrakech started, which lasted 12 hours!
Accordingly, on the last day of the Sahara Desert tour nothing else was on the program and I was able to rest in the van and sleep a little. Around 7pm we arrived back in Marrakech.
Conclusion for the Morocco desert tour in the Sahara
I hope I could give you a good overview of the Morocco desert tour. A trip to the Sahara is definitely worth it on your Morocco backpacking trip and I hope that your experience in the desert will be just as good as mine!
What other sights in Morocco are there?
A lot! Of course, there are more destinations in Morocco that I have not visited yet, so I'm not writing here about them. The royal city of Fès attracts many tourists. Agadir and Taghazout are perfect for surfing and beach holidays.
You see – Morocco has a lot to offer and is a perfect destination for a backpacking trip. And only one visit is usually not enough to see the whole country!
The best backpacking Morocco travel tips!
A trip to Morocco is a great experience and the country has much to offer. Note, however, that a Morocco vacation cannot be compared to the typical travel destinations in Europe and you will get to know a different culture here. This is incredibly exciting, but it can also cause problems if you are not prepared for it. That's why I'll tell you more about the most important Morocco backpacking tips, so that nothing goes wrong on your Morocco trip.
Morocco Travel Tip #1: Take your time
Morocco has much to offer. But if you're only in Morocco for a few days, you should not try to backpack all over the country. Although the tourist infrastructure in Morocco is pretty good and there are also some tours which take you to different regions, you should not underestimate how long it takes to cross the country.
Morocco Holiday Tip #2: Negotiate every price
A Morocco backpacking trip is cheap – but only if you follow this advice. There are no fixed prices in Morocco! If you have never left Europe, it may be unfamiliar and strange for you to bargain prices. In Morocco, however, this is by no means rude, but even expected.
Expect that the first price you'll hear is always way too high. Next, you shake your head, laughing and call a fraction (10%) of the amount. Your counterpart will also be shocked by your offer, you will gradually call different prizes and meet in the middle. This is the normal game in Morocco (and many other countries). Do not be intimidated, be patient, insistent on your price and never give your counterpart the feeling that you are in dire need of a product or service.
Believe me, if you say "yes" to every price you're told, your Morocco backpacking adventure will end up costing you more than a holiday in London or Paris.
Tips for Morocco #3: Beware of pickpockets and scammers
Morocco is considered politically safe and stable. You should still be cautious of pickpockets and scammers. Always leave valuables such as credit cards and your passport safely in the hotel. When you walk around the city, it's enough to have some cash with you. Make sure your phone is always deep in your pocket.
Especially in the tourist centers (as in the old town of Marrakech) there are snake charmers, monkey owners, henna-drawing women and decorated locals. All this is cool for photos, of course. However, you should discuss it in detail and negotiate how much you pay in the end – because you won't be able to take any souvenir photo for free. Negotiate a fair price and stick to it.
Backpacking Morocco tip #4: Compare tour providers
The tourism infrastructure is very good in Morocco and you will be able to book and organize tours to the Sahara as well as to other places of interest on every corner. Inform yourself about the tour provider, google for reviews and compare prices. Often it makes sense to book the tours through a "trustworthy" facility, such as your hostel or hotel.
I had the impression that all agencies offer exactly the same route at the end. Nevertheless, some research is worthwhile. As always, prices should be compared and negotiated. If you're traveling with several people on a Morocco vacation, I'd advise you to ask for extra group discounts.
Morocco Backpacking tip #5: Just go with the flow!
Often, we tend to have our journey planned and organized right up to the last moment. However, I can also recommend that you simply do something without a big plan. Only then will you feel the real Morocco. Take a break for half a day, and let yourself drift through the streets, souks and squares of the Moroccan cities. Watch the locals, enjoy a typical tea, be fully immersed in the culture. You certainly will not get bored!
Morocco Insider Tip #6: Know how to get to your accommodation
Once you leave the airport after arrival, you are the most vulnerable – not just in Morocco, but in every country that you visit. You have arrived in a new place, you have luggage with you, you do not really know the currency, you do not have internet. And quickly it can happen that you sit in the next best taxi for an exorbitant price. That's why I give you the tip for your Morocco backpacking trip that you inform yourself in advance where your accommodation is and how to get there. Maybe you can arrange an airport transfer in advance. If not, you should know what a fair price for a taxi ride is. If you spend the night in Marrakech's old town, taxi drivers often cannot drive directly to the accommodation due to the narrow streets. Insist, however, that your driver brings you directly to the door. Because the medina resembles a labyrinth, and locals show you (in my experience) in general only for additional tip the right way.
Therefore, write down the address of your accommodation, find out directions and pin the place on an offline map (like maps.me) on your smartphone. Then nothing can go wrong!
Morocco travel tips #7: Be patient and flexible
In Morocco, time is a different concept! You are no longer in Europe, but in Africa. Forget all the punctuality, reliability and organization you know from home. Maybe you'll experience a little culture shock on your Morocco vacation, but I'll give you the tip to just be open to it. Certainly not everything will go as planned on your journey, often you will be confronted with situations that are exhausting and surprising. Stay cool and be open, flexible for something new!
Morocco backpacking tip #8: Choose the right travel time
Morocco is located in North Africa and is part of the largest desert in the world. Accordingly, you have a different climate here! In general, you should avoid the summer for a backpacking holiday in Morocco, as the sun burns relentlessly, and you will find it difficult to explore the cities of Morocco.
However, winter is not the optimal travel time for Morocco either. Although it is warmer than in Europe, it cools down especially at night in the desert and in the mountains. The houses in Morocco also have no insulation and no heating system as in Europe, which is why it is quite possible to freeze in Morocco at night.
So, what is left as a good travel time for your Morocco backpacking vacation? The best times are probably the transitional periods – spring and autumn. During this time, it is not too warm, but not too cold at night either.
Tips for a Morocco backpacking vacation #9: Try the typical food
Since Morocco is well developed for tourism, you will probably also find international food such as pizza, burgers and sandwiches in many parts of the country. However, I recommend that you try the typical food in Morocco. The main dish of Morocco is Tajine, which describes a certain preparation of vegetables, potatoes and meat in a clay pot.
In Morocco you also have the opportunity to taste extraordinary dishes. I have actually been persuaded by other travelers in the hostel to try sheep head at the market in Marrakech! If that does not directly hit your taste buds, you should at least try the typical Moroccan tea, flatbread and freshly squeezed orange juice.
Morocco tip #10: Distinguish between tourist attractions and local experiences
As mentioned, Morocco is an interesting mix of tradition and modern tourism. Therefore, you can pick the best of both worlds. Many visitors in Morocco, for example, want to visit a hammam (= traditional bathhouse). There are two options here: Either you opt for a luxurious, tourist hammam, which is like a spa. Or you choose the really traditional option and go to a bathhouse where the locals actually wash themselves. The same is true for restaurants – you will find both, chic tourist restaurants and local street stalls.
That's why a backpacking holiday in Morocco is also suitable for everyone – whether you are more adventurous or prefer luxury, you will find something.
Morocco backpacking tips #11: Respect the culture
Although Morocco is very open to tourism, you should not forget that Morocco is a Muslim-dominated country and therefore, it is more conservative than Europe. As a woman you should be careful not to show too much skin and even in summer to avoid short skirts and tops. Although you do not have to cover your head, you might want to consider carrying a sarong to cover the shoulders. Like this, you won't attract the full attention of the locals. If you are a couple in Morocco don't show any public displayed affection – because this would be inappropriate.
You may also find alcohol in Morocco, but it might be difficult in the traditional parts of the country. If you're looking for a party holiday, Morocco isn't the right place either. Respect the culture and the people of the country.
Information about the Morocco visa (2019)
Morocco is considered a popular destination for Europeans and you can fly with the well-known budget airlines (such as Ryanair) for little money to Morocco on vacation. When your Morocco trip is coming up, you'll probably wonder how exactly Morocco's immigration policy works and whether you need a Morocco visa.
Below I give you now all further information about the Morocco visa as well as the immigration procedure of the country.
Do I need a Morocco visa?
Good news – as a German citizen (as well as many other nationalities), you do not need a visa to enter Morocco! You can therefore stay in Morocco for up to 90 days without any problems. This should be enough time to explore the country extensively!
A list of countries whose citizens do not need a Morocco visa can be found on the Moroccan embassy website. If you are from a country that is not listed, you will need to apply for a tourist visa for Morocco in advance.
What documents do I need for Morocco immigration?
To enter Morocco, you need a valid passport. This must be valid for more than 90 days. An identity card (sufficient for travel within Europe) is not enough here! If you do not have a passport, you must apply for it before you travel to Morocco. Note that issuing a passport also takes some time and you should plan ahead.
How does the immigration to Morocco work?
Since you do not need a Morocco visa, the entry into the country is very uncomplicated. After landing at the airport, you will pass the passport control where you will need to present your valid passport. Here you get a stamp – that's it! Welcome to Morocco!
What does the Morocco visa cost?
Good news! If you do not need a visa, entry to Morocco is completely free.
How long may I stay in Morocco?
As mentioned above, you can stay in Morocco with a valid passport for 90 days. If you want to stay longer, you can extend the length of stay.
Is there anything else to consider?
When you leave Morocco, your passport will be stamped a second time. That's it! It is important, of course, that you take good care of your passport during your Morocco vacation. However, as you can see, entering Morocco is visa-free and very easy. That's why Morocco is the perfect backpacking destination!
I hope those tips will be helpful for your Morocco backpacking adventure! Have you already been backpacking to Morocco? Are you planning to go? Let me know in the comments!
Did you like my article and find it useful? Let me know in the comments - I'm always happy to hear from you :) Cheers, Patrick
*This post includes affiliate links. If you buy a product or a service through these links, I earn a small commission. There is no extra cost for you and your purchase helps me running this website and providing free information. Thanks for your support!