I exactly remember the moment when I was sitting on the beach in Canggu, Bali with my travel blogger friends Janet and Taylor in January 2020. A cold beer in our hands, we were watching the beautiful sunset like every evening, talking about life and what the future might bring. We all settled in Bali for a few weeks, working remotely on our online businesses from paradise – and although we'd live what many people would call "the dream", something was missing. In fact, we were complaining about how boring our lives would be at this point, how tired we'd be from constant traveling and that we'd hope for something exciting, something unexpected to happen. At this moment, a surprisingly large wave hit our bean bags and soaked our dresses – and I was joking that this was the most exciting thing that happened today. Oh well, little did we know what year was laying ahead of us.
As we all know, 2020 was a wild ride – with the biggest disruption our generation had to deal with until now. And yet, despite everything that happened in the world, 2020 was actually not a bad year for me on a personal level. Sure, it's been very different than what I originally expected, but it also led to much-needed changes and new opportunities.
In my 2019 review article, I was talking about how the past year was fun and exciting, but lacking any big milestones for me – well, 2020 was up to change that. After all, this was the year where I decided to move away from full-time traveling because of various reasons (spoiler alert: Corona wasn't one of them), got stuck at home for several months, settled in Berlin and pursued new career goals. But let's start from the beginning.
The big decision in Bali
2020 started the same way as the last few years for me – with a flight ticket to escape European winter and big travel plans for the months to come. After stopovers in Doha and Kuala Lumpur, I decided to settle in Bali for one month of remote work, before traveling the Philippines in February – the one Southeast Asian country that I didn't explore yet properly.
As mentioned at the beginning of this article, it's been during this particular time in Bali when I started thinking a lot about my professional future and my current nomadic lifestyle. It's been almost two years that I gave up my student apartment in Mannheim, graduated with my master's degree and decided to postpone "real life" for a few months in order to take advantage of my first opportunities for sponsored travels, after starting this travel blog just a few months before. Well, these "few months" of freedom turned into almost two years of traveling the world full-time and working remotely on my travel blog. It's been a fantastic time and I'm truly grateful for all the amazing places I was able to see, all the people I met along the way. And although things were generally going well (and Corona was only a beer), I always knew that for me, the nomadic life wouldn't be forever.
It was during this time in Bali when I realized that I needed a change – despite all the freedom and all the amazing trips. I was exhausted of traveling full time for years, I was bored of the constant repetitive work of writing articles and editing pictures. I was longing for a place to call home again, a constant group of friends around me and some stability in my life. And I was also ambitious for new career opportunities and professional changes. I could go into lots of more details why exactly I came to the conclusion that neither full-time traveling, nor full-time blogging was the future for me, but this would be a separate article. Nevertheless, I guess my point is clear. It was not a decision I took lightly, but I knew that it would be the right move for me. And that's when I started researching on career platforms and sent out my first applications for corporate jobs in Germany.
The start of Corona
Although news of the new virus became more and more prominent in the media, neither me nor anyone else took the situation seriously in January. Contrary, my blogging friends and I were laughing about the messages we received on social media with people asking if traveling Southeast Asia would still be safe. In January, Corona was only an issue in China after all. I remember how my friend Janet brought up that some of her blog traffic for Asian destinations started decreasing with people being scared to travel, leading to laughter. I remember how Taylor and I got stopped to get our temperature checked for the first time when we wanted to enter a beach club. Nevertheless, we didn't realize how serious things would get soon. Instead, I continued my travels to the Philippines in February, with a short stopover in Singapore.
My flight back to Germany was booked for early March, right in time for ITB – the big tourism conference in Berlin, where I'd meet tourism boards and PRs to discuss potential partnerships and collaborations. However, with more and more Covid cases around the world, the tourism fair got cancelled just a few days before, leading to widespread incomprehension and disappointment in the tourism industry. Nevertheless, I still decided to travel to Berlin to hang out with my blogging friends from all around the world for a week of reunions and partying. Looking back, we've all been so reckless and stupid. However, there were only a handful of cases in Germany at this point and we were still convinced that the virus would disappear anytime soon.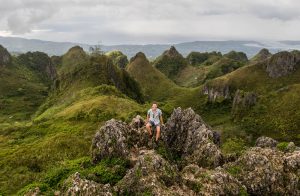 When the pandemic hit
And that's when things moved really fast. It's been on a Saturday when I was in the train from Berlin back to my parent's place for a short visit before my upcoming travels to the Middle East (at least that's what I thought). On Monday, Italy went under lockdown. On Wednesday, more and more European countries started closing their borders. In the days to follow, I was watching my friends on social media desperately trying to get home, with flights and countries shutting down. And by the end of the week, the world was on standstill. Soon I realized that not only my Middle Eastern travel plans would not happen, but that I probably wouldn't go on any trips for a very long time.
And that's when I had to get used to lockdown life. For someone who left home ten years ago and got used to continuously moving around, living in my old children's room at my parent's place in rural Germany was certainly unexpected and challenging. Nevertheless, I was very lucky that the pandemic stroke while I was actually at home and not on the other side of the world. And in fact, I started enjoying the time given – after all, it's been an unexpected opportunity to finally slow down. I spent lots of time with my family, enjoyed being in the nature, started to get into a healthy routine and took care of lots of smaller projects and to-do's I never had time for until now.
A new opportunity
And thankfully, I didn't really need to worry about the future either. Remember earlier, when I mentioned the job applications I sent from Bali in January? One of them was for a management trainee program at a fast-growing and exciting tech company in Berlin – my favorite from the start. And after five interview rounds in March, I ended up getting an offer! Fortunately, my new employer is also one of the few companies doing extremely well because of Corona. At a time when the tourism industry was shattered and my blogging income decreased to a fraction, I signed my job contract for a start in September – the stars were really aligned for me.
After several months in lockdown, the Corona situation improved significantly, and Europe slowly opened up again in summer. Therefore, I took the opportunity for some cheeky holidays – if there's one good thing about traveling during a pandemic, it's the unique opportunity to see popular tourist spots without the crowds. And that's why I was one of the first visitors in Iceland in June right after borders opened and travelled to the most famous Greek islands – Santorini and Mykonos – afterwards. Further, I also had some collaborations with regional tourism boards in Germany and finally explored what my home country has to offer – and I was pleasantly surprised!
And then it's been time for the next big step. In the end of August, I moved into my new apartment in Berlin and started my corporate career. And four months in, I can honestly say that I'm extremely happy about my decisions. My new job is full of exciting opportunities, giving me the chance to grow a lot while working in a dynamic and international environment with great colleagues. And life in Berlin is as fun and exciting as I thought it would be. Unfortunately, Germany went into another (and still ongoing) lockdown in November – but this shall pass as well.
What's next?
Don't worry – despite all those changes, I won't give up travel blogging! After all, traveling will always be my big passion. And with so many previous trips which I didn't cover yet on this website, I could probably still spend years writing about past destinations and experiences. Once the pandemic is over, I'm looking forward to seeing more of Europe and particularly more of Germany. After years of exploring mostly exotic and remote destinations, my content might shift a bit more to local travels – if the pandemic was good for anything, it's been showing me that I don't have to fly to the other side of the world to have a great time.
Yes, 2020 was a shitty year for humanity with lots of tragedy, injustice and suffering for many people around the world. However, on a personal level, 2020 was also full of positive and much-needed changes. I'm very happy about how things turned out regarding my new career opportunity and settling in Berlin, and with vaccinations ramping up, I'm also slightly optimistic that we'll manage to leave the pandemic behind in 2021.
Please don't disappoint us, 2021!
[no_toc]