If you've only got a short amount of time to explore Beijing (you might be taking advantage of the 144-hour visa free policy!) then you're going to want to see the very best spots. Don't waste your time with every single one of the touristy activities that aren't actually that interesting! There are, of course, some must-sees in Beijing, but there are also some things that are just unnecessary to tick off your list. When planning your trip to Beijing, consider what you actually enjoy doing and also what you have already done (or will do). Is there any point in seeing essentially the same thing 3 or 4 times just because it's in a top ten list!? Here are my top recommendations as an expat living in Beijing for what to see in Beijing! I've also added where to avoid – obviously it's all personal preference but it's a good starting point!
These are the things you have to see in Beijing
The Forbidden City
Built in the 15th century, the Forbidden City is an incredible palace complex that you really must see on any trip to Beijing. Not only is it fascinating to look at, but there is so much interesting history to learn about whilst exploring the corridors of the Palace Museum. When you've finished exploring, make your way to Jingshan Park at the north entrance to get a bird's eye view of the hundreds of buildings and thousands of rooms!
Note: The Forbidden City is closed every Monday.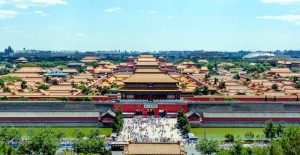 Tian'anmen Square
Just across the road from the Forbidden City, Tian'anmen is worth a quick trip to marvel at the world's largest city square. There are a few museums dotted around that you can visit (as well as Mao's mausoleum!) or you can climb the tower and see Beijing from above. You don't need long to walk around the square so definitely combine this with another activity.
The Great Wall of China
This has got to be one of the most iconic spots in the world, so it's a must-see when you're in China. It truly is spectacular and you won't regret taking a day out to visit.
There are lots of different sections of the Wall – all varying in difficulty, scenic beauty and most importantly – amount of tourists! Skip Badaling completely. It's full of people all the time, and it's not really that authentic as much of the section has been restored since the original build. Mutianyu is a nicer place as it has fewer tourists, great views and also it has retained much of its natural structure. However, there are better places so the only reason I would recommend Mutianyu is if you want to take a cable car up and a toboggan back down!
In my opinion, the best part of the Great Wall is Jinshanling. It is simple and cheap to get to by local transport, the views across the rolling countryside are stunning and best of all, no one seems to go there! You can have whole parts of the Wall all to yourself whilst you relax with some lunch and a few beers (you can buy them from sellers on the wall for a slightly inflated price but it's much better than carrying your own!). There is also a gorgeous hotel set at the foot on the Wall so if you want to spend more time here then I'd recommend checking out Dhawa Hotel.
Nanluoguxiang Hutong + The Lakes
Beijing is full of winding alleyways called hutongs. You'll find people living, working and shopping in these backstreets and Nanluoguxiang is one of the more famous ones. Spend a few hours wandering around, trying local street food getting to know Beijing's local culture. Once you've finished in the hutong, take a stroll around the Houhai Lakes – a sunset cocktail goes down a treat here!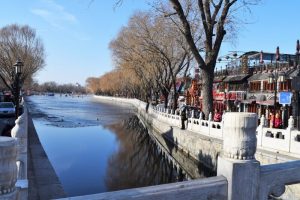 798 Art District
798 is a great part of town to visit if you want to see a different side to traditional Beijing. There are lots of art sculptures and cool murals to look at, as well as highly rated tattoo studios and galleries. There are plenty of bars, cafes and restaurants here too so you could easily spend a whole afternoon in this district.
Panjiayuan Antique Market
If you're looking for a place to buy authentic Chinese souvenirs and gifts, or incredibly beautiful art, then this is the place to be. Located in the south of the city, Panjiayuan Antiques Market is where all the locals go to buy trinkets, paintings and furniture. The prices can be haggled down, but usually these sellers aren't trying to rip you off.
Temple of Heaven
The Temple of Heaven park is a huge complex, made up of various halls, bridges and palace buildings. It's a peaceful area, with many of the elderly local Beijingers taking part in dance classes or friendly games of chess. Buy the combo ticket so that you have access to all of the attractions.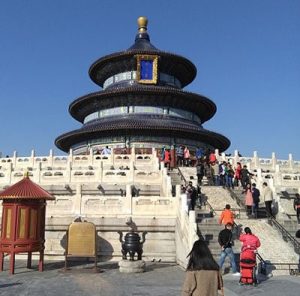 These are the things you can skip in Beijing
Wangfujing Snack Street
Ah, the famous snack street, where you can buy all of the weird delicacies like scorpions on sticks that the Chinese love! Well, actually, it's a complete scam and in 3 years I have never met a Beijinger who genuinely eats these snacks! The street is for tourists, period. It's overpriced and also gross!
As of 2019, Wangfujing is actually closed for renovations anyway, but even if it is open when you visit – go and spend your money somewhere else on actual nice food!
Lama Temple
If you've been in Asia a while, you might be a little 'templed out'. Personally, i would choose either the Temple of Heaven OR the Lama Temple, rather than both. I've included Yonghe on this 'places to miss' list but if you aren't planning on going to the Temple of Heaven then it is a nice place to spend a few hours. The Yonghe Lama Temple is interesting if you're into Chinese Buddhist history and culture.
Silk/Pearl Market
The Silk Market and the Pearl Market are popular places to do some bargain shopping in Beijing, but I personally don't think they are worth the time! Yes, you can get some knock-off electronics and jewellery, but what's the point of paying for a fake if it is just going to break or rust soon after you get home?
If you are visiting the Temple of Heaven and you need to kill some time, then take a peek into the Pearl Market as it is just across the road but don't go out of your way to visit. There is also a busy food hall underneath, jam-packed with many different Asian cuisines that is worth picking a lunch spot at.
Beijing Zoo
I'm not a huge fan of zoos anyway, but if they're doing great conservation work then I understand why they're necessary. Beijing Zoo is not one of those places, and the animals are treated terribly. The enclosures are poor and never large enough for the animals inside. Some social species are kept in isolation with inadequate provisions. It's just not a nice place to endorse so please don't visit!
Important Travel Tips For Visiting Beijing
Beijing is a great city and there is plenty to do but it can be overwhelming. Here are a few extra tips that will make your trip a little easier!
Avoid National Holidays AT ALL COST! Beijing gets a huge influx of domestic tourists during certain holidays. That means that you're pretty much guaranteed long lines and busy subway stations – not exactly the recipe for a fun trip. The busiest holiday is National Week (1stOctober – 7thOctober). During the Chinese New Year, you should still avoid Beijing but for a slightly different reason. Many Beijingers actually leave the city to return back to their hometowns, so lots of shops and restaurants will be closed. The attractions will be less busy but you won't get the same vibe as you would when everyone is still around.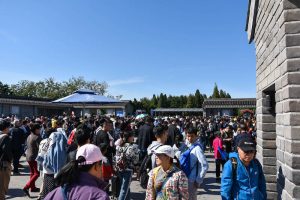 Use the subway to avoid bad traffic. Beijing isn't actually that large a city on the map, but it can take hours to get from one side to the other due to the crazy traffic. Sometimes there are just too many vehicles on the road, but this problem is also due to the terrible driving that occurs across the city! The subway system is incredibly easy to use, plus it is mega cheap too.
Bring cash whenever you go out. Most places won't accept Visa or Mastercard, so unless you have WeChat linked to a Chinese bank account (the chances are slim, I'm imagining!) you'll have to pay in cash.
Carry your passport around with you. You'll need it to enter some attractions like the Forbidden City, but you also might be asked to prove that you're here legally by the police randomly. It's not personal and they're usually very nice about it – just show them your identification and they'll let you pass.
Download a VPN before you get to China. We have used Astrill for 3 years and although it's not perfect, it's the best one for surfing the net here. You may be able to survive without Facebook or Instagram, but there are other western websites that are blocked too. You might need to access your online banking or your emails whilst you're away and you might be able to – but you might not! The Great Firewall of China is constantly changing, blocking and unblocking websites as it goes, so it's best to be prepared! Read more about the China VPN here.
Even if you download Astrill to use Google Maps, it isn't the most accurate here. Since the company is banned from China, their directions can be hit and miss, so you're better off using Apple Maps if you can. An even better idea would be to download Baidu Maps too. This is the biggest and most popular map app in China and even though it is in Chinese, you can cross reference it with an English map as well as seeing where you are in reference to where you're meant to be!
About the authors
Jade and Kev are a couple from England who are currently living and teaching in Beijing. They have been travelling together and working abroad since 2015 and don't plan to stop anytime soon! Follow their travels on their blog, on Facebook and on Pinterest.
Did you like my article and find it useful? Let me know in the comments - I'm always happy to hear from you :) Cheers, Patrick
*This post includes affiliate links. If you buy a product or a service through these links, I earn a small commission. There is no extra cost for you and your purchase helps me running this website and providing free information. Thanks for your support!