The Trans-Siberian Railway – the greatest train journey in the world, spanning over two continents, 7 time zones and thousands of kilometers – the connection of Europe and Asia, a part of so many bucket lists and the dream of every traveler. When I visited China in summer 2015, I met some people who finished their Trans-Siberian journey in Beijing and convinced me immediately that this journey is an absolute must-do. One year later, in summer 2016, I ventured on an epic backpacking adventure on this train and I'll tell you everything you need to know!
Here's a short video I created about my Trans-Siberian Railway adventure!
---
How to start planning your Trans-Siberian Railway experience
Okay, time to plan your ultimate Trans-Siberian-train-adventure! Let's first get rid of the biggest misconception many people have – there's no such thing as THE one Trans-Siberian Railway, there's not one specific train; but actually a whole railway network which spreads out all across Siberia, from Europe to Asia and further into Mongolia and Beijing. This huge network can be referred to as the Tran-Siberian railway, giving you a lot of flexibility to adapt your itinerary.
When to travel on the Trans-Siberian Railway
Trains run all-year round, but the summer months are definitely considered as the "high season" of the Trans-Siberian Railway. You'll have fewer chances of rain, more sunshine and longer days (remember that you'll be far up north!). But you also need to plan and book a little bit in advance. Doing your journey in the winter might have its own charm. Nevertheless, be prepared for snow, darkness and freeeeezing temperatures, which will make your stops less enjoyable. Also, bear in mind that not only Russia but also Mongolia and northern China are absolutely freezing outside of the summer months, with big parts of Mongolia being not accessible at all. Unless you desperately want to have the ultimate "Winter is here" experience, I recommend you to go during the summer.
Planning your route for the Trans-Siberian Railway
Since there's not only one train line, you got a lot of choices – and it's time to decide on YOUR personal Trans-Siberian Railway itinerary. For most people, the train journey starts officially in Moscow. If you fancy traveling from West to East without taking any flights, you can get to Moscow by train from every European city. I rather decided to take a cheap flight into Latvia, continued from there to Estonia and further up to St. Petersburg (here's an extensive guide about visiting St. Petersburg), from where I took the speed train to Moscow. From Moscow, trains run towards the east via several cities, including Yekaterinburg, Novosibirsk and Irkutsk (next to Lake Baikal). After looking at a map, I realized how close I was from Kazakhstan – one of the big and unknown countries for me at that time – and decided to do a detour and include it! You see – this is uncommon, but there are no limits to your creativity! From Lake Baikal, most tourists continue their journey further into Mongolia (on the Trans-Mongolian Railway), although you can also go further east until Vladivostok, if you want to wander off the beaten path.
It is possible to travel from Moscow all the way through to Mongolia and Beijing in 6-7 days without any break, but I certainly wouldn't recommend it – you won't see anything! To get the true Trans-Siberian Railway experience, break up your journey into various legs. Get off the train and enjoy the places along the way before continuing further. Unfortunately, you need to plan your trip ahead, since trains might be fully booked (especially during the summer and in the 3rd class section). This makes a spontaneous change of plans difficult. After doing some research and reading various blog posts, I decided to do stopovers in Yekaterinburg, in Astana and Semey in Kazakhstan, in Novosibirsk, Irkutsk (to visit Lake Baikal), Ulan Ude and finally to finish my journey in Ulaanbaatar (continuing to Beijing was less attractive since I'd just been to China a year before). Many tourists travel from Moscow all the way to Irkutsk, go off to visit Lake Baikal, and continue into Mongolia. If you only have two weeks for the whole journey, this is the way to go. If you got more time, definitely do some more stops along the way.My
Booking your tickets for the Trans-Siberian Railway
For your Trans-Siberian Railway experience, you have to book your train tickets in advance. These are your options for purchasing and booking the tickets!
Purchase tickets directly at the train station
Not booking your tickets is something that I would certainly avoid. Especially in high season, the trains are booked out weeks in advance. Further, ticket machines at train stations are only in Russian and you will most likely have difficulties finding English-speaking staff. Unless you're VERY flexible about your itinerary and your travels, I'd avoid spontaneous ticket purchases and rather do the bookings in advance.
My recommendation: Book your train tickets via Real Russia
Especially if you don't have any Russian language skills, I highly recommend the booking agency Real Russia, which is the company that I used to book my train tickets for my Trans-Siberian trip. Real Russia is the official English partner of Russian Railways and you got the big advantage that you can do the planning, booking and paying of your tickets entirely in English, without any Russian skills. When using the Real Russia ticket planner, you can enter all stops and legs of the trip as you wish, and the planner gives you all options and prices. This is certainly the easiest, most straightforward way to plan your Trans-Siberian Railway experience. Further, the staff of Real Russia was really helpful and supportive when I planned my trip and I can honestly recommend them. Check out the ticket planner here:

Very important: Make sure to contact Real Russia at the right moment. The ticket sale opens 45 days before departure, and especially in high season, tickets need to be booked straight away.
Purchase tickets via Russian Railways
Booking your Trans-Siberian train tickets completely independently on the official train website can be pretty difficult. The official website can be rather confusing and was entirely in Russian until recently. By now, there's an English translation available, however, I didn't get far with my ticket purchase there. If you wanna give it a try, have a look here. If you wanna save yourself some time and nerves, I'd recommend going with Real Russia. Another good thing about their service is also that you'd have a competent English-speaking staff member consulting you if you're having any questions or remarks.
By the way: Try not to get confused – all time specifications on your tickets and on the billboards at the train stations have the Moscow time; even if you're in eastern Russia with several hours of time difference to Moscow. Better practice some mental calculations!
Visas you will need for the Trans-Siberian Railway
Most nations (including Germans) need a tourist visa to enter Russia and since they require specific documents; including an invitation letter, it's best to get support from an agency. If you book your tickets via Real Russia, they provide you with all the necessary documents for free and assist you with your visa application. You need to do some paperwork, but everything is straightforward. Just make sure to plan some time for the whole process. It will take you a few days to send away your passport, get the visa, and receive it back by mail. In case you plan to do a detour to Kazakhstan and return back to Russia, make sure to apply for a double-entry visa!
Luckily, Germans don't need any visa for Kazakhstan and Mongolia, and immigration was very smooth. This might vary from other nations, so please do your research in advance. If you continue to China, you'll most probably need your visa. This can be quite complex (you need plenty of documents, including your complete itinerary, accommodation booking confirmations, etc.) and it can be relatively expensive after a recent increase in prices for Chinese visas.
Where to stay when traveling by the Trans-Siberian Railway
When traveling by the Trans-Siberian train, you will most likely have several stops along the way. Luckily, there's lots of good and affordable accommodation available in the Russian cities and towns. Here's my recommendation for good and affordable accommodation across Russia!
• St. Petersburg: One of the best hostels in town is The Cuba Hostel, offering dormitories and private rooms for affordable rates. Other great options are Baby Lemonade Hostel and Babushka House
• Moscow: I stayed at Vagabond Hostel and enjoyed my stay a lot in Moscow. Another great option (with dorms and private rooms) is the ART Hostel
• Yekaterinburg: There isn't that much accommodation available in Yekaterinburg (book in advance!). I stayed at RedLine Hostel and had a good time there! They have dorms as well as private rooms.
• Novosibirsk: The best-rated hostel in town is FunKey Hostel. Another great option (also with private rooms) is Zokol
• Irkutsk: This city is the perfect getaway for a trip to Lake Baikal. A great choice for backpackers it the Travelcenter, a place with affordable dorms and private rooms is Z Hostel
• Lake Baikal: Accommodation at Lake Baikal is limited, but the Belka Hostel is an awesome option and also recommended in Lonely Planet
• Ulan Ude: This is the last stop before many people continue their trip into Mongolia! I stayed at Travellers House and liked it
Budget for the Trans-Siberian Railway experience
There's a common misconception that the Trans-Siberian railway is an expensive journey. This is not true (unless you travel 1st class). I paid for all the different trains I took, for the whole journey from St. Petersburg to Ulaanbaatar – including the detour into Kazakhstan – only 540€ (3rd class). If you decide to do fewer stops this gets even cheaper – the more you break your journey into distinct trains, the more expensive it gets.
Keep in mind that you'll save a lot of money by not having to pay accommodation during the nights that you are on the train. You can also eat cheaply by bringing your own snacks and since you'll spend plenty of days in trains on which you won't spend any extra money.
Here's a breakdown of the budget for the Trans-Mongolian Railway – but note that this fellow blogger chose an organized tour, which makes the trip easier, but also more expensive.
Life inside the Trans-Siberian train
Alright! After a good planning, it's finally time to board and live the ultimate train experience! Get comfy, and get ready to spend A LOT of time looking out the window!
When you book your ticket, you need to decide on the class you want to travel – in Russian trains, you have three choices: 1st class, 2nd class, and 3rd class. Don't worry, you get a bed in each of them. The difference is in the amount beds within a compartment. A 1st class compartment has two beds, a 2nd class has four beds (top and bottom), and a 3rd class has fours beds + two extra beds next to the outside hallway. This is the biggest difference. In 1st and 2nd class you can shut the door of your compartment to get some privacy, whereas, in the 3rd class, everything is open. The price difference between the classes is quite high. I chose the lowest (cheapest) class and it was perfectly fine – it was sometimes noisy, but this is also the class in which most locals travel, so it gives you the proper Trans-Siberian experience.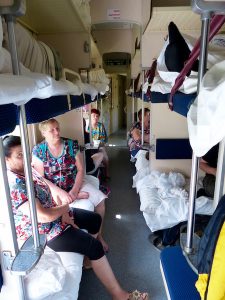 Get ready to spend a lot of time with random locals on the train. Since locals mostly don't speak any English (although some older Russians even spoke some words of German), you might not have many people to socialize with – bring a book, or even better a friend with you. I enjoy traveling on my own, but in the Trans-Siberian railway, I was happy that a friend from home joined me for this trip. If you want to stay connected to the outside world during your journey, I recommend buying a local sim card. For around 15€, I got unlimited, fast mobile internet which worked when we were near a city and during the stops.
There's a food wagon in each train, but I barely used it – food quality was bad, prices were high and the portions tiny! Better do it like the locals do – bring food from outside! Russians love to have a huge picnic on the train with lots of tomatoes, cucumbers, bread, and sausages. There's also free hot water and cups, so it's convenient to bring tea bags, instant coffee, instant noodles, instant mashed potatoes etc., which you can buy in every Russian supermarket. It was not the healthiest choice, but it was the most convenient one. On every stop, there are also Babushkas (old Russian ladies) near the entrance door trying to sell their local delicacies such as fruits, vegetables, and dried fish.
There are toilets in the wagons, but beware – they are always locked half an hour before and after a stop. They are also locked during stops at borders, sometimes for a long time, if you go into Kazakhstan or Mongolia. So, take your precautions.
Okay, let's get rid of one common misunderstanding as well: People don't drink vodka in the train – in fact, it's actually forbidden! When my friend and I boarded our first train, we wanted to go fully Russian and impress all the locals around us by putting out a vodka bottle, ready to invite them all for a shot. Unfortunately, people were confused and we had to hide the bottle again.
Safety on the Trans-Siberian Railway
So, is Russia and the whole Trans-Siberian Railway journey safe? In short: yes!
I always felt safe and I didn't hear about anyone getting into serious trouble during this journey. Try to keep your valuables safe during the journey; don't leave your luggage unattended and have a small bag with your most important things with you in your bed. In many trains, there's room for luggage storage under the bottom bed, which means that no one can access any luggage stored in there while you are sleeping in this bed. Ask Real Russia to book you only bottom beds if you want to make sure about this. I also didn't feel any danger when I got off and spent several days in the places along the way. But as always when you travel, take your precautions: Don't show off your valuables in the streets and don't walk alone into dark allies. Be especially careful with pickpockets in the touristic parts of St. Petersburg and Moscow. Since we're in Russia, try to avoid any big political discussions, don't walk around waving a rainbow flag and make a big detour if you encounter drunk people on the streets.
People you'll meet traveling on the Trans-Siberian Railway
This depends a lot on your itinerary. If you take the direct train from Moscow to Mongolia/China, which leaves only once a week, you'll meet plenty of fellow travelers making your train experience quite social. Since I did various stopovers, I ended up in local trains connecting shorter distances and I didn't see many tourists. It was only during the last leg, from Ulan Ude to Mongolia, when I met several other travelers on the train.
Since I traveled in 3rd class with open compartments and no privacy, I can tell you that you'll have plenty of locals around you during the journey. Some completely ignored me, some tried talking and connecting with me. Many continuously talked to me in Russian and thought I would understand it if they would speak louder or slower. Some tried to speak with me in broken English and even German! Whenever we could overcome the language barrier and actually have a conversation, it was a very fulfilling and interesting experience. Many locals told me about their children, inquired about my life and couldn't believe that I was actually traveling even though I'm still a student – "you're so lucky" is a sentence I got told all the time. During my journey, I got to know very kind and welcoming locals, offering me food and trying to connect with me despite the huge language barrier.
On the other hand, many people asked me straight away for my political opinion regarding our chancellor Merkel and the current refugee crisis. A lot of locals seemed to agree that Merkel was destroying Europe and that Germany would be taken over by immigrants – one old Russian even shouted: "you should kill all the refugees, before you have the same problem as France" – it was shocking, but also interesting to listen to their own personal opinion.
My resume on my Trans-Siberian Railway experience
Traveling by the Trans-Siberian Railway is a unique experience, and one of these once-in-a-lifetime journeys that I absolutely recommend to every traveler. Considering that the length of the journey, the countries you'll visit, the stops you'll make and the class you can travel on are so flexible, this trip is possible for everyone, regardless of your time and budget. Enjoy your Trans-Siberian Railway experience!
I am always happy to answer any question you might have about my article and the journey. Feel free to send me a message!
Traveling the Trans-Siberian Railway – In a nutshell
• Decide on your personal itinerary – where do you want to start, where do you want to end? Do you want to continue into Mongolia and China?
• Stop along the way! The most popular layovers are Lake Baikal and Ulaanbaatar (to explore Mongolia from there). I also recommend some more stops to get the true Trans-Siberian Railway experience (e.g. Yekaterinburg, Astana, Novosibirsk or Ulan Ude). Russia has a lot to offer!
• Plan in advance – I recommend Real Russia to book your tickets
• Travel 3rd class in the Trans-Siberian Railway to save money and have the true local experience
• Get used to the weird time specifications (Moscow time!)
• Bring food and entertainment (food, laptop,…) inside the train
• Be open to connect with locals and listen to their opinions
• Finally: Enjoy your Trans-Siberian Railway adventure!
MerkenMerken
MerkenMerken
MerkenMerkenMerkenMerken
MerkenMerken
MerkenMerken
MerkenMerken
MerkenMerken
Did you like my article and find it useful? Let me know in the comments - I'm always happy to hear from you :) Cheers, Patrick
*This post includes affiliate links. If you buy a product or a service through these links, I earn a small commission. There is no extra cost for you and your purchase helps me running this website and providing free information. Thanks for your support!