Thailand is world-famous for its beautiful beaches and islands. On the countless islands of Thailand, you can enjoy your holiday while relaxing on idyllic sandy beaches, celebrate at wild parties all night long, explore great nature by scooter, go snorkeling and diving or simply indulge yourself in a luxury resort. In Thailand, everyone will find their own perfect beach and island! However, as you will soon realize, it is not so easy to choose among the incredible variety of islands and beaches of Thailand. Many of the islands also appeal to different target groups. For example, while Thailand backpackers and divers love Koh Tao, families are more likely to enjoy Koh Samui, and the party-goers may not miss Koh Phangan. I asked some fellow travel bloggers for their opinion about Thailand's beaches and I'm happy to present you everything you need to know about the best spots for your Thailand island hopping holiday!
The detailed overview will show you the best islands and beaches for island hopping around Thailand. I have divided the best islands and beaches in Thailand into 3 regions: The west side of Thailand around the Andaman Sea (towards Sri Lanka and India), the southeast side of Thailand in the Gulf of Thailand and the east coast of Thailand, which extends south of Bangkok to the border of Cambodia. You'll definitely find your perfect island here!
The best spots for island hopping in the (south-) west of Thailand
Here's all information about island hopping in the west of Thailand.
Koh Libong
In the southern parts of Thailand, in the Trang district, there are still a couple of islands not yet touched by mass tourism. One of these are Koh Libong, a quite large island with amazing long sand beaches. If you're lucky, you can still find an entire beach all for yourself in the afternoon.
On the west side of the island, there are a couple of hotels with different price levels (spanning from luxury resorts to more simple bungalows). There are also some restaurants here, but no nightlife to talk about. People come here to relax and to enjoy the beach life.
Close to Koh Libong (just a longtail boat away) you can find the islands Koh Mook and Koh Kradan, both well worth a visit. The snorkelling is one of the best in all of Thailand in the area, and a daytrip out on the reefs is a "must tick off activity".
Another cool activity is to rent a motorbike for a day and to explore the island of Koh Libong on your own. There are no cars on the island, so the traffic should not stop you from taking part in this activity. Make sure to bring your swimsuit and lots of water!
– Per from Resrutt
Khao Lak
Khao Lak is known for its tranquillity beachfront, which consequently became a great alternative for beach lovers to soak up the beautiful warm sun over the powdery white sand beach without being stressful over the overcrowded tourist. Located just slightly an hour's drive up north from Phuket Island, many travellers visited Khao Lak for its dense tropical reserves, the serene beachfront or simply here to find peace.
Although Khao Lak has undergone one of the most horrific natural disasters, this land has regained its trust and you'll be surprised that nature remains quite mesmerizing. If you're here for a beach getaway, there are plenty of newly built and refurbished resorts and bungalows that provides quite an outstanding stay for an affordable price. We stayed at JW Marriott Khao Lak the last time and it was one of our most magical stay of all time! It's reasonably priced, services are on-point and the food served in every restaurant is beyond stunning!
Unlike other popular destinations like Koh Phi Phi, Khao Lak offers a more laid-back vibe with lesser tourist crowd which makes it an ideal relaxing holiday for couples. Although Khao Lak is still a pretty new beach destination, you'll still find a good variety of restaurants, bars, local markets, street food, ATM's and occasionally some Thai entertainment and festivals, making it a perfect pick for your Thailand island hopping itinerary.
One of my best way to spend the holiday here in Khao Lak is to rent a motorcycle, admiring the scenic countryside and make a stop at Khao Sok National Park to appreciate Thai's tropical. Alternatively, sign up a scenic bay tour to admire the world's renowned Phang Nga's Bay Rocky Mountains. If not, spend your day chilling by the beach, sipping on a fresh coconut while enjoying the sun and accompanied by the constant sea breeze.
– Racheal from Explorernations
Bamboo Island
Bamboo Island is my absolute favorite island in all of Thailand. Located in the heart of the Andaman Sea, the island is kind of forgotten about. No palm trees don the place and from afar it looks bland and like a place not worth venturing to. In fact, on my trip around the Phi Phi Islands, I saw it from afar, knew it was the last place on our itinerary for the day, and I dreaded it. It took us merely parking our longtail beside the island to immediately change my mind and fall in love with Bamboo Island. The island is flat and void of palm trees, but the trees existing there add a unique charm to this tropical paradise and the waters are so blue and clear that it will blow your mind. I have been to several islands in Thailand and no island had the peacefulness and calm demeanor that Bamboo Island exuded. It isn't a touristy place and is simply a stopover on many of the Andaman and Phi Phi itineraries. I definitely suggest making sure it is on yours so you can see this heavenly piece of Earth just as I did.
– Megan from Megan Starr
Koh Lanta
The island of Koh Lanta, in the Krabi province, has some of the best beaches in Thailand. Koh Lanta is actually a group of 50+ islands that are still relatively untouched from the mass tourism that has affected other parts of Thailand. Lanta Yai, the main island, is 30km long, with most of the hotels, shops and amenities located in the north of the island, where the ferries from Phuket and Phi Phi arrive.
From Costa Lanta, the main town in the north, you can book boat excursions to the numerous other islands that surround Lanta Yai. The majority of these are part of the protected marine park. These pristine white sand beaches with turquoise water are amongst some of the best snorkelling and scuba diving spots in Thailand.
If you have a taste for adventure, do a beach hopping tour with a long tail boat. These are the traditional Thai wooden boats. They're very picturesque, but if you're visiting during the rainy season and come across big waves or rain at sea, you'll have quite the adventure to tell when you return home. Exploring Koh Lanta and its seas rich in marine biodiversity, with beautiful white sand beaches surrounded by limestone cliffs was one of my favourite parts of my Thailand trip.
– Greta from Greta's Travels
Koh Rok
Koh Rok consists of 2 islands located about 30kms from Koh Lanta, an uninhabited island tourists are able to camp a night a two but must leave only footprints, meaning that all waste must be taken with them including the day trippers that visit in their droves. Most popular with snorkelling day tours, the tour takes you to Koh Rok for lunch. You'll visit two amazing snorkelling spots before lunch and another equally as beautifu; spot that has an abundance of Nemo fish definitely a highlight of any snorkelling tour. We took our 3 kids and they enjoyed all 3 snorkelling spot and they were suitable for all the family. You will get to spend 2 hours on Koh Rok over lunch time, allowing enough time for a paddle in the pristine white sand beach. The water is an amazing turquoise colour, just like you see in the Thailand travel brochures. The kids took the snorkelling gear in to the water and paddled around looking for fish. Koh Rok is definitely worth visiting, I think it was one of the most beautiful beaches I have ever seen. We were staying on Koh Lanta and the tour picked us up from our hotel and dropped us off afterwards. Like all other islands in Thailand they appear to be overdoing it with day trippers and it would be nice to see them limit numbers that visit this area each day so that it doesn't end up like Koh Phi Phi. However, you should definitely include Koh Rok in your Thailand island hopping itinerary.
– Sally from Our3KidsvtheWorld
Koh Kradan, Trang Islands
It's not often we share much about Ko Kradan, mainly to keep this gem of a Thai island a secret as long as we can! In a bid to find a quieter corner of Thailand that had yet to be invaded by full moon parties and all-inclusive resorts, we set off on the overnight train from Bangkok to the southern town of Trang to travel onwards to the Trang islands – a less visited and off the beaten path option for those seeking a quiet Thai getaway. Located to the south of Ko Lanta, the Trang Islands are a group of 8 islands, the largest of which is Ko Libong, and Ko Kradan is one of the smallest. We also visited Ko Mook but preferred the beaches and vibes on Ko Kradan. Kradan is home to one main beach which spans the eastern stretch of the Island, and it's here that you'll find most of the accommodation options. Travel to other bays around the island is challenging, so if you want a choice of restaurants to eat at in the evening we suggest staying on the main beach. Accommodation is mainly budget and low mid range – you won't find sun loungers and infinity pools here, but rather beach shacks and basic cottages or longhouses just steps from the beach. The snorkelling in the shallow waters here is a great way to spend a few hours, as well as sea kayaking. For the rest, Ko Kradan is a relaxed place to simply soak up the sun, read a book, have a quiet beer and soak up the amazing views!
– Ellie & Ravi from Soul Travel Blog
Krabi
Krabi Thailand has lots of the best beaches you can find in Thailand such as Railey Beach, Phra Nang Beach and Noppharat Thara Beach. I honestly feel that compared to Phuket and Phi Phi this area is more laid back but still has the charm that the other islands provide. To begin with, most people decide to stay in Ao Nang and although it may not be considered as impressive as the other beaches in Thailand but what makes it special is the fact that it is a good jump off for most of the activities such as snorkeling, scuba diving, wall climbing and swimming. From Ao Nang, Nopphara Thara Beach is only 3km away, while Phra Nang Beach – which Trip Advisor lists as one of Thailand's best beach – is only 20-minutes away by boat. You can also easily reach Railay Beach from there.
One of the activities my friends and I enjoyed is the tour hosted by Slumber Party Hostel – Island hopping and a pub Crawl. Aside from taking us to the best beaches around the area, they also showed us local places to have a good night out. I would definitely go back to Krabi again, I miss it's clear blue waters and it's laid back charm.
– Karla from Karla Around the World
Railay Beach, Krabi
Railay beach in the Southern province of Krabi is one of the most spectacular beaches in Thailand. Located on a peninsula cut off from the mainland by high limestone cliffs, the beach is accessible only by boat. A lot of people visit only for a day, but it is well worth spending at least a night or two and fully taking in the incredibly relaxing atmosphere of this paradise-like laidback place.
Besides simply enjoying the beach, there are many other great things to do in Railay including snorkeling, island hopping, kayaking and rock climbing. With well over 600 trails and the gorgeous views, the latter attracts beginners and expert climbers from all over the world. Even if you're not a rock climber yet, this is a great opportunity to try out a new active hobby and create some unforgettable memories.
If you want to get more adventurous but are not quite ready for rock climbing, challenge yourself to a short but steep trek to Railay viewpoint. Although only a kilometer long, the way there is a strenuous climb over a muddy and rocky wall with a few ropes to help you on the way. Don't let that discourage you – the view over Railay beaches is absolutely worth the effort.
Once you're done exploring the peninsula, kick back at Phra Nang beach while sipping a delicious fresh fruit juice or a coconut sold at the small floating cafes. The creamy-colored soft sand makes for a perfect place to chill and enjoy the iconic views of limestone karsts rising from the clear turquoise waters of the Andaman Sea.
– Daria from DeeGees Travel
Koh Phi Phi
Looking for a place with crystal clear waters, palm-fringed sand beaches and beautiful lagoons? Then head to Phi Phi Islands, a group of six exotic islands not far from Phuket which you shouldn't miss the island hopping in Thailand.
The Phi Phi Islands became part of every backpacker's itinerary when Maya Bay in Phi Phi Leh became famous thanks to the movie "The Beach", starring Leonardo Di Caprio. Since then, overtourism has destroyed the bay, that was finally shut down by the government and is now closed indefinitely. But not to worry! Even without Maya Bay, Koh Phi Phi has a lot to offer.
One of the best things to do in Phi Phi Island is going on a boat tour around the island. Even if you won't be able to dock at Maya Bay, you'll discover some incredible places like Monkey Beach, where it's possible to hang out with monkeys, and Pileh Lagoon, where the water is so clear that it almost looks unreal. Other things to do in Phi Phi include visiting Bamboo and Mosquito Islands for some incredible sunsets, hike to the viewpoint for stunning views over the bay, and can we not mention party till morning? Phi Phi is famous for throwing some very cool parties, and the wildest pool party in Thailand too!
No matter if you're looking for a relaxing beach holiday, or you're looking for a more active trip, Phi Phi offers something for everybody.
– Stefania from Every Steph
Maya Bay
Out of all of the beaches that I have visited during my travels through Thailand, I have to say that Maya Bay is definitely my favorite! While some may complain that it's overcrowded and too touristy… there is no denying that it's one of the most beautifully scenic places in the entire country! I do understand that the typical tourist experience of this beach was pure chaos with hundreds of tourists stopping here during one-day island hopping tours from Koh Phi Phi, but I had the special opportunity to spend a night on the beach though, which is probably why I have more fond memories of Maya Bay!! I was one of only 40+ people allowed on it's sandy shores during the sunset, and I'll never forget taking a midnight swim in the ocean with the bio-luminescent plankton at night. It was one of my best adventures during my days backpacking through Southeast Asia, and I completely "understoof why this was the film set location of the "most beautiful beach in the world" depicted in Leonardo DiCapro's hit film "The Beach". Unfortunately, in recent times Maya Bay has shut down due to over tourism, so you can't really include this beach on your current Thailand travel itinerary! The government has decided to stop allowed tourists onto the beach in hopes to restore some of the marine life there! It's already seeing some progress though, so hopefully in a year or two they'll slowly start allowing small groups of people to visit. For now, we can enjoy pictures of the famous beach, and dream of watching the sunrise on it's soft white sandy shore.
– Dave from Jones Around the World
Koh Jum
If you are looking for a place to relax in Thailand, one of the best choices is a small island called Koh Jum. It's got nice sandy beaches, cozy bungalows, lovely food, friendly people and a really laid-back attitude!
The best time of year to go to Koh Jum is during European winter. January and February are the driest months, while the rainy season is between May and November. The temperature is around 25-30 degrees all year round, with April being the warmest month.
You get get to Koh Jum from a few other places, such as Phuket, Krabi, Koh Phi Phi, Koh Lanta, Koh Kradan and Koh Lipe. Depending on the time of year, you can get there by ferry, speedboat, or a longtail boat, which is the cheapest option also preferred by the locals. You can get tickets at any travel agency or through your hotel.
Koh Jum has some of the quietest beaches in Thailand. Most of them are nice and sandy, though some are quite rocky so it's difficult to swim. The best beaches in Koh Jum are on the west side of the island. Our favourite beaches are Loma beach, near the main village called Baan Ting Rai, and Golden Pearl Beach. You can explore the beaches either on foot or renting a bicycle or moped.
There are many accommodation options on Koh Jum, ranging from budget to luxury. One option is to stay at the main village, Baan Ting Rai. There are several bungalows to choose from, both in the village and on Loma beach, and you can also find a few restaurants and mini markets. Alternatively, you can stay at bungalows anywhere on the Andaman beach.
–Dave from Dave's Travel Pages
Koh Mook
Koh Mook is unquestionably an underrated island. However, this is definitely a place to enjoy long white beaches without the crowds and therefore a perfect choice for your Thailand island hopping holiday. Actually, when I was there, there were no other people in reach within the next 500 meters of the beach. And the water is crystal clear. Welcome to a piece of paradise. I addition to walking along the beaches, the island is perfect to explore by scooter and you will get a good insight in local rural life.
Even though the island is not hit by over tourism in any way, there are still hotels and bungalows where you can meet other travelers. Some resorts also have tenting grounds available if budget is low. Be aware that there is no ATM at the island, so you need to bring enough cash.
However, the main attraction is the breathtaking Emerald cave. The cave is only accessible by sea, and you have to swim a fair bit in the dark before reaching an opening to the sky with a small beach.
Emerald cave is a popular excursion from the neighboring island Koh Lanta, so boats are queuing outside the cave entry. However, you can avoid the crowds by renting a canoe and paddle there early in the morning before the boats arrive. Not only will you have probability to be alone at this impressive natural wonder, but you will also have a great light for photographs.
– Linn from Brainy Backpackers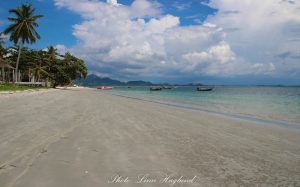 Koh Lipe
Koh Lipe is an extremely beautiful island in the Southwest of Thailand near the border to Malaysia. Actually, Koh Lipe wasn't part of our Thailand itinerary until we met a super nice Thai lady that told us about how much she loved Koh Lipe – So we decided to go. And we didn't regret that decision at all as Koh Lipe became our absolute favorite Thai island.
You can stay on the different beaches of the island and have totally different impressions and experiences. While on the sunrise beach, you can find more activities going on and have amazing walks, the sunset beach is better for relaxing and enjoying the peacefulness of this island. The best part about the sunset beach (guess what!) was the sunset. Many people and even locals gather around for this stunning act of nature every night and enjoy it all together.
But Koh Lipe is not only an extraordinary place to relax at the beach. It is also great for snorkeling and diving. You don't even have to book a tour but just snorkel along the shore on your own. A bunch of colorful fishes is waiting there for you.
You can easily access Koh Lipe by boat from Koh Lanta or even from the Malaysian island Langkawi.
– Vicki from Vicki Viaja
Koh Bulon Lae
Koh Bulon Lae is about as off the beaten path as an island in Thailand can get. This tiny paradise island is located in the Andaman Sea to the West of Saturn Province of Southern Thailand. It is on the speedboat ferry route from Koh Mook to Koh Lipe, but with not even a jetty to greet you, most people don't bother getting off here. What they don't realise is that they're missing one of Thailand's best kept secrets!
Wrapping around the East side of the island is the blinding white sand of School beach with its crystal clear turquoise waters. The beaches to the North (Phangka Bay) and (Ao Phangka Noi) are tidal and mangrove swampy, so while not as nice to swim, this area has cheaper accommodation and some great restaurants.
The island is really small and walking from one side to the other should take no longer than 20 minutes, so it really doesn't matter where you stay, as everything is easily accessible.
A big hats off to Koh Bulon Lae for being one of Thailands only eco-friendly islands! There is no electricity during the day and a solar powered generator will give you a few hours in the evening – should you want to charge your electronics. Everything is recycled and the island is spotlessly clean. There are only a handful of places to stay and in order to preserve the island, no more accommodation will be allowed to be built.
Go snorkeling, explore the rubber plantation, go fishing or just put your feet up and completely relax. If you're looking for somewhere to escape the maddening world, what better place to do it than on the paradise tropical island of Koh Bulon Lae.
– Jeanne from Learning to Breathe Abroad
The best Thailand island hopping spots in the south-east of the country
Thailand's southeast has also incredible beaches and islands to offer!
Koh Tao
Thailand is a country in South East Asia known for its pristine islands. Koh Tao sits in the Gulf of Thailand, as is a great place to visit for many reasons. Whether you want to learn how to scuba dive, some beautiful hiking opportunities or just relax by the beach – Koh Tao has something for almost every traveller.
Koh Tao is often regarded as the cheapest place in the world to get certified to scuba dive. Being so cheap for these courses doesn't mean the quality of the dive is effected. With clear waters and abundant amounts of marine life, it's a perfect place to get acquainted with this underwater world. Taking your first breath underwater is an unforgettable moment.
If you'd rather not be submerged for up to 60 minutes at one time, there are plenty of snorkel spots that give a taste of what lies under the surface of the water around Koh Tao.
Hiking on the island is also a great activity, as there are a number of picturesque lookouts. Trekking through thick jungle on quiet trails ends in some stunning ocean vistas. If you're into just relaxing on golden sands and gentle surf lapping at the shoreline, there's plenty of options on Koh Tao. Getting away from the crowds to more secluded beaches makes the experience even more memorable.
If you're looking for a Thailand island that's great for many reasons, it really has something for every traveller and I'm sure it will be a highlight when you're island hopping in Thailand.
– Ben from Horizon Unknown
Koh Samui
Koh Samui is a great choice for those visiting Thailand during summer because as an island on the east coast of the country, rain/monsoon weather is at its heaviest September to December.
Chaweng is the most touristy area of the island and where you will find beach party hotels, street vendors and the U.S embassies, Pizza Hut and McDonald's (!).
Lamai is a quieter stretch of beach and is cheaper in comparison to Chaweng. It is perfect for couples looking to chill out but still grab a cocktail and local or international cuisine.
It is well worth getting up to see the sunrise and keeping an eye out for rainbows around the moon! Other things to do in Koh Samui include visiting the funnily shaped Grandmother and Grandfather rocks, the Big Buddha, and Na Muang Waterfalls.
– Gemma from Two Scots Abroad
Koh Phangan
Beautiful Haad Rin is located on the "party" island of Koh Phangan. In recent years it has become one of the world's most famous beaches, because it's host to the world famous Full Moon Party which is hosted here every month. It's a once in a lifetime experience and a brilliant night out.
But, if you're not into partying, Haad Rin beach is still a beautiful place to visit. It actually comprises of two main beaches; these are Sunset beach and Sunrise beach. These are pretty self explanatory, and they do truly offer some of the greatest sunrises and sunsets I've ever witnessed.
There are lots of wonderful beach clubs dotted around the beach which makes a perfect location for catching up on your tan or reading a book. Or, why not take a tip in the sea, and try your hand at snorkelling. There are also lots of places on Haad Rin beach where you can relax with an "on-the-beach" massage, for a great price too.
If you're in search of a memorable experience in Thailand, then a trip to Haad Rin beach is perfect for experiencing the Full Moon Party. Followed by a few days of relaxation and recovery afterwards!
– Bradley from Dream Big, Travel Far
Ko Wa Talap
Ko Wa Talap is one of my favourite places in Thailand – a beautiful island that's part of Angthong National Park. While the island is a popular day trip from nearby destinations such as Koh Samui, very few people actually stay on the island – so you can pretty much have it all to yourself once the speedboats jet off in the afternoon.
Ever dreamt of chilling out on a beautiful island, spending your days hiking and snorkelling, soaking up the sun and not much else? Ko Wa Talap is for you. There's no wifi, no constant notifications on your phone – it's the perfect place to escape from it all and reset.
In terms of things to do, the beaches are a big appeal but you have a few options away from them.
Top of your list should be the hike to the viewpoint – it's pretty steep but not too difficult until you get to the last part. Even if you don't do the final stretch, the views near the top are absolutely gorgeous.
As an alternative, there's a relatively short cave hike and a pretty lagoon in the island's interior.
While there is accommodation on the island, arranging a stay does take a bit of planning. You need to reserve ahead on the National Park Office's website and wait for confirmation. There are only five bungalows on the island, along with a few tents that you can hire. If you opt for the latter, you don't need to reserve ahead.
– Julianna from The Discoveries Of
Thailand island hopping in the East
The coastline southeast of Bangkok is easily and quickly reachable from Bangkok. Here are the best beaches and islands for island hopping!
Koh Chang
Koh Chang is part of the Mu Koh Chang National Park and is the third largest and most popular islands in eastern Thailand. In Thai Koh Chang means, "elephant island," but nowadays it is considered, "the last cheap island" while others say it's the friendliest island in Thailand. While all of these are true, I say it is the best island so far for solo travellers. There are plenty of beach destinations I've visited in Southeast Asia that are full of couples. I'm not hating on couples at all. I get it, beaches are romantic and plenty of lovebirds travel to the Thai islands on short vacations or honeymoons. But it's enough to make a solo traveller like myself feel like little out of place sometimes. That's why I like Ko Chang. You will be surprised to find the most beach yourself! I recommend checking out the White Sand Beach in the north, Klong Prao Beach, Kai Bae Beach, and Lonely beach (backpackers friendly accommodation) in the south. In between, you have Klong Prao – the longest beach on the island and Kai Bae.
You can get to Koh Chang by taking a bus or plane. For budget travellers, from Ekamai (Eastern) bus terminal in Bangkok, catch the bus #999 that leaves at 07:30 and 09:30 everyday and go directly to the Laem Ngop pier. The boat ride takes 5-6 hours depending on the traffic and costs 275 baht. You can buy a ferry ticket for 80 baht and take a flat-rate songthaew once on Koh Chang to your destination for 100 baht. They will be waiting at the ferry terminal. Ferries leave every 30 minutes or so. Or you can book tickets for a shared minibus or private transfers that would pick you up from your hotel in Bangkok and drop you off at your hotel on Koh Chang.
Alternatively, Bangkok Airways has 3 flights a day to Trat Airport, from where Koh Chang is a short minibus and ferry ride away or all the way to your accommodation for 450 baht. Finally, you can also do day trips or island hopping to Koh Wai, Koh Mak and Koh Kood from Koh Chang.
– Anna from Anna Sherchand
Lonely Beach, Koh Chang
Lonely Beach is found just a few hours away from Bangkok on the island of Koh Chang and shouldn't be missed when you're island hopping in Thailand. Although it's not as lonely as it used to be, it's still far less touristy than other Thai beaches like Ao Nang in Krabi province. Heavily touristed places can be vibrant and fun, but if you're looking for a beach that's far from the maddening crowd that still meets your tourist needs, then head to Lonely Beach.
Once only reachable by a sweaty hike over a large hill, Lonely Beach still has less infrastructure than other beaches on Koh Chang. And it's still known as the best beach for backpackers and independent travellers. Along with value for money accommodation, there are heaps of cheap places to eat and cool bars with live music. We loved it's casual, relaxed vibe and it's the perfect mix of jungle, beach and hippies.
And like all beaches in Thailand, Lonely Beach is gorgeous! It has lush jungle cascading all the way down the mountain to the sea, with cheeky monkeys hanging out in the trees. The small but stunning beach has fine soft sand and warm aquamarine water that entices you in. There's a beach bar serving ice cold beer, that's perfectly situated for sunset drinks while watching fire dancers prancing on the sand. Lonely Beach is the kind of place where you come for two nights and end up staying for two weeks. A sure sign it's one of the best beaches in Thailand.
– Audrey from Gumnuts Abroad
Koh Lan Island
Koh Lan is probably the most popular place for a beach holiday for tourists and residents of Pattaya. The water here is much cleaner than on Pattaya urban beaches, the sand is white, the sea is azure, and it's much quieter than the city. It takes only half an hour to get the island by ferry from the center of Pattaya (and even less by speedboat). Although the proximity to the city can also be a disadvantage – there are a lot of people, especially during high season. Yet here you can still manage to find almost secluded corners all year round, since the coastline is quite long, rocky, with large stones in the water and a lot of greenery around the beaches.
There are seven most popular beaches in Koh Lan (there are also wild beaches accessible only from the water, but there is no infrastructure on them). The most infrastructurally developed is Ta Waen Beach. Ferries from Pattaya come right to this beach and there is a songthaew parking nearby. There you can find transportation to any other beach on the island.
Ta Waen Beach itself is very beautiful: a wide strip of dazzling white sand and clear water, however, it is very overcrowded with people (and indeed with everything else: boats, merchants, shops). If you walk from Ta Waen and along the sea, you will come across Thong Lang beach.
Tong Lang is quieter and calmer than Ta Waen. The sand is white, the water is clear and not very shallow, the entry into the water is not as smooth as on neighboring Ta Waen with is a strip of sharp stones right along the shore.
The next most popular beach is Samae Beach. It is quite long, with a good entry into the sea, and developed infrastructure.
Tien Beach is located right next to Samae and has soft white sand, couple trees, convenient entry into the sea, and is well suitable for children. There are fewer cafes and fewer people as well.
Nual Beach (Monkey Beach) and Ta Yai Beach are great for relaxation as they are relatively quiet and not overcrowded.
The small beach of Sang Van is located next to Ta Waen and they are separated by rocks. This beach is quieter, cleaner and more expensive. It is a good option if you arrive by ferry and do not want to go anywhere far.
Accommodation can get as mild or wild as you'd like depending on what you're trying to spend, although we'd recommend just get a nice bungalow on the west side at Ta Waen Beach. Would highly suggest you spend 2 days on the island to fully appreciate it and move at a slower pace than you're used to while working through Southeast Asia.
– Inna & Jim from The Executive Thrillseeker
Koh Kood
If you're looking for a beautiful island in Thailand that isn't too crowded and is (relatively) close to Bangkok for your island hopping trip, look no further than Koh Kood. This large island near Koh Chang is home to several stunning beaches – the sparkling blue water and soft white sand is as good as anywhere I've seen in Southeast Asia. Koh Kood (also known as Koh Kut) has the reputation as an "upmarket" island, but there are also plenty of cheap places to stay and eat meaning it's suited to pretty much anyone. Don't expect too much in the way of nightlife though, so if partying is your main goal you'd be better off choosing another island. There are lots of beaches on Koh Kood but I'd suggest choosing from either Bang Bao Bay, Khlong Chao Beach or Ao Noi Beach. The first two have a good range of accommodation and eating options and Ao Noi Beach is home to one resort and is really quiet and peaceful. To get to Koh Kood you'll need to go via Trat, which is an overnight bus away from Bangkok. From there you'll catch a ferry to the island. You can see most of the island in a day or two, but I'd suggest staying a little longer and relaxing on some of Thailand's best beaches.
– Jon from Jon is Travelling
Conclusion: The best spots for island hopping in Thailand
As you can see, Thailand has countless islands and beaches that are perfect for your vacation. I recommend that you just pick some of them and combine them for a fun Thailand island hopping tour. Keep in mind that sometimes it's also nice to just stay longer somewhere instead of ticking off as many places as possible. But as you can see, you're spoilt with choice and deciding might be hard!
Did you like my article and find it useful? Let me know in the comments - I'm always happy to hear from you :) Cheers, Patrick
*This post includes affiliate links. If you buy a product or a service through these links, I earn a small commission. There is no extra cost for you and your purchase helps me running this website and providing free information. Thanks for your support!