After travelling to more than 60 countries, there's one question which I get all the time: "What's your favourite country in the world"? This question was always very difficult, almost impossible to answer. There are just too many beautiful and exciting destinations in the world. However, after my recent trip to Pakistan, there's one country immediately popping up in my head when I get asked this question: Pakistan!
Here's also a video about my Pakistan experience:
The reason I visited Pakistan was to attend the IESS program from IBA Karachi – a 3-weeks summer school including academic sessions, cultural excursions as well as trip through northern Pakistan. During this time, I fell in love with Pakistan and I just can't wait to return. Here's why!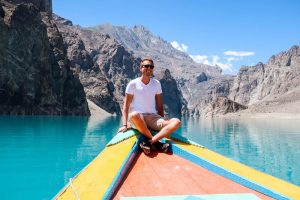 The cultural experience in Pakistan
Pakistan is far from becoming a big tourist destination. However, visitors will be rewarded with an incredible and unique cultural experience. Since I didn't know much about Pakistan's history and culture before my visit, I was happy to learn so much about the country. As part the IESS summer school program at IBA Karachi, I had the chance to connect and become friends with many local students who were eager to share their culture with me.
And during my 3 weeks in Pakistan, I was able to fully immerse into the Pakistani culture – I got a Kurta (traditional dress), celebrated Independence Day and Eid, ate tons of Biryani and drank more cups of chai than I could ever count. I was also able to learn a lot about Pakistan's history, its political situation and the importance of religion in everyday life. I listened to Pakistani music, prayed in a mosque, was invited to a local student's family, learned what a "pindi boy" is, said Urdu swear words and danced at a Pakistani Sufi night.
While Pakistan certainly differs from Europe, I found it extremely exciting to learn more about Pakistan and also to share my life and culture from Germany with my new friends. By the way: Not a single time, I received any negative remarks or comments about not being a Muslim or from Europe. Every person I met was extremely polite and welcoming.
The breath-taking landscape and nature
This one is easy. Pakistan is simply beautiful. If you'd ask people in Europe about how they'd picture the landscape of Pakistan, most of them wouldn't have a clue. Desert? Stones? Big cities with many people? Yeah – all of this is true. But there's so much more!
Especially northern Pakistan is probably the most beautiful place I've ever visited. Once you leave the big and busy cities such as Karachi, you find yourself in green and lush valleys, with crystal-clear water running in streams and local villages along the way. Once you make yourself further up north, the altitude rises, and you're surrounded by snow-peaked mountains and deep-blue glacier lakes. I would have never expected to find such a landscape in Pakistan and rather felt like I'd be in New Zealand, Canada or Switzerland. But compared to those countries, you won't find tourist crowds, resort towns and tour groups here. You'll have this beauty all to yourself. Pakistan's north is remote, unexplored and rural. Therefore, not many people have the privilege to experience this beautiful landscape.
The hospitality of the people in Pakistan
Yes, the nature and landscape of Pakistan is beautiful. However, the truly beautiful part about Pakistan are its people. After visiting more than 60 countries, I can honestly say that I never experienced hospitality like in Pakistan.
While some people at think that there would be certain biases towards Western tourists due to different religious and cultural beliefs, it was the direct opposite. I was treated like a king – which was sometimes even too much and almost embarrassing to be honest! When you're traveling Pakistan, be prepared for random strangers greeting you, curious locals starting a conversation and chai vendors refusing to take your money. As a tourist in Pakistan, you're still somewhat special and people are more than happy to welcome you to their country and to share their culture with you.
The hospitality of Pakistan's people makes traveling this country a truly beautiful experience.
All your stereotypes and negative images are wrong
"You're going to Pakistan? Are you crazy?" – This is the reaction that I received from most people when telling them about my upcoming visit to Pakistan. And to be honest, their shocking reaction made me worry about my trip. Maybe it was actually a bad idea? Maybe I should cancel it.
Well, I didn't. And boy, I'm happy that I didn't. Because Pakistan proved me once again that all stereotypes and all negative images which exist in our world are completely wrong. If you'd ask people in Europe or North America about what they think if they hear the word "Pakistan", the answer would be simple: Terrorists. Bombs. Bin Laden. Crazy religious extremists. No one would think about its beautiful landscape, its incredible culture and its hospitable people – although these points are so much more relevant and accurate when describing Pakistan. And this is why I travel and why I'm so happy that I had the chance to visit Pakistan. To see the truth and to prove to all my friends, family and readers that the stereotypes and negative images created by our media are wrong.
Oh – and one aspect which many people might easily overlook: It wasn't only about proving negative stereotypes about Pakistan wrong. I've learned that some Pakistanis also had some prejudices and biases regarding the Western world, especially when it comes to the apparent lack of moral, value and family ties. Many of the local students I met never left Pakistan or met a foreigner, therefore it's been very interesting for me to share more about my life and my culture with them.
And that's how my Pakistani friends and me all realized how wrong all those stupid misconceptions and stereotypes are – and how similar we actually are.
The friends I made in Pakistan
This is probably the most important point. Sure, the landscape is stunning, the culture is unique, and the hospitality is out of this world. But the main point which made Pakistan my favourite country were the wonderful people I met and who I can call my friends.
Since I explored Pakistan as part of the IESS program, I spent my 3 weeks in Pakistan with a group of 20 local students from all over Pakistan. As a tourist, it's always great to get to know and meet locals on your journey. However, most of the times, your connections with locals won't become more than the usual small talk. This was different in Pakistan. Since we spent so much time together as a group, we all became very close with each other. We laughed together, we explored the country together, we celebrated Independence Day and Eid together. We had very deep and personal conversations about religions, politics and culture. And we realized again how similar we are.
From the surface, Pakistan seems to be a completely different world compared to Europe. However, it was so easy to connect with the local students, despite different religious beliefs and possible stereotyping from both sides. All Pakistanis I met were extremely outgoing, open-minded, tolerant, intelligent and interesting people and it's been a pleasure to become friends with them during my visit. I'm still in touch with many of them and I can't wait to visit Pakistan again in the future – hopefully soon!
As you've seen – I'm in love with Pakistan and my trip around the country was one of the best experiences I ever had. I hope I was able to tell you why you should visit Pakistan and why Pakistan is my favorite country in the world!
What do you think about Pakistan? Have you already visited? Let me know in the comments!
Did you like my article and find it useful? Let me know in the comments - I'm always happy to hear from you :) Cheers, Patrick
*This post includes affiliate links. If you buy a product or a service through these links, I earn a small commission. There is no extra cost for you and your purchase helps me running this website and providing free information. Thanks for your support!