My participation at IESS Summer School was kindly sponsored by IBA Karachi. Therefore, this article includes advertisement for the IESS summer school in Karachi. However, as always, all reviews and opinions are my own.
Let's be honest – Pakistan is not a typical tourist destination and many travellers would never consider visiting. The country has a turbulent history and negative stereotypes, especially concerning safety, predominate when the country Pakistan comes to your mind.
Well, when I got invited to join the IESS (International Entrepreneurship Summer School) program from IBA (Institute of Business Administration) Karachi, I was a little bit nervous and undecided as well. Should I really go to Pakistan? However, after doing some google research, I realized that every person who's been to Pakistan recently absolutely loved it. Travelers kept raving about the incredible landscape and the extreme hospitality of the people. Sure, some areas still seem to be a little bit unsafe (especially the border regions) – but I had no plan of visiting these parts anyway. And since I'm always up for an adventure and generally prefer less-travelled, exotic countries rather than the typical tourist hotspots, I decided to give it a go! As you can imagine, friends and family members were not necessarily happy about my decision and called me crazy. Well that's okay, I'm used to it by now.
Fast forward 3 weeks (yes – this was a super last-minute decision), I boarded my plane from Nurenberg via Istanbul to Karachi and I had absolutely no idea what to expect. I've certainly been nervous, flying all by myself to an (apparently) dangerous country. To be honest, just days before my departure I was actually thinking "maybe all of this is a big, stupid mistake". But there was no return. Looking back, I'm glad that my fear didn't stop me from visiting Pakistan. Because this trip was one of the best experiences I ever had!
But let's start from the beginning…
What is the IESS program from the IBA Karachi, Pakistan?
Let me give you some background information. Karachi is the biggest city of Pakistan (with more than 20 million inhabitants!), located on the southern coast of the country. Here's where IBA – the Institute of Business Administration – is based. The IBA is part of the University of Karachi and the best and most-reputable business school of the country. Every summer, IBA hosts the International Entrepreneurial Summer School (IESS) program. For 3 weeks, a group of local IBA students, students from other universities of Pakistan and internationals get the chance to join IESS.
The IESS program consists of two parts. For the first half of the program (approx. 10 days), lectures and classes are held at IBA Karachi. For the second half of the program, the group will have an organized trip around Pakistan to explore this beautiful country. Therefore, participants get to enjoy a mix of academic lessons, an insight into the local culture as well as the chance to see more of Pakistan.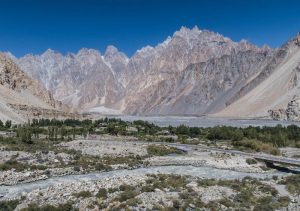 My experience at IBA Karachi – the academic part of IESS
The first half of the program will be at the IBA Karachi, the business faculty of the University of Karachi. I was accommodated in a nice and private room at the Visiting Residence Faculty on the campus. During the program, we had a full schedule with several lectures and guest talks about entrepreneurial topics.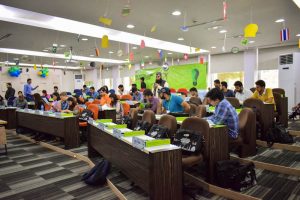 However, our program didn't only include academic sessions, but also a wide range of excursions and activities around Karachi. We attended a cooking school, visited a local NGO, went to a beach, had several nice lunches and dinners at different restaurants, visited a mall, went to a local market, celebrated at a Sufi night and visited a textile factory. As you can see – you certainly won't get bored at IESS! Of course, there was also enough time to make friends with the local students during the program. One of them even invited me to visit his family – another wonderful cultural experience.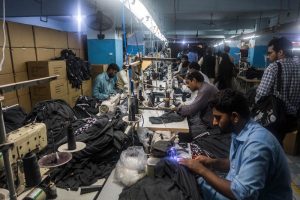 Another highlight of my time at IBA Karachi was celebrating the Independence Day of Pakistan, which happened during my visit. There were several festivities and celebrations, everyone dressed up in the finest clothes, swang the Pakistan flag and had a great time.
My review of the tour around Pakistan with IESS Karachi
After the academic part was done, we received our certificate, I said goodbye to some of my new Pakistani friends who didn't join the tour and packed my bag – now, the real adventure started! A trip to northern Pakistan!
We were a group of about 20 students – some IESS team members, some students from other regions of Pakistan, another blogger from Mexico and me. During the next 10 days, we had the time of our lives exploring Pakistan. For many locals, it was also the first big trip to this region and everyone was very excited and happy.
The trip was organized by a professional tour guide and after a long night train, we arrived in Islamabad – Pakistan's capital. From there, we headed up north in our van. It's been beautiful to see how the landscape changed as we left the city behind. Our journey brought us higher into the mountains – the dry landscape of Karachi was gone, we were surrounded by green, lush valleys and rivers. I felt like I'd be in Switzerland at times!
After spending a night in Naran, we continued our journey further north and drove along the famous Karakoram highway. The nature was out of this world – we were surrounded by several mountains with 7000+ meters altitude! Although we spent so much time in the car covering all the distance, it never got boring – looking out of the window was just too beautiful.
Our final destination was the village Gulmit in the Hunza region, close to the Chinese border. Here's where we spend a few days exploring the beautiful surroundings. We visited the incredibly blue Attabad lake, explored the ancient city of Karimabad with its forts, went on a morning sunrise hike, watched the incredible sunset from Eagle's Nest and crossed the (slightly dangerous) Husseini suspension bridge. Have a look at the following pictures to get a good impression of northern Pakistan's beauty.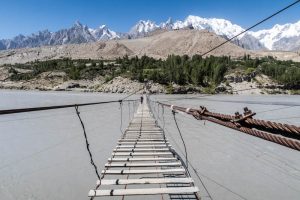 After some beautiful days in the mountains, our long journey back to civilization started. Then, there was Eid – the most important Muslim holiday. We all dressed up in the finest local clothes and had a wonderful night in Naran.
After spending another night in Islamabad, the last part of our journey was Lahore – the cultural hotspot of Pakistan. We visited the beautiful red mosque and the busy streets of old Lahore.
Then, it's been time for one of the craziest experiences I had in Pakistan – a visit at the border of Pakistan and India (Wagah -border). The relationship between both countries isn't the best, and every morning and evening, you have the chance to see an incredible border opening and closing ceremony. Think about a big arena – one part full of Indians, the other part full of Pakistani – and the border in the middle. You won't believe how crazy the crowd gets until you're there! The soldiers from each country perform a big propaganda show, the crowd is screaming and cheering for their country. It's been an insane experience which you can't describe in words.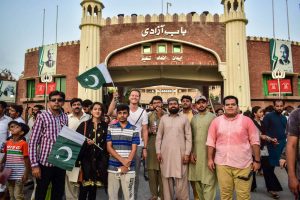 Finally, the end of my Pakistan trip was here. I travelled back to Karachi by train with the local students, said my goodbyes and was dropped off at the airport to fly to Kyrgyzstan – my next destination.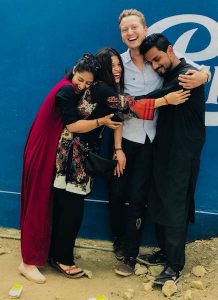 Is the IESS IBA Karachi program safe? Is Pakistan safe to visit?
Safety is a big concern for every foreigner visiting Pakistan. Unfortunately, the country is always for the wrong reasons in our media – terror attacks, political turbulences and religious fanatics. So, is Pakistan really a country full of crazy extremists who hate foreigners? NO!
As I mentioned before, I had an incredible time and the hospitality I received was out of this world. There was no single moment in 3 weeks where I felt threatened or in danger.
Sure, Pakistan still has its issue and it would be wrong to say that the entire country is perfectly peaceful and safe. However, most problems happen in some specific parts of the country, mostly at the border regions to Afghanistan and Iran. Therefore, there are certainly regions of the country which you shouldn't visit. But the county is big, and the IESS team Karachi would never ever take you to any unsafe area.
During my time at IESS Karachi, safety measures for all international guests were extremely high. First of all, I got picked up at the airport after my arrival. My accommodation was at the visiting residence faculty of the University of Karachi campus and the building as well as the whole campus was guarded by security officials. Further, every building on campus (therefore also the whole IBA complex) was guarded by security as well. Since IBA is such a reputable business school, all safety precautions are extremely high and your well-being is guaranteed.
When we left the campus to explore the city of Karachi, we were always guided by some officials who made sure that everything would go as planned. By the way – you might find some bad reviews and experiences about safety in Karachi in general. According to all my local friends, safety was actually a big issue several years ago and the city was considered to be dangerous. However, things changed quickly in the last years and Karachi is much safer by now. Therefore, there weren't any issues for us during our excursions around Karachi.
During our Pakistan tour, safety was also an important measure. The areas which we visited are some of the safest regions of the country to visit. Additionally, the IESS committee made sure that we would always be accompanied by some locals whenever we left the hotel or the group. I felt like the IESS team was very aware of the current situation and if there would have been some risk or danger somewhere, they would have adapted the itinerary accordingly.
As you can see – safety is certainly something you don't need to worry about when attending IESS at IBA Karachi, Pakistan.
How can you join the IESS summer school at IBA Karachi? Do I need to be a student?
The good news – everyone is welcome to join the IESS program at IBA Karachi. You don't need to be a student to attend, there's also no age requirement or limit! You should only be open and interested in the Pakistani culture. Since the summer school program is focused on entrepreneurship, it's probably helpful to have a basic interest in the subject. However, no pre-requirements or knowledge is necessary.
If you're interested to join the next edition, you can send a message to me or to the project manager Asghar Azmi ([email protected]) for further information.
How much does it cost to join the IESS program at IBA Karachi
While the exact program fee for 2019 is yet to be determined, you can expect a participation few of approximately 1000€. The whole IESS program is not profit-based and the organizational committee puts their hearts and souls into the program – driven by their passion and love for Pakistan. Therefore, the only purpose of the participation fee is to cover costs. After all, for only 1000€ you're getting a 3-weeks all-inclusive experience in Pakistan – including accommodation, lectures, course material, excursions, airport pickup and drop-off, meals and the whole Discover Pakistan tour (organized by a professional tour company). This is a great price-value-deal and by far the cheapest opportunity to explore and experience Pakistan.
How do I get prepared for IESS Karachi? Am I the right person to join?
Of course, you have to be open towards a new cultural experience. Things might not always go as planned, "Pakistani time" is certainly different than "German time" and if punctuality, luxury, fast wifi and comfort is your top priority, you probably rather shouldn't visit Pakistan.
You're flexible, open-minded and tolerant? Great – join IESS Pakistan and you'll have the time of your life.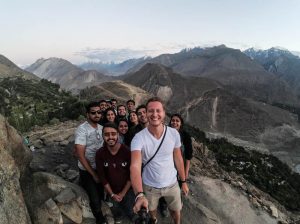 Keep in mind that you also should be respectful towards the culture in Pakistan. The country is very different than Europe or North America and as a visitor, it's important to respect the cultural norms and values. People pray several times a day, women need to dress appropriately (you're not required to cover your head! But you should also not wear short dresses and tops), you also should never hug or shake hands with a female. It definitely makes sense to do some research before your trip to be aware of all the cultural differences and to avoid embarrassing situations.
You will also see that religion is very important and that Islam is also part of the university schedule, sometimes even in lectures and classes. This might be a bit weird for foreigners from Western countries, so take it as a cultural experienced and be open and respectful.
How do I get the visa for Pakistan?
To be fair, the visa for Pakistan might be a little bit tricky to get – especially without local help. The country is still not very open to the world (or mass tourism) and depending on your home country, several documents are required.
The good news is that the IESS committee will do everything in their power to support your visa application and to help you receiving the visa for Pakistan. They immediately provided me an invitation letter signed by the director of the program as well as passport copies of this person, who basically vouched for me. After receiving all documents, I sent everything to the Pakistan embassy in Germany. The people from IESS Karachi even contacted the embassy in Germany directly, giving them all required information and telling them to process my visa application as soon as possible. While the visa process in Germany normally takes around 3 weeks, I actually received my tourist visa for Pakistan in only 5 days!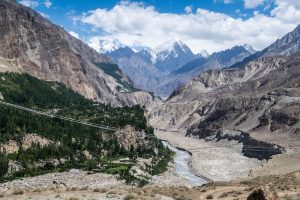 That being said – the process might not always be as fast and smooth as it was for me. Therefore, I recommend you start your visa application as soon as possible and not last minute. You can be sure that the IESS team from IBA Karachi will do their best to support you and your chances to receive the visa are much higher than if you'd apply as a normal tourist. I already got confirmed that the IESS committee is in touch and in close collaboration with the embassies for the summer school 2019 and a smooth visa process for applicants is expected.
How do I get cheap flights to Pakistan?
Getting cheap flight to Pakistan might be a bit tricky, since the country is not necessarily a tourist hub. Flights from Germany to Pakistan were rather expensive and complicated. But here's one trick: You can fly from Dubai to Karachi extremely cheaply and several times a day with Emirates. Further, finding cheap flights from anywhere in the world to Dubai is fairly easy as well. Therefore, it might make sense to look into booking two separate flights – a flight from your home country to Dubai, and another flight from Dubai to Karachi. This saved me a couple of hundreds of Euros! Only keep in mind that you might need to switch terminals at Dubai airport, therefore you should plan enough time in between your flights. Additionally, you will need to legally enter Dubai to get your luggage and check in for your next flight. Therefore, make sure that you don't need an actual visa for Dubai if you're doing this trick.
Why would I recommend attending the IESS Summer School program at IBA Karachi?
I've travelled a lot, I've met plenty of local people on my journey and I've already experienced several new cultures. However, the cultural experience I had at IESS Pakistan was the richest and fullest experience I ever had.
There are several reasons for it. First, the IESS program was extremely good organized. I felt very safe, well treated and the landscape and nature I've seen was breath-taking. But the main reason why you should attend IESS Karachi is the hospitality you'll receive and the local friends you'll make.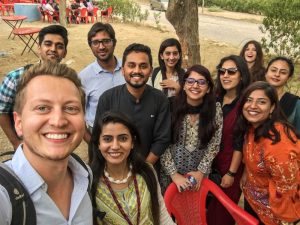 During my 3-weeks stay in Pakistan, I became very close with my group of local students. All the people I met were absolutely lovely, open-minded and also interested in my life and my culture. We had very interesting cultural exchanges and conversations about all sorts of topics, ranging from religion and politics to relationships and minority rights. Therefore, our conversations extended very much the usual small talk you might have with locals you meet when traveling. Our culture and values might be very different at the first glance – however, I realized that we are so similar in the end. I could talk, laugh and joke with the Pakistani students the same way as I would with my friends in Germany. And I'm very happy to call the people I met at IESS Pakistan my friends.
By the way – if you have any further questions about the IESS program at IBA Karachi, feel free to send me a message!
Did you like my article and find it useful? Let me know in the comments - I'm always happy to hear from you :) Cheers, Patrick
*This post includes affiliate links. If you buy a product or a service through these links, I earn a small commission. There is no extra cost for you and your purchase helps me running this website and providing free information. Thanks for your support!