My stay at 22Weligambay was kindly sponsored by the hotel management team. Therefore, this article includes advertisement for the hotel. As always, all opinions and experiences are my own.
After my tour around Sri Lanka as part of a media trip with Sri Lanka tourism, I extended my visit for a few more days in order to explore the southern coast and to have a few relaxed days on the beach before returning back home to Germany. Weligama Bay seemed to be the perfect location to base myself for four days and I had a fantastic time.
How to get to 22Weligambay
From Colombo, it's quite easy to reach Weligambay. Your best choice would be by train, which is fast (approx. 3 hours) and very cheap (less than 1,50$). Trains run several times a day and you'd need to get off at Weligama Railway station. From there, the hotel is only a short tuk tuk ride away. Alternatively, you could get there by bus. While the public bus takes longer and is a little bit difficult to use with luggage, there are express buses running on the express highway. Keep in mind that you'd need to get off at Mirissa and take a tuk-tuk from there back to Weligama Bay, since the bus doesn't stop in the small town.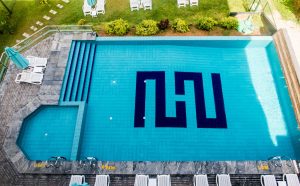 Location of 22Weligambay
The hotel is conveniently located at the eastern part of Weligama Bay and close to the popular beach area of Mirissa. 22Weligambay is directly at the beach and has its own beach access from the pool area. I was positively surprised to find the beach almost completely empty most of the time (maybe since my visit was during off season), therefore it's a perfect place to relax and to recover from your travels.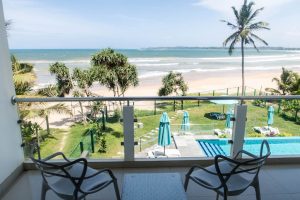 Hotel Rooms of 22Weligambay
The 22Weligambay hotel is a boutique hotel with a limited number of rooms. Since I generally prefer the atmosphere of smaller hotels, I enjoyed my time a lot and never felt like it's been very busy or crowded in the hotel area. Rooms start at 78$ a night, but there are also some stunning suites including a huge terrace with a jacuzzi, which are on the higher end but perfect for honeymoon couples or if you just want to treat yourself after your Sri Lanka travels.
All the rooms are very new and come with a nice terrace (ask for beach view!). Rooms are cleaned several times a day and wifi worked very fast and well most of the times. Staff at 22Weligambay is very friendly and hospitable and they will do everything to make your stay as pleasant as possible.
Food at 22Weligambay
The hotel has some great chefs preparing delicious food and meals for you. The breakfast is continental with your choice of eggs, bread and a wide variety of fresh fruits. Depending on the number of guests, breakfast is buffet-style or served on the table. Lunch and dinner are also served at 22Weligambay hotel and you got the choice between several starters, mains and deserts. I tried several different dishes during my stay, ranging from western meals such as seafood pasta to traditional Sri Lankan cuisine. Therefore, you'll certainly find the right dish for you!
What to do around Weligambay
The location of 22Weligambay is perfect. The area around the hotel is quiet and not as busy as other beach areas of Sri Lanka. The hotel beach is nice for swimming and also for surfing (the staff can help you rent a board and a surf instructor). Besides that, 22Weligambay is a convenient base to explore nearby areas of Sri Lanka's southern coast. Catch the public bus for less than 50ct to the colonial town of Galle (30 minutes away). Explore the old fortress area of Galle or hop off the bus at one of the multiple beaches located in between Galle and Weligama. A little bit east of the hotel, you'll find the Mirissa area, which is known for its beautiful and long beach. You'll get there by public bus or by tuk tuk.
Resume
I enjoyed my stay at 22Weligambay hotel a lot and it's been the perfect place to relax from my previous travels and also to explore the southern coast of Sri Lanka. If you're looking for a luxurious boutique hotel in a perfect location, you'll enjoy your stay. Thanks to the team of 22Weligambay hotel for the good time!
MerkenMerken
MerkenMerken
MerkenMerken
Did you like my article and find it useful? Let me know in the comments - I'm always happy to hear from you :) Cheers, Patrick
*This post includes affiliate links. If you buy a product or a service through these links, I earn a small commission. There is no extra cost for you and your purchase helps me running this website and providing free information. Thanks for your support!