After being considered to be one of the most dangerous travel destinations in the world for decades, lost in the drug war and violence, Colombia's image is changing and the country is now a safe and emerging destination for people from all over the world. And for good reason – Colombia Backpacking has everything a traveler could wish for. Friendly locals, tropical beaches, adventurous nature, cheap prices, wild parties, a well-developed infrastructure, and a great culture. I spent three weeks backpacking in Colombia and loved it! Here I tell you about backpacking Colombia and the places that you cannot miss!
You can see some of my Colombia backpacking highlights in this video:
Here are some general tips on Colombia backpacking and travels:
• Domestic flights are incredibly cheap and you save days of bus travel. But always make sure that you have set the location on Colombia on the respective websites of the airlines and the local currency is specified. This will save you a lot of money and you can fly all over Colombia for 20-30 €. For certain routes to smaller places (such as Salento) and to Ecuador, there are minivans or buses, between Bogotá / Medellín and for the north coast to Cartagena and Santa Marta you should definitely fly.
• Security and safety in Colombia is of course still a relevant topic for all travelers. I felt safe, but of course, you should be careful, especially in the big cities. Especially in the city center of Bogotá, take good care of yourself and your valuables – do not show valuables and do not walk when it gets dark. Buy a local SIM card and use Uber (safer than road taxis). Especially on the way back from parties (after a few drinks…) you should be extra careful.
• Colombia is cheap to travel, albeit a bit more expensive than other countries in South America (eg Peru and Bolivia). Street food is, of course, cheap (though I'm generally not a big fan of Colombian cuisine), and there are cheap hostels in all destinations. The north coast (above all, Cartagena) is considerably more expensive than the rest of the country, and in the restaurants and bars in Cartagena's old town you pay almost European prices. Below I will now tell you about the best tourist attractions on your Colombia backpacking trip that you should not miss!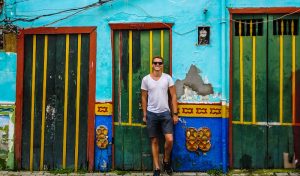 Colombia backpacking inland – Bogotá, Medellín, and Salento (Cocora Valley)
• Attractions in Bogotá
Most of Bogotá's attractions can be found in the old town, "La Candelaria". It is fun to explore the narrow streets full of cafés and graffiti and to feel the typical atmosphere of Colombia. Of course, you will also find some historic buildings and churches here. If you prefer it more modern and chic, there's the "Zona Rosa", where you will also find many western cafes and bars. There are several "Free Walking Tours" in Bogotá to get to know their culture and history better. Highly recommended is the Graffiti Walking Tour, where you can learn more about street art in Bogotá. Those looking for a change from the classic walking tours (and fans of "Narcos") should take a look at the "Heroes – Colombia vs. Escobar" tour. If you are interested in museums, visit the Golden Museum "Museo de Oro", the "Museo Histórico de la Policía" where you will learn more about the violent past of the city, and the "Museo de Botero" of the famous artist whose statues and paintings you can also find in Medellín and Cartagena. For a great view of the metropolis, you should definitely head to Monserrate – the mountain just behind the city. Here you can easily go up by gondola. In general, you can also climb high, but you should be careful here (especially in the late afternoon and when you're traveling alone), as there were some raids on tourists in the past. Additionally, Bogota is also a great opportunity to get to know the Colombian culture a little bit better, for example by taking a cooking or a salsa class!
Bogotá is not really beautiful and in some places, it's a bit seedy, but you should not miss the city when backpacking through Colombia. I recommend spending about 2-3 days in Bogotá while you're on your Colombia backpacking trip.
• Attractions in Medellín
Medellín has undergone the country's most rapid development – from one of the world's most dangerous cities and home of the Escobar Cartel to the new hot spot for innovation and digital nomads. Medellín and its development is absolutely impressive, and you should not miss the city with its tourist attractions when backpacking in Colombia. There is a very good "Free Walking Tour" to learn more about Medellín's history. Attention – the tour is fully booked every day and it must be reserved in advance (free) online. Colombia's attractions include u.a. some Botero statues, a lot of street art, and a botanical garden. The best view over Medellín is from the comunas on the beach in the hills. Most travelers seek accommodation in the "El Poblado" district – this is the modern expat area full of hipster cafes, restaurants, and a vibrant nightlife.
A visit to the "Comuna 13" – once the most dangerous area of the city and now full of life and hope – is a must in Medellín, either alone or in a tour. The area is easily accessible by metro and gondolas, which now connect the poorer areas of Medellín with the city center. Be sure to go with some of the gondolas (which are part of the public transport system) for great views over the city.
Medellín is also a very convenient place for paragliding, the place is a bit out of the way but easily accessible by public transport. I was ready in the morning to jump on to the mountain, when unfortunately because of fog the flight for the day had to be canceled.
Medellín captivates less with Colombian attractions, but more through its innovation and rapid development, as well as its proud and friendly locals who are visibly happy with the city's new reputation. That's why you should not miss Medellín when backpacking Colombia.
• Attractions in Guatapé
The beautiful and colorful colonial town of Guatapé is located near Medellín and is a great day trip. A well-known attraction in Colombia is "La Piedra del Peñol", a rock outside of Guatapé. Whoever climbs the countless steps, will be rewarded with a great view of the unique landscape. The public bus from Medellín can leave you directly on the rock, from here you can continue to Tuk Tuk to Guatapé. Guatapé is unbelievably colorful and you'll find one Instagram photo opportunity after another. Explore the center of Guatapé on foot, there is also a reservoir attached, as well as the Finca of Pablo Escobar. A day trip to Guatapé from Medellín is absolutely worth it!
• Things to do in Salento (Cocora Valley)
The small town of Salento is only accessible by vans (from Medellin or Bogotá) and is beautifully situated in the Andes, surrounded by coffee plantations. Salento is the gateway to the spectacular Cocora Valley, home to the world's largest palm trees. Here you should definitely stop by on your Colombia backpacking journey to enjoy the scenery and wander through the Cocora Valley. You can also visit a coffee plantation. For a real Colombian experience with locals, try the Tejo game – an experience in itself!
• Other attractions in Colombia's center
San Gil is located in Eastern Colombia in the Andes and is considered the country's "adventure capital". There are all kinds of activities like paragliding, rafting, kayaking, canyoning, and much more! For adventure enthusiasts, this destination is a must in Colombia. Unfortunately, I was not there for time reasons.
Colombia backpacking on the north coast – Cartagena and Santa Marta (Tayrona National Park)
The north coast of Colombia is considered to be the tourist capital of the country, thanks to the attractions in Cartagena and the beautiful Tayrona National Park with its beaches at Santa Marta. The tropical north of the country, with its Caribbean influence, is very different from the cooler mountain areas around Bogotá and Medellín.
• Sights in Cartagena, Colombia
The colonial city of Cartagena in Colombia is considered the most popular tourist destination in the country and presents itself as perfectly spruced up, safe, and extremely touristy to welcome visitors from all over the world. Personally, I found Cartagena beautiful, but also a bit exhausting (especially because of the heat), overcrowded by tourists and overpriced. You should not miss the sights of Cartagena on your colombia backpacking itinerary, but two days in the port city were enough for me. You can also do day trips to nearby beaches from Cartagena, but they are also very crowded. Use your time in Cartagena to explore the old town "Ciudad Amurallada" and admire the sunset from the city wall right by the sea. Regular salsa shows are also held in the public areas of the Old Town. In order to save some money, I recommend you to look for accommodation and restaurants rather in the adjacent "hipster" district, Getsemani. Here you can spend a lot less and still be fast in the old town, in addition, you will also experience the typical Colombian coastal flair here.
A funny (half) day trip from Cartagena is to the mud volcano "El Totumo". Although the volcano is not particularly beautiful or great to look at, here you have the unique experience to get a mud bath (+ massage) in the volcano. The whole thing is quite touristy, but a fun experience if you have some spare time in Cartagena. You reach the volcano by tour (be sure to negotiate prices and compare), after the mud bath it depends on the tour operator if you either go back or to an adjacent beach.
• Things to do in Santa Marta – Tayrona National Park
The city of Santa Marta does not offer any real tourist attractions for your Colombia backpacking itinerary and is considered by most tourists as a starting point for a tour of the Tayrona National Park. The entrance to the Tayrona Park is just outside the city, but easily accessible by public transport. You can take a day trip to Tayrona, but most opt for a two-day excursion. Try to be at the entrance early in the morning as the registration is quite inefficient and takes a long time (do not forget your passport). The first piece you can sit back in the van, then the hike begins through the tropical jungle. After some time you will reach the first beach, from then on, the hiking trail along the coast with great views. Depending on when you start in the morning, you will reach the "El Cabo San Juan" beach in the afternoon. There are no real accommodations here; only tents and hammocks – these are distributed per "first come first serve", so you should not arrive too late in you want to have any sleep. The mass storage of hammocks is covered and there is also a restaurant on the beach (but you can also bring food) and lockers. Now you can either enjoy the beach, or hike even further in the jungle to "El Pueblito", a small village of locals and ruins in the middle of the rainforest, but this hike goes steeply uphill and is incredibly exhausting. From there you will theoretically come across another way to the park exit if you visit "El Pueblito" on the second day, but I was advised by locals because of the condition of the way to it and I took the other way around and hiked back the same way. Otherwise, Tayrona is perfect for relaxing. Swim a bit in the sea, watch the sunset, meet other travelers, and enjoy the night under the stars before returning the next day.
• Other attractions on the Colombian north coast
Cartagena and the Tayrona National Park are the most famous sights on Colombia's north coast, but there is much more! Many Colombia backpackers choose the "Lost City Trek" for "Ciudad Perdida", a 5-day hike through the jungle. This is not cheap and is very exhausting (especially when it rains), the ruins are not very impressive (especially compared to Machu Picchu, for example), but the hike is still a great experience. Two other places on the north coast for backpacking in Colombia are Taganga and Minca. Minca is a bit off the coast in the mountains and is worth it to relax and enjoy the nature. Taganga is a fishing village just outside Santa Marta on the beach and has become a magnet for backpackers in Colombia. Although the northern tip of Colombia offers great sights with the La Guajira desert, it is (especially without a tour) rather difficult to access and time-consuming – but untouched and beautiful. Very popular to rest on the beach is the San Andrés Island, which is located in the Caribbean, far north, near Nicaragua. There are very cheap flights there.
Colombia backpacking in the south – Cali, Popayán, and Ipiales / country road Colombia to Ecuador
The south of the country is a little less touristy. These places and sights of Colombia's backpacking itinerary usually are explored by people who travel by land from or to Ecuador. I traveled from Salento on the bus to Popayán, spent the afternoon, and finally went to Ipiales. I stayed there overnight, visited the famous and unique Las Lajas Church early the next morning, and finally crossed the border into Ecuador and took the bus to Quito. This is the typical route to travel from Colombia to Ecuador by land. Because of raids in the past, it is recommended that you do not cover these routes with the night bus (although you could save some time).
• Attractions in Popayán
In the "white city", Popayán, there are not as many attractions as in Colombia's other destinations, but it's worth a short stopover. The colonial city center is nice to see and easy to explore on foot. From the "El Morro de Tulcán" vantage point you have the best view of the city.
• Attractions in Ipiales
Most tourists on a backpacking trip in Colombia use the border town of Ipiales as an accommodation from the overland route from Colombia to Ecuador. Directly at the bus station, there are cheap hotels and dining options. Ipiales is also home to one of Colombia's most impressive sights – the Las Lajas Church. You should definitely stop by here. The church is easily reached by taxi and built into a gorge – a unique destination that you must not miss on the way from Colombia to Ecuador!
• Attractions in Cali
Many backpackers in Colombia spend some time in Cali, the capital of salsa! For salsa enthusiasts, the stop is definitely worth it, but I have heard mixed opinions about the sights in Cali and therefore skipped the city. Cali is a big city and probably very exhausting, noisy, with no really impressive Colombian sights, and in some places also dangerous. Nevertheless, the city continues to attract tourists and you have to decide for yourself whether a stopover in Cali is worthwhile or not.
Conclusion about backpacking Colombia
I hope I could give you a good overview of the sights in Colombia for your next backpacking trip!
Colombia backpacking is awesome and definitely pays off as a tourist destination, and it's impressive how the country has developed positively in recent years. Backpacking in Colombia is a great experience and the country has many attractions to offer, so you should definitely plan a few weeks for your Colombian trip! Have you been to Colombia? How was your experience? Are you planning a trip? Let me know in the comments!
Did you like my article and find it useful? Let me know in the comments - I'm always happy to hear from you :) Cheers, Patrick
*This post includes affiliate links. If you buy a product or a service through these links, I earn a small commission. There is no extra cost for you and your purchase helps me running this website and providing free information. Thanks for your support!