Yangon was the last stop on my Myanmar backpacking trip. And I quickly realized that Yangon is different than Myanmar's other destinations. Yangon is loud, hectic, dirty, messy – but still very worth seeing! If you have not been to Southeast Asia so far, you may experience a little culture shock here. But I recommend you just get into all the excitement. While in Mandalay, for example, the streets were empty after dark, it was great to visit such a colorful and bustling city. Maybe Yangon can be described as a small, more original version of Bangkok. In the following, I will tell you more about backpacking Yangon, including the best places to visit and important travel tips.
Best places to visit and things to do when backpacking Yangon
Myanmar's largest city, Yangon, has some great sights and attractions that you should not miss when visiting.
Shwedagon Pagoda
Let's start directly with Yangon's most famous sight and one of Myanmar's most famous attractions! The best way to describe the Shwedagon pagoda is: Huge! Admission to the pagoda will cost you 10,000 kyat (about € 6), and you'll need to take off your shoes and socks and cover your shoulders and legs, as in any Myanmar temple. Quickly you will also notice that there is more than "just" a big pagoda. The whole area is full of countless temples, shrines and smaller pagodas, where you can also see many locals and monks praying. Be sure to spend enough time here, as it will take at least an hour to explore the pagoda and the surrounding area. By the way, a visit to the pagoda is also worthwhile at night when it is golden and bright. This place will certainly be a highlight when backpacking Yangon.
Maha Wizaya Pagoda
Next to the Shwedagon Pagoda is this smaller pagoda, which you can visit for free. Unlike the Shwedagon pagoda, there were no other tourists here and I was able to explore the pagoda undisturbed.
Kyaethoon Pagoda
On the way from the Shwedagon Pagoda to Kandawgyi Lake you will pass the Kyaethoon Pagoda. This one is behind a lake that you can cross on a bridge. Admission is free.
Kandawgyi Lake
After visiting the Shwedagon Pagoda, I walked directly to Kandawgyi Lake. This large park is a real oasis of peace in the loud and busy Yangon. However, the park has also reminded me of a construction site, so much seems not to be finished yet. You can still go for a walk here and from the shores of the lake you have a beautiful view of the Shwedagon Pagoda.
The view of the impressive Karaweik Palace Restaurant is also very nice (see the photo below!).
Circular Train
This is probably one of the most extraordinary things on a Yangon backpacking trip and a great experience that you should not miss. The Circular Train is a train line that circulates through Yangon and the surrounding area. There are several stations and you can watch the locals doing their daily routine. The train is not only a mean of transportation, but also a market! You can get on and off at any of the station, but it is easiest to start the journey at the central station. Just ask for the Circular Train, the ticket costs only 200 Kyat and the train leaves every 30-40 minutes. The whole route takes about 3-4 hours. Of course you can also leave anytime. For example, I went off the train to visit a local market and then got on the next train again. Like this, you can spend half a day watching the real life of the Burmese in Yangon.
Chinatown
Chinatown is not a classic sight in Yangon itself. However, you should definitely spend some time in this neighborhood and walk through the narrow streets. Here you will find street markets, busy streets and the real life. Especially in the 19th street and the 26th street (in Yangon, the streets are named after numbers) there are some nice and colorful markets.
Bogyoke Aung San Market
This market is just north of Chinatown and is within easy walking distance. There are countless shops selling jewelry, clothes and souvenirs. It is very touristy, but perfect if you still want to buy souvenirs. Here you can find everything and for a lot cheaper than in other places in Myanmar.
Sule Pagoda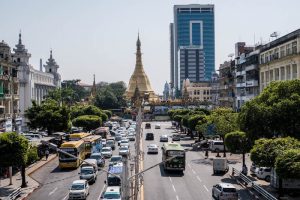 The Sule Pagoda is just off a crossroad in Chinatown and a bit smaller than the Shwedagon Pagoda. You can visit the inside for 3,000 kyat. The best view of the Sule Pagoda is probably from the pedestrian bridges that cross the streets. By the way, you will find some beautiful British colonial buildings around the area of the Sule pagoda when backpacking Yangon.
National Museum
Here you can learn more about the history and culture of Myanmar. The museum has several floors and the entrance costs 5,000 kyat.
Sunset at the Yangon river
I found this spot rather by accident and I'm very happy about it. On the river bank south of Chinatown, at the height of the 16th street (you have to cross two large streets to the river) you can witness a great spectacle at the end of the day. Here you can watch thousands of locals climb into small boats to get transported to Dala on the other side of the river. I could walk on a jetty over the water and watch the hustle and bustle, while slowly the sun went down.
The snake temple in Kanbe
If you have some time left and feel like an adventure, I can recommend a trip to the snake temple in Kanbe. The name says it all. In this small temple, which lies in the middle of a lake, about 40 huge pythons live! They are everywhere in the temple, you can even put a snake around your neck and take a picture. According to the locals, the snakes wouldn't be dangerous…
The only problem is that the snake temple is not so easy to reach. You first have to cross the river for 2,000 kyat by ferry to Dala, a very poor and underdeveloped city that is also a bit dodgy. From here it is still almost 20km to the snake temple to Kanbe. At the terminal of the ferry, there are some guys who offer you to take you there on the scooter. I walked to the main road and took a taxi for 6,000 Kyat. Unfortunately, the driver has not waited as agreed while I visited the temple, so that afterwards I was stranded without transport. At some point, two scooter riders showed, who took me and my friend to Dala for 3,000 kyat each. Everything worked out in the end, but it's a bit more complicated.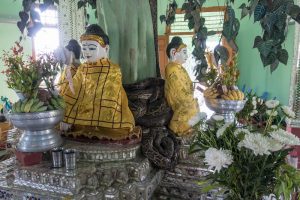 What else is there to do when backpacking Yangon?
In addition to the attractions listed, I recommend you to explore Yangon on foot and to get lost in the hectic streets. If you want to recover from the chaos and the heat, you can visit one of the big and modern malls. Here you will also find western cafés and restaurants. One evening in Yangon, I even went to the cinema, where films are often shown in English. You see, there is a lot to do when backpacking Yangon!
Yangon Backpacking Tips and Information
Now I would like to give you some more information and tips for your vacation in Yangon.
How do I get to Yangon, Myanmar?
Yangon is located on the south coast of the country and if you travel to Myanmar by plane, you will probably land in either Yangon or Mandalay. If you want to travel overland to Yangon, there are also some buses during the day and at night. I took the JJ Express VIP Bus from Mandalay to Yangon. Despite the great distance, the ride was smooth in 9 hours, as the two cities are connected by an express highway, you do not have much traffic here and the road is good.
How do I get from the airport to the city centre in Yangon?
A taxi from the airport to Chinatown should cost you about 8,000 kyat. Alternatively, you can take a bus for just 500 kyat.
How much time should I spend in Yangon?
I liked Yangon a lot and would recommend you to plan about 2 days to explore the city.
How's the public transport? How do I get around?
Although Yangon is Myanmar's largest city, you can walk around a lot. You can easily explore the streets of Chinatown and the riverbank on foot. I even walked to the Shwedagon pagoda, but this might be a bit exhausting due to the heat. There are busses in Yangon, but you would probably dependent on the help of the locals for orientation. I recommend using the App "Grab" to get around. You can order taxis here and the price is fixed in advance. In general, taxi rides in Yangon are incredibly cheap, and you'll rarely pay more than 2,000-3,000 kyat per trip around downtown.
Where do I find good food?
In Yangon you will find restaurants and street food stalls at almost every corner. For example, while I had a hard time finding restaurants on the streets in Mandalay, it was not a problem in Yangon. Especially in Chinatown, many restaurants are around. In addition, you will also find larger food courts in the malls, where you will also find many western restaurants, in case you feel like pizza and burgers. I even had sushi here!
Safety in Yangon: Is Yangon safe for backpackers?
Personally, I felt very safe in Yangon and Myanmar in general. I'm not away of any cases of theft or fraud happening to other travelers and everyone I met seemed to have only good experiences. However, my hostel warned against a scam where locals approach you and want to show you the place Dala "at the other side of the river" – this is probably a common tourist scam in Yangon, where you end up with a huge sum to pay for a "tour". Apart from that, you should not have any problems when backpacking Yangon.
Where do I find good accommodation?
There are plenty of places to stay in Yangon – hotels, guesthouses and hostels. The best place to stay is probably Chinatown. There is a lot going on, there are plenty of restaurants and you can easily reach the famous Yangon attractions.
How's nightlife and partying?
While other places in Myanmar have no big nightlife, you can actually go out partying in Yangon. Especially popular is the 19th Street in Chinatown, where there are night markets with street food and some bars. Even clubs and discos can be found in Yangon.
What budget do I need? Is Yangon expensive?
For me, Yangon was probably one of the cheapest places on my Myanmar trip. Nowhere else could I get a taxi for so little money, explore the sights in Yangon and eat out. A budget of 20-30 € per day should be enough for your stay in Yangon.
Conclusion about backpacking Yangon
I really enjoyed my stay in Yangon and the city should definitely be part of your Southeast Asia itinerary. Besides all the sights in Yangon, I can also recommend you to just walk through the streets and markets and watch the locals during their daily lives. There is always a lot going on in Yangon and I'm sure you will enjoy your backpacking adventure.
Did you like my article and find it useful? Let me know in the comments - I'm always happy to hear from you :) Cheers, Patrick
*This post includes affiliate links. If you buy a product or a service through these links, I earn a small commission. There is no extra cost for you and your purchase helps me running this website and providing free information. Thanks for your support!