Vietnam is one of the most popular backpacker destinations in the world and there are some good reasons why this Southeast Asian country is perfect for backpacking. In Vietnam, you have delicious food, an exotic culture as well as varied landscapes and sights. In addition, Vietnam is incredibly cheap to travel and for many people, the country is undoubtedly one of the favorite destinations in Asia. While Vietnam is not as developed and touristic as Thailand, it is still much more visited than, for example, Myanmar and enjoys great popularity, especially among backpacking tourists from Europe.
In the following I would now like to give you all the important information for backpacking Vietnam including travel tips and best places to visit, so that you are well prepared for your adventure!
Why should I go backpacking in Vietnam?
You're probably wondering what makes Vietnam so special, especially if you have so many other destinations in the region, like Malaysia or Indonesia. For me, there are three main reasons for a Vietnam Backpacking trip: The low cost of travel, the variety of travel experiences and the good tourism infrastructure that makes a backpacking journey through Vietnam so easy and uncomplicated. I will explain all these aspects in more detail below. However, I can already promise you that you will not regret your Vietnam trip.
Vietnam Backpacking Budget: How expensive is Vietnam?
Let's start with one of the big advantages of a holiday in Vietnam. The country is unbelievably cheap! Southeast Asia in general can be explored on a budget. However, while other destinations in the region, such as Singapore, Bali or the islands of southern Thailand, are not as cheap as you might expect, you will be able to travel Vietnam on a very low budget and with little cost. Of course, your Vietnam budget and your costs extremely depended on your travel standard. Do you sleep in hostel dorms, guest houses or hotels? Are you traveling by domestic flights or by cheap (but uncomfortable) night buses? Do you eat right on the street or in a fancy restaurant? It is difficult to give a general answer to the Vietnam Backpacking costs and budget. If you'd ask me very roughly for a guess, I would say that you can travel Vietnam very well for an average of 20-30 € per day. It's possible to do it for less, and obviously for more as well if you prefer a higher standard. Further, the classic tourist destinations such as Hoi An and the beach areas are a bit more expensive than the big cities and I also had the impression that Hanoi is generally cheaper than Saigon.
In the following, I would like to demonstrate a few typical price points, which might help you to plan your Vietnam budget better. Of course, these are only rough estimates.
• Night in a hostel dormitory: 5-8 €
• Night in a cheap guesthouse: 10-15 €
• Taxi ride in a big city: 2-3 €
• Night bus: 10-15 €
• Domestic flight: 40-50 €
• Street food: 1-2 €
• Food in a restaurant: 3-5 €
• Coffee: 1-2 €
• Beer: 0,20-1 €
Is it safe to go backpacking in Vietnam?
Before traveling to an exotic country like Vietnam, you're also worried about security and wondering if a Vietnam backpacking trip is dangerous. I have good news! Vietnam, as well as the whole of Southeast Asia, is generally a very safe travel region and you do not have to worry much. For example, here you will hardly hear of violent or armed robbery as in South America and you can usually walk through the streets of Vietnam both by day and by night. What you should be aware of, however, is petty crime such as theft or minor scams and rip offs. Always pay attention to your valuables, inform yourself in advance about prices and do not let yourself be scammed.
You should be especially careful when you have your mobile phone in your hands next to a busy street, because if you are unlucky, a scooter driver passing by might just grab it out of your hands (unfortunately, this is common especially in the big cities). Further, in busy markets and streets, you should always pay attention to your valuables. In addition, I advise against taking street taxis, as they notoriously overcharge you and sometimes even haven manipulated taximeters. Here it is worth using the app Grab (which works like Uber) to order safe and cheap transport. Another risk when traveling Vietnam is the traffic, as this is really messy. Especially if you want to scooter yourself, you should be careful.
As you can see, you should be aware and careful on your Vietnam backpacking journey, but you don't need not be afraid of violent attacks.
What's the best time to travel Vietnam?
Same as in other countries in Southeast Asia, there are also different climates in Vietnam. Keep in mind especially the rainy season, which is in the summer, and the dry season in the winter. However, the climate in Vietnam can not be so easily forecasted, as the country is so long and the north is significantly different from the south when it comes to temperatures and climate. While in the South, for example, it is extremely hot and tropical almost the whole year, it can actually get very cold in the north in winter. In any case, you should avoid the rainy season for a trip to Vietnam and in the winter you should definitely have warm clothes with you if you're heading up north.
Transport in Vietnam: How do I move around the country?
Fortunately, you will soon realize that there is a very good tourism infrastructure in Vietnam and you have various options on how to get around the country efficiently and for little money. Nevertheless, you should not forget that Vietnam is a fairly large (and long) travel destination and it may require some time to travel from north to south.
Here I would like to briefly explain the different transport options when exploring Vietnam.
Bus
Throughout the country you will find a good network of night buses and long distance buses. Note, however, that these are not exactly comfortable and even if you get a "bed" promised, this is usually too small for taller people and the often ridiculous driving makes your night most likely not very peaceful. On the other hand, every small town is accessible by bus, and even longer trips cost you no more than a few Euros. You also save the money for an overnight stay. However, the internet is also full of horror stories about the night buses in Vietnam and you have to weigh how important comfort is to you and how you trust the safety of those night busses.
Especially if you want to travel the country intensively and on a budget, the busses might be the best choice for you.
Train
There is also a train network in Vietnam. Unfortunately, I was a bit unlucky because the train routes were mostly booked out in advance for days and the remaining available classes had a price similar to domestic flights for longer journeys, which made the choice easy for me. Nevertheless, especially the night trains are certainly a cool experience and probably much safer than the night buses.
Taxi / Grab
You're probably wondering how best to travel shorter distances in the cities. As already mentioned, road taxis (probably as in so many other countries) do not have the best reputation. That's why I recommend that you download the App Grab on your mobile phone and set up an account there. Grab is the Asian version of Uber and allows you to order cheap taxis that are safe and the fare is determined in advance automatically.
If you have no luggage, you can also order scooter taxis via Grab. These are the cheapest and mostly fastest option to get through the often crazy traffic in the bigger cities.
Flight
This is the simplest, but also the most expensive transport option in Vietnam. There are some good and relatively cheap airlines, with which you can easily fly through the country (especially VietJet is a great option). If you want to avoid the uncomfortable night buses and have no problem spending a little more money, this is the perfect way to see a lot in a short time. In addition, the flights are actually not that expensive. I booked my domestic flights only a few days in advance and never paid more than about 50 €. Note, however, that you have to pay extra for luggage (but only a few Euros). Sure, a night bus for the same distance might cost you only 10 €. But especially for longer journeys, such as from Hanoi to Hue or from Hoi An to Saigon, I would certainly recommend you domestic flights. However, if you plan several stops between these known destinations which aren't connected by air, you will probably have to use busses or trains instead.
Currency and money in Vietnam
The currency of Vietnam, the Vietnamese dong, can be quite confusing because of the multiple zeroes and the similar look of the bills. I recommend, especially at the start of your Vietnam backpacking trip, to count your change always carefully. By the way, there are no coins but only banknotes.
At the moment (April 2019), 1 € equals about 26,000 dong; 1 $ equals about 23,000 dong and 1 £ equals about 30,000 dong.
You get cash quite easily in Vietnam. You'll find plenty of opportunities to exchange money in exchange bureaus, and you'll also find ATMs in banks and on the streets where you can use your credit card to withdraw the local currency. For higher sums (for example, for trips to Halong Bay), prices are often quoted in Euros or Dollars and these currencies are often accepted. Be aware that some ATMs charge you a fee (about 5 €) for taking out money, while other ATMs offer free withdrawal for EU credit cards. Here it is worth to test different banks and vending machines and in the end, I mostly used the ACB Bank, since I was charged no fee at these ATMs.
Health: What medicine do I need for Vietnam?
Before traveling to Vietnam, you may also be thinking about what medications you should pack in your first aid kit and what you need to be prepared for when it comes to staying healthy. Don't worry too much. In Vietnam, there are pharmacies all over the place and most of the time you will also find employees who at least understand some basic English. Therefore, I would probably not recommend you to bring medicine for any unlikely event, because you can buy almost everything locally. After countless backpacking trips, my first aid kit is quite optimized and the most important utensils for me are probably painkillers and medicine for stomach problems and diarrhea. These are the most common medical problems that you might encounter in Vietnam. You should also have a good mosquito spray with DEET factor, as this is still the best defense against tropical diseases like malaria or dengue fever.
How do I get a mobile SIM card in Vietnam?
In general, I recommend that you buy a local SIM card for mobile internet for your Vietnam backpacking trip. This will only cost you a few Euros and will provide 4G Internet almost all over the country! With a sim card, you can easily book accommodations, check Google Maps, order taxis with Grab and research information. There are four major mobile operators in Vietnam: Viettel, Mobifone, Vinaphone and Vietnam Mobile.
Of course, you usually have Wi-Fi in all accommodations. Nevertheless, it is worth buying a local sim card in Vietnam if you want to be always connected and accessible.
Attention: Do not buy a sim card at the airport in Hanoi. I made this mistake and realized in retrospect that scammers are at work at the (on first glance professional) tourist information counters in the arrival hall. They don't only charge way too much money, but the sim cards are not registered properly and often have less data than promised. My SIM card stopped working after a few days and I was told that I was scammed in the official Viettel store. That's why you should definitely buy your Vietnam Sim card from an official store. In addition, you must have your passport with you, as it is required for registration.
Do I need a visa for my trip to Vietnam?
Before you start your backpacking Vietnam trip you should inform yourself about the visa and the entry requirements. While some nationalities (e.g. Germans and British) get a "visa on arrival" if they don't spend more than 15 days in the country, you will need to apply for an e-visa before online if you're planning to spend more time in Vietnam. Don't worry, application is easy and you normally receive your e-visa within a few days.
For more information on the Vietnam visa, check the official website here.
Food in Vietnam: What should I eat and drink?
If you love Asian cuisine, Vietnam is a paradise and there are some great local specialties to try. The classics in Vietnam are probably Pho (the famous Vietnamese noodle soup) and Banh Mi (the cheap and tasty baguettes). But there is much more! Especially in Hanoi you should definitely try Bun Cha, which became my favorite food in Vietnam. Further, Vietnam is also known for its (strong!) coffee, which is either drunk black or with condensed milk. By the way, you should not miss trying egg coffee, where you will find a thick foam on top that reminds of tiramisu and is delicious.
Backpacking accommodation in Vietnam
In Vietnam, there are countless places to stay and sleep, ranging from cheap hostels and guest houses to expensive hotels and resorts. Here you will find my recommended backpacking accommodation for Vietnam!
Is it easy to travel Vietnam solo?
None of your friends has time or interest to join you on a Vietnam backpacking trip? I know this problem pretty well! Fortunately, Vietnam is great for solo travelers.You will not have any problems getting to know other backpackers and travelers and since most people in Vietnam also have the same route (either from north to south or vice versa), you will probably see the same faces over and over again and maybe even meet people with whom you can travel together for some time. Especially the hostels are great for getting to know other travelers, as there is always a friendly and open atmosphere here full of solo travelers. In addition, tours (for example to Halong Bay) are a perfect opportunity to get in touch with other people.
You certainly won't feel lonely in Vietnam!
Backpacking Vietnam route and itinerary
Vietnam has so many attractions and destinations to offer that it might be a bit confusing at the beginning. Here I would like to explain some different travel routes and show you the best options for your Vietnam backpacking trip.
Backpacking Vietnam for 1 week
If you only have one week in Vietnam, I would focus on either the north or the south.
Do you like a tropical atmosphere and beach vacation? Then start in Saigon, take 2 days to explore the city and do a tour to the Cu Chi Tunnels. The rest of the time you could go to the beach town Mui Ne, the tropical island of Phu Quoc or on a trip to the Mekong Delta.
You prefer nature and beautiful landscape over tropical beaches? Take Hanoi as a starting point to explore the north of Vietnam. Plan around 2 days in Hanoi before visiting the surrounding areas. You can either take a one- or two-day trip to Halong Bay. If you would like to see the rice fields, you should head to Sapa or Mai Chau for 2-3 days. If there is still time left, you could think about a day trip to Ninh Binh.
Vietnam Backpacking for 2 weeks
If you have 2 weeks in Vietnam, you will be able to explore some of the highlights in the north and south of the country. I will describe the proposed route from north to south, but you can also travel the other way around.
After your arrival in Hanoi, you should take 2 days to explore the city with all its sights. In addition, Hanoi is also a great base for other places and you should take the opportunity to explore Halong Bay for 2 days and to spend 2-3 days visiting the rice fields in Sapa. If you have enough time, think about a day trip to Ninh Binh. As you can see, I recommend you to spend your first week mainly in the north of Vietnam.
Afterwards, you should take a cheap domestic flight to Hue. Here you can spend half a day exploring the imperial city of the former kingdom before taking a scooter tour along the Hai Van Pass to Hoi An. Take 2 days to explore the beautiful old town of Hoi An, with the beach close by and therefore a nice place to get some rest. Hoi An was probably my favorite place on my backpacking trip through Vietnam!
From Hoi An, the airport in Da Nang is easily accessible for the onward journey to Saigon. When you're running out of time, just spend a day exploring Ho Chi Minh City. Further, you should take a trip to the Cu Chi tunnels, which takes about half a day on an organized tour.
Sounds busy, right? It is! If the proposed Vietnam backpacking route is too hectic for you, I would most likely skip Hue and fly from Hanoi directly to Da Nang, from where you will reach Hoi An.
Backpacking around Vietnam for 3-4 weeks
You have more time in Vietnam? Excellent! This gives you the opportunity to really get to know the country in depth. Of course, you should not miss out on the sights and destinations described above, such as Hanoi, Hue, Hoi An and Saigon.
With plenty of time, however, you have the opportunity to explore many other places in between. For example, you could visit the caves of Phong Nha, go on a motorbike tour around the Ha Giang Loop north of Hanoi, and relax on the beach for a few days either in Mui Ne or on the tropical island Phu Quoc. If you have enough time, you should also explore the Mekong Delta.
If you're on an extensive Vietnam backpacking journey, you could also think about a detour into Cambodia! From Saigon, it's not far to the border and you can visit the capital Phnom Penh as well as the famous temple complex of Angkor Wat.
More important backpacking Vietnam travel tips
Read more about the most important travel tips for Vietnam, so that you're well prepared for your adventure.
Be careful when traveling during TeT
At first glance, it may sound like a cool experience visiting Vietnam during the Vietnamese New Year (called TeT). In reality, you should avoid this period! Since TeT are the main holidays in Vietnam, the whole country is on the move – everyone travels to his / her family's home and therefore not only buses, flights and trains are completely overcrowded, overpriced and often fully booked, but the streets are empty and the shops are closed. Because during TeT, the family has priority and the locals are at home. TeT officially takes place over 3 days, but the country is affected by it for a week.
I arrived in Hanoi towards the end of TeT and actually struggled to find open restaurants to eat! Also, there could be problems in getting the visa in Vietnam: I met travelers who did not get their online visa (which normally takes only 3 days) in time, because the immigration office was shut down and closed for a whole week during TeT! The country basically stands still for a week. Therefore, you should avoid this time for your Vietnam backpacking trip or plan well in advance.
Skip the beach towns
Big cities, rice fields, mountains – Vietnam has a lot to see and the country is very diverse. Of course, there are also some beaches that you can visit. However, I have heard mixed reviews about many of the popular beach resorts. Especially the well-known tourist hotspots in southern Vietnam are very crowded and less authentic, full of drunk and wild party tourists (especially in Nha Thrang). Popular among backpackers is the beach town Mui Ne, which is also known for its sand dunes near the beach. I you're there, you should be very careful when renting a scooter – the place is notoriously known for corrupt police officers stopping you and asking for a bribe. A nice place for a beach break is Hoi An.
In general, however, the beaches of Vietnam don't come close to other beach destinations and I would recommend you to rather go to the beaches and islands of Thailand for a beach vacation.
Be prepared for crazy traffic
This is not only important for Vietnam, but probably for all of Southeast Asia. Nevertheless, the traffic in Vietnam is particularly extreme, especially due to the countless scooters on the streets. Crossing the road definitely requires some practice in Hanoi or Saigon! I recommend to just walk slowly but steadily straightforward. The Vietnamese are used to it and it works surprisingly well.
Always count your change
Especially in Hanoi it happened regularly to me that I received the wrong change after paying my bills. Of course, I do not want to imply that this was intentional – but it was actually noticeable and I recommend that you pay attention and count your money well.
Be aware of thieves on scooters
Vietnam is generally a safe destination, but beware of petty theft. Especially in the big cities like Hanoi and Saigon it often happens that thieves drive past tourists on scooters and grab their smartphones or bags out of their hands. So keep an eye on your valuables – for example, I would rather leave my smartphone in my pocket next to a busy street and turn away from the traffic if I want to use it.
Backpacking Vietnam: Best Places to Visit and Things to Do!
In the following, I'll show you the best travel destinations and the highlights of the country, which I have split geographically into north, center and south.
Backpacking northern Vietnam
Let's start with the most popular destinations in the north of Vietnam, which is known for the capital Hanoi as well as stunning nature!
Hanoi
Most likely, your trip to Vietnam will start in either Hanoi (North) or Ho Chi Minh City / Saigon (South), as there are the country's two major international airports. Hanoi can be a bit hectic and chaotic at first glance, but I recommend you to stay at least two days in Hanoi and explore the sights of the city. Here you will find the famous Ho Chi Minh Mausoleum, the Citadel of Thang Long and several interesting museums, such as Hoa Lo Prison and the Military Museum. It is especially fun to explore the bustling old town with its busy streets and colorful markets. Further, Hanoi also has a super cool nightlife and the streets are full of people in the evenings.
Additionally, Hanoi is also a perfect base to explore the north of Vietnam (more below).
Halong Bay
Halong Bay is probably Vietnam's most famous attraction. The beautiful landscape with the karst cliffs stretches along the coast and is practically and easily accessible from Hanoi. You'll be able to organize and book cheap trips to Halong Bay from every corner and every tour agency in Hanoi. While there are day trips to the bay, I would probably recommend you book a tour for two days, including a night in the bay.
There are hundreds of different tour agencies and options that vary in price and quality.
For backpackers, two tours are especially interesting: The "Halong Hideaway Cruise" with the Central Backpackers Hostel (the cheapest option that I have chosen as well) or the "Castaway Islands" tour with the Vietnam Backpackers Hostel (a huge binge drinking party – not my thing personally but people seem to love it). On both tours, you stay for a night or two on a "private island", while during the day you can explore the bay and the islands by boat, kayak, bike or on foot.
Of course, you'll also find some upscale options with beautiful cruise ships and overnight stays in single cabins aboard.
Do you want to explore Halong Bay independently and without a tour? You can settle down on Cat Ba Island in one of the guesthouses or hostels for a few days and do excursions around the bay from there.
You should certainly not miss a trip to Halong Bay when backpacking Vietnam!
Sapa
The small town of Sapa is located in the north of Hanoi, near the border with China and in the middle of beautiful rice plantations. For a long time, Sapa has been a popular destination and a highlight for many travelers in Vietnam. However, during my stay in Vietnam in 2019, I've heard more and more critical voices about Sapa, which describe the place as too touristy, where visitors are often confronted with intrusive locals wanting to sell their tours and services.
Unfortunately, Sapa is no longer a real insider tip anymore. For its scenery and hiking, the place is still great to visit though. You can book tours to Sapa everywhere in Hanoi. Alternatively, you can reach the place by bus or train and explore the area on your own.
Mai Chau
Are you worried that Sapa is a little too crowded and touristy for your taste? Then Mai Chau might be a good alternative. In the end, I also decided to go to this little village south of Hanoi in the rice fields instead. Here I spent two relaxing days in a homestay and explored the area by bike and scooter. Although the mountains and rice fields are are probably not as spectacular as in Sapa, the area is much quieter and less crowded. As another advantage, you can reach Mai Chau faster and easier than Sapa. It's certainly a nice alternative!
Ha Giang Loop
The Ha Giang Loop is probably one of the most breathtaking areas in Vietnam, but is explored by surprisingly few tourists. Here you are in the far north of Vietnam, on the border with China in the mountains. The best way to explore the Ha Giang Loop is by motorcycle (you can rent one once you're there)! For the journey, you should plan about 5 days in which you enjoy the incredible landscape.
Attention: In winter it can get very cold and wet, at higher altitudes it can even snow. So be prepared for this weather and bring enough warm clothes.
As you can see, the Ha Giang Loop is more appealing for adventurous travelers. If you do not feel safe on the bike, there are also organized tours where you can sit on the back seat.
Ninh Binh (Tam Coc)
This area is located south of Hanoi and is referred to as "dry" Halong Bay due to the impressive karst cliffs. Here you can enjoy the beautiful landscape with rice fields, caves and rivers, along which you can discover Tam Coc also by boat. It is also worth visiting the Hang Mua lookout point for a nice panorama.
Caves of Phong Nha-Ke Bang
In addition to mountains and bays, Vietnam is also known for its incredible caves. Especially in the Phong Nha-Ke Bang National Park you will find some impressive cave and the area is even a UNESCO World Heritage Site. Here you will also find the largest cave in the world (Son Doong), which is unfortunately a bit difficult for tourists to access. Very popular on a backpacking Vietnam trip is the Phong Nha Cave or the Thien Duong Cave (Paradise Cave) .
The starting point for tours into these caves is the village of Dong Hoi, which you can reach by bus or train from Hanoi (north) or Hue (south).
Backpacking Central Vietnam
On your backpacking journey through Vietnam you will probably pass through the central part of the country. Read more about the places you shouldn't miss!
Hue
The old imperial city of Hue is a popular stopover for travelers traveling on their Vietnam backpacking trip, since the Imperial City is one of Vietnam's most famous tourist attractions. I'm honest – the Imperial City did not really impress me that much and while it's historically very significant, I did not find it particularly worth seeing. Still, I wouldn't recommend skipping Hue, especially since the location is perfect as a start or end point for a trip across the Hai Van Pass by motorbike. However, I wouldn't spend too much time here (a day should be enough).
Hai Van Pass
The road over the mountains on the coast between Hue and Hoi An is considered one of the best motorcycle roads in Vietnam and is a real highlight on your backpacking journey. The best thing is that you do not have to miss out on it even if you have little or no experience in motorcycling. You can easily book tours in both Hue and Hoi An, where you get a guide for the journey and if you don't want to drive yourself, you can sit on his back seat. In addition, your luggage will be brought to the final destination in a car and you don't need to carry it. During the trip, you will have a few stops at viewpoints, waterfalls and other attractions. Certainly a cool experience!
Da Nang
The coastal town of Da Nang is located roughly between the Hai Van Pass and Hoi An and is a convenient hub for Vietnam travelers due to its international airport. In Da Nang, you find a large harbor, city beaches and the city is also known for the fire-breathing dragon bridge!
Further, Da Nang (as well as Hoi An) is a good starting point to visit the recently famous Golden Bridge (Cau Vang) in Bà Nà Hills Resort. Note, however, that the images on social media probably do not quite demonstrate the truth and the bridge can be quite crowded. The admission fee is also surprisingly expensive for Vietnamese standards (about 30 €).
Hoi An
Let's continue with one of my favorite places in Vietnam! Hoi An is arguably the most beautiful city in the country and is known as the "City of Lanterns". Especially the old town is one big tourist attraction with the colorful streets full of lanterns, creating a fantastic atmosphere especially in the evening. In addition, Hoi An is located close to beach and surrounded by beautiful rice fields. I spent almost a week in Hoi An and really enjoyed my stay.
Backpacking southern Vietnam
Vietnam's south has some more sights and highlights for travelers to offer!
Ho Chi Minh City (Saigon)
Similar to Hanoi, many tourists will sooner or later spend a night or two in Saigon. The metropolis of South Vietnam was for me not as authentic and exciting as Hanoi, but a lot more modern and developed. In Saigon, there are some cool places to visit and you shouldn't miss especially the famous "War Remnants Museum", where you can learn more about the Vietnam War. Besides that, you can also visit the historically significant Reunification Palace and some beautiful colonial buildings.
Cu Chi Tunnels
Ho Chi Minh City is also the perfect base for a trip to the Cu Chi Tunnels outside the city. These tunnels were used during the Vietnam War in the jungle in the fight against the (US) enemies and it is super exciting and also shocking to learn more about this time. You can even walk through some of the tunnels yourself!
Nha Trang
Nha Trang is one of the most popular beach towns in Vietnam. However, I have heard some mixed (and mostly negative) things about this place. Personally, I have not visited Nha Trang but apparently the beach is pretty crowded and dirty. Moreover, the place is flooded by party tourists, which doesn't really help for a relaxing and chilled time on the beach. However, if party and nightlife is important for you, it may be worth a visit.
Dalat
Far away from the coast, in the mountainous region of southern Vietnam, lies the town of Dalat, which is becoming increasingly popular among tourists. Here you can explore the almost untouched nature and find waterfalls, temples and beautiful landscapes.
Mui Ne
The beach town Mui Ne is very popular with backpackers in Vietnam. What makes this destination special are the sand dunes, where you feel almost like in the desert. In addition, Mui Ne is also perfect for water sports. Conveniently, you can reach Mui Ne in just a few hours from Saigon.
Mekong Delta
The area around the Mekong Delta spans across southern Vietnam and is undoubtedly one of the most famous places in Vietnam. The rivers of the Mekong create a beautiful environment and you find marshes, rice fields, villages and floating markets along the Mekong. The best starting point to explore the delta is probably the city of Cần Thơ in the middle of the Mekong Delta.
Although you can also find day trips from Saigon to the Delta, I heard mixed reviews and people told me that they felt like they'd be on a big shopping trip while there was not enough time to visit the real natural highlights of the area.
Phu Quoc Island
In the southwest of Vietnam and geographically very close to Cambodia lies the island of Phu Quoc. This place is perfect for a beach vacation and relaxation at the end of your Vietnam backpacking trip. Nevertheless, you should not only lie on the beach, but also take the opportunity to explore the great scenery and the nature of the island.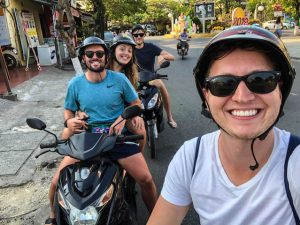 Conclusion on backpacking Vietnam
I hope I could tell you more about backpacking Vietnam and I hope that my guide is useful for you. The country is beautiful and with my travel tips, route proposals and best places to visit you should be well prepared for your trip through Vietnam.
Have you been to Vietnam? How did you like it? Let me know in the comments!
This post includes affiliate links marked with (*). If you buy a product through these links, I earn a small commission. There is no extra cost for you and your purchase helps me running this website. Thanks for your support!
Did you like my article and find it useful? Let me know in the comments - I'm always happy to hear from you :) Cheers, Patrick
*This post includes affiliate links. If you buy a product or a service through these links, I earn a small commission. There is no extra cost for you and your purchase helps me running this website and providing free information. Thanks for your support!