Thailand is considered a backpacking mecca and as the perfect "beginner country" for backpackers in Southeast Asia. Thus, for me Thailand was the first destination of my first big solo backpacking adventure. I remember exactly how excited I was when, in the summer of 2014, I flew alone with my backpack from Germany to Bangkok and spent seven weeks in Southeast Asia. I had a great time and as you can see on this travel blog, this first Southeast Asia backpacking trip was my starting point for long trips all over the world. Now I am currently backpacking Thailand again after more than 4 years and still enjoy the country as I did a few years ago.
In the following backpacking Thailand guide, I will tell you everything you need to know for your backpacking adventure. Read more about the best reasons why you should go traveling in Thailand, find the best places to see and visit and learn more about the most important travel tips in Thailand. With this guide, you'll be perfectly prepared for your Thailand backpacking adventure!
The best reasons why you should go backpacking in Thailand
First of all, I'll give you a few good reasons why backpackers love Thailand so much!
Backpacking Thailand is cheap
Let's start with one of the key reasons why Thailand is so popular for backpackers from all over the world. A backpacking trip through Thailand is incredibly cheap. I'm always surprised for how little money you can experience a lot in Thailand. The good thing about backpacking in Thailand is that it does not necessarily affect your standard of travel. The cheap food on the street is often tastier than in the expensive restaurants and the hostels and accommodations in Thailand are in my opinion better equipped and newer than comparable hostels for a higher price in Europe. You want to keep a nice travel standard in Thailand? You can get a nice private room in a guest house or other amenities just for a few euros more. Thus, traveling in Thailand as a "Flash Packer" is still very cheap. Further, you reach Thailand from Europe by plane for little money. I flew to Thailand several times and have never paid more than 450 € for round-trip flights. To get around in Southeast Asia, there are also some cheap airlines (especially Air Asia), with which you can already fly through Thailand for 20-30 €. When it comes to your budget, I would very roughly plan around 1000€ per month for your backpacking trip. With this, you can live and travel on a good standard. If necessary, cheaper is always possible.
Backpacking around Thailand is very easy
Before you start your first backpacking trip, you need to organize and plan a lot because you want to be well prepared and nothing should go wrong. Nevertheless, I advise you not to plan your trip completely in advance, but to give you enough flexibility. You will quickly see that all the planning is not necessary! Because in Thailand, everything can be organized easily and cheaply on site. Most prices (for example for tours and excursions) online a lot more expensive than on-site anyways. You will soon realize that the streets of Thailand are full of accommodation, restaurants and tour agencies and therefore backpacking Thailand will be very easy. Most of the time, you can even book tours and transport directly at your accommodation! Nowhere in the world is backpacking as easy as in Thailand.
Most nationalities don't need a visa for visiting Thailand
Thailand is also a popular destination due to easy entry requirements. Fortunately, many nationalities do not need a visa for Thailand (compared to other countries in Southeast Asia) and you can get your passport stamped when you arrive to stay in the country for a month. If this is not enough for you, you can either extend it or you can travel to another country (the famous "visa run") and return to Thailand, giving you another 30 days stay. By the way, you will not usually be asked for a return ticket at immigration, but sometimes you may be asked at the departure airport by your airline. If you want to be flexible here and do not have a ticket yet, hopefully the answer should be accepted that you will travel to Laos or Cambodia by public transport. In the worst case, I would book the cheapest flight from Thailand right on the spot, which should not cost more than 30 €.
Backpacking around Thailand is very diverse
Another reason why I still love backpacking in Thailand after so many other trips is the diversity of the country. This makes Thailand unique compared to other countries in Southeast Asia. Whether you prefer to hike in the mountains, enjoy the hustle and bustle of the big cities, get to know the culture of the locals or just relax on the beach in the sun – in Thailand you will get it all. Even if you spend several weeks as a backpacker in Thailand, you will certainly not be bored here.
In any case, I recommend you to spend a few days in Bangkok. Although the city is often overwhelming and exhausting, you should jenjoy the metropolis and explore all the great Bangkok attractions. If it gets too exhausting, take a day trip to Ayutthaya or Chanthaburi. No Thailand backpacking itinerary should skip Chiang Mai, the smaller town in the north of the country. In addition to countless temples, night markets and great food, Chiang Mai is also the perfect base for trekking through the jungle, a visit to the Elephant Sanctuary or a detour to the hippie village of Pai.
After big cities, culture and nature, a relaxing holiday on one of the countless islands and beaches in the south of Thailand is a must for backpackers. Here you are spoiled for choice with all the different islands, where everyone will find the perfect spot meeting his/her interests. While some islands are more for people who like to party (such as Koh Phangan with the world famous Full Moon Party), other islands tend to target families and luxury, and some islands are still considered very untouched, making them good for rest. In any case, plan on spending some time island hopping in Thailand during your trip.
Thailand is perfect for solo backpackers
Especially for solo travelers, there is probably no better destination than Thailand. Countless backpackers are traveling alone, making it easy to meet other travelers. Whether in the hostel, on the bus or on a day trip – you will quickly get in touch with other people from all over the world and socialize. Exactly that makes the solo backpacking for me so beautiful and unique. At the beginning of my Thailand backpacking trip I was of course also afraid that it could be boring or lonely. But the opposite was true and there was not a single moment or day of traveling that I was alone. Even if you are not very extroverted, you will not find it difficult to make new friends. Of course, all backpackers in Thailand travel in about the same way and the same destinations, so you always meet the same people and maybe even find people with whom you can travel together for a longer time.
The locals in Thailand are super friendly
Thailand is often referred to as the "Land of Smiles". And not without reason! Because the locals are known for their open, friendly and welcoming mentality. Here everyone will be happy to help you if there are problems and since the Thais also speak very good English (at least in the tourist areas), the language barrier is also very low. Of course, this does not mean that you might not have any bad experiences on your Thailand backpacking trip and it might happen that at some point s a taxi or Tuk Tuk driver wants to overcharge or scam you. But in general, most Thais are very honest and friendly and you will certainly get more good than bad experiences in Thailand.
There's a great tourism and backpacking infrastructure in Thailand
Tourism is probably one of the most important sectors for Thailand – and has been for several decades. This is exactly what you notice quickly when backpacking through Thailand. The country is perfectly made and developed for tourism. You'll find a huge selection of good accommodations for every budget, countless transport options, tours, activities and restaurants everywhere. The locals are friendly and speak good English, the service is high. While for other countries in Southeast Asia, such as Laos or Cambodia, tourism is still "new territory" and therefore it can also be chaotic or exhausting at times, Thailand is well prepared with its tourism infrastructure for backpackers.
The food is incredibly delicious
For me (and for so many others) Thailand's cuisine is probably one of the best in the world! That alone was reason enough for me to return to Thailand as a backpacker. And it is still incredibly cheap. In Thailand, you can get a tasty Pad Thai or a curry dish for only € 1-2. Do not miss the tasty street food that you find everywhere in Thailand on the streets. Do not worry, the hygiene is better than you might think, because the food is prepared right in front of your eyes. I suggest you try eating at the food markets. If you get tired of Asian food at some point, you'll find restaurants offering western food like pizza and burgers as well.
Thailand is more developed as you might think
Of course, a backpacking Thailand trip is also an adventure into a foreign, exotic culture. And you'll soon realize that Thailand and Southeast Asia are in many ways different from Europe. Nevertheless, Thailand is now very developed in many places. For example, in Bangkok you'll find some of the most modern and best clinics and hospitals in the world, fast 4G internet is at almost every corner of the country, and there are shopping malls, hotels and restaurants where you feel like you're in Europe. Thailand can also seem very "simple" and underdeveloped in places and the country has fortunately not lost its culture despite the progress. That's exactly what makes the appeal of a backpacking trip. Nevertheless, Thailand is probably one of the most developed countries in Southeast Asia.
Thailand is a very safe destination for backpackers
This is another good reason why Thailand is so good for even the most inexperienced backpackers. Thailand and the whole of Southeast Asia is considered a very safe travel region, where you can move around without problems during the day and at night. While other destinations, such as Latin America, are at risk of violent assault and you should stick to some rules there (never walk at night, for example), you do not have such problems in Thailand. This makes backpacking in Southeast Asia so enjoyable! The biggest danger here is probably the traffic, which is why I (even if nobody else does) always buckle up in taxis and only drive with a helmet on the scooter.
By the way: You should still be a bit cautious in Thailand especially with your valuables, there might be pickpockets especially in hectic and crowded markets, for example. But apart from this, you probably have nothing to fear in Southeast Asia.
When is backpacking Thailand not the right thing for me?
Now I have given you some good reasons why Thailand backpacking is a great experience. For whom is Thailand not suitable as a destination? In short – for those who want to be away from other tourists. Because Thailand is of course very touristy due to the reasons mentioned above, you probably will not be able to avoid other travelers here. Certainly one can therefore also criticize that Thailand is "too touristy", "overcrowded" and "too developed". If you think so too, other countries in Southeast Asia may be better for backpacking, such as Myanmar, Laos or the Philippines. Even in those places, you will not be the only tourist in the country obviously, but they will certainly be less touristic than Thailand.
The most important backpacking Thailand travel tips
Thailand is a popular holiday destination and there are many good reasons to visit Thailand. However, if you have not been to Southeast Asia yet, you will also get to know a whole new culture here, and many things may seem strange and overwhelming at first sight. I have been extensively in the region and would like to give you the most important backpacking tips for Thailand so that you'll be perfectly prepared.
Be careful when renting a scooter
Of course, the beautiful nature of Thailand can best be explored on your own with a scooter. Renting a scooter is particularly popular in the north of the country and on the islands in the south. Here, however, I recommend to be a bit cautious, especially if you have never driven scooters in your life. Unfortunately, I have seen countless travelers and backpackers in Thailand with pretty ugly wounds and injuries from scooter accidents. Mostly these are the tourists who are sitting on a scooter for the first time ever and are too careless. Do not get me wrong – in many places I would recommend renting a scooter. But be careful. Don't ride a scooter in the huge cities with busy streets and rather practice on empty roads. Always wear a helmet and closed shoes, be slow especially on non-paved roads. Of course, you should definitely keep your hands off the alcohol when you drive scooters. By the way, you have to present a legal international driving license in theory, but often this is not required. In the worst case you will be controlled by the police and you have to pay a fine or a bribe if you don't have a proper license.
Avoid tuk tuks in Bangkok
Tuk tuks are usually a pretty handy means of transportation in Thailand. In Bangkok, however, you should avoid them. In the capital, the tuk tuks are known to scam unsuspecting tourists. Either you are overcharged or you get a super low price, but then you are not taken to the desired location but first to some souvenir shops. That's why you should rather use taxis in Bangkok.
Use Grab to get a ride or make sure the meter is turned on in taxis
Negotiating with taxi drivers can be a bit exhausting in Thailand. Although legally they are all obliged to turn on the meter, unfortunately not all drivers will do it automatically. Nevertheless, you should insist on it, especially in Bangkok. If necessary, you have to ask a few taxis until you find a honest driver. Very useful is the app "Grab", which is the Asian Uber. Here you can conveniently order taxis and the price is predetermined in advance. This saves all unnecessary discussion and bargaining.
Bargain prices when backpacking in Thailand
If you've been to Asia, Africa, or South America before, you'll be used to it. If Thailand is your first holiday outside of Europe, you'll have to get used to it. In Thailand, all prices are negotiated, especially in markets. Expect that the the first mentioned price will be much too high and only after a long discussion you'll reach a fair price. This is quite common here.
Don't be too scared of street food and hygiene
Many tourists try to stick to all "hygiene rules" when visiting Thailand for the first time, thus avoiding anything that could possibly be dangerous, such as street food, fruit shakes and ice cubes. Don't be too paranoid since this is not necessary, at least in Thailand. I ate here street food for weeks, drank daily smoothies and used ice cubes in my drinks without any problems. In Thailand, people are well prepared for tourists and makes sure that the hygiene is fine. Further, I use the tap always for brushing teeth and have never had problems. Of course, you should not drink tap water though. What I can give you as a rule of thumb: Eat where the locals eat. That's always a good sign. Street food is often a lot more hygienic and fresher, as it has a faster turnover compared to expensive restaurants, where few people eat.
Chose the islands you visit carefully
In Thailand, there are countless islands that you can visit on your backpacking journey. Keep in mind, however, that you should choose the islands and beaches you will visit wisely, as they each target a specific clientele. For example, while Koh Samui is great for resort vacations and for families, Koh Phangan is for partying (Full Moon Parties) and Koh Tao is popular among backpackers and divers. Therefore, each of the islands has its own focus and target audience and you will find islands to party as well as to relax, depending on what you prefer.
Take enough time for backpacking Thailand
Thailand is a fairly large and, above all, diverse travel destination. Therefore, I give you the advice to take enough time for your Thailand backpacking journey. For example, if you only have one week, I do not recommend you to visit every part of the country. While you can get around Thailand quickly and cheaply, you will not be able to enjoy the places properly. Depending on your time, I recommend you to explore Bangkok as well as northern and southern Thailand (see below for the best places). However, you should plan at least 2-3 weeks in Thailand, preferably longer, because there is so much to see and do!
Be respectful of the culture (especially in temples)
Thailand is a Buddhist country and you will see that the locals are very welcoming and friendly towards tourists. However, you should respect the Thai culture as well. This includes a few very simple rules, such as entering temples only barefoot and covering legs and shoulders. You shouldn't never wander around holy places and temples in Thailand with short clothes showing lots of skin. Unfortunately, some tourists tourists, especially on the islands in the south, often seem to forget this.
Be prepared for the classic tourist scams in Thailand
In general, Thailand is a very safe travel destination, where you as a tourist do not have to worry much. Nevertheless, there are a few famous tourist scams, especially in Bangkok, for which you should be prepared. These can be easily prevented. Avoid Tuk Tuks, negotiate prices for services always in advance, do not believe anyone who tells you the royal palace is closed and be wary of fake products. Besides that, nothing should go wrong on your Thailand vacation.
Bring warm clothes for the night trains and busses
In addition to the cheap flights, you can also travel by night buses and night trains through the country. Note, however, that it can often get incredibly cold due to the air conditioning. Therefore, you should be prepared for it and best have long clothes and an extra jacket with you.
Get a local sim card for internet
During your trip to Thailand, you will have Wi-Fi in every accommodation, in every café and in every restaurant. Nevertheless, I recommend you buy a SIM card for mobile Internet. That way you are independent, you can order taxis via Grab, spontaneously book accommodation and sometimes just do some research. Fortunately, it is also very easy to get mobile internet in Thailand. There are several providers and for just a few Euros you get a few gigabytes of data. The best way to get the SIM card is directly at the airport, as the staff there also know exactly how to activate the cards on tourist cell phones and they even have special tourist offers.
Take a small "travel pharmacy" with you
For your trip to Thailand, I give you the tip to have some important medicines handy in your luggage. These include primarily painkillers as well as stomach and diarrheal medications. However, I wouldn't carry countless medicines for each occasion from Germany to Asia. Because in Thailand you find a pharmacy with English speaking staff at every corner, where you can buy everything you need in case of emergency. In addition, pharmacies and doctors in Asia are much better prepared for the usual tourist diseases in Asia than the doctors in Germany. If you do not travel to remote and rural areas, I would take only a small first aid kit and not much more.
If you ever get seriously ill: In the tourist centers of Thailand there are very good hospitals with Western standards, especially in Bangkok.
Get the most important vaccines for Thailand in advance
If you are traveling for the first time in Southeast Asia or more "less developed" countries, you need to take care of some vaccinations. Although none of them are mandatory, many of them are recommended for your safety and health. Of course, a tropical doctor can give you the best advice. In addition to some vaccinations that you might already have from home (such as hepatitis A and B), vaccinations against typhoid, rabies and possibly Japanese encephalitis are recommended.
My personal opinion about Malaria: I've never taken malaria prophylaxis in my life and the travelers I met who took the medicine had huge problems and side effects with it. That's why it's not worth it, at least for me, to take prophylaxis. In the unlikely event of a medical emergency, Thailand's health care is good enough to treat you properly.
Be aware of the different seasons in Thailand
Thailand has a very specific climate different to Europe and before you plan your vacation, you should keep this in mind. In general, the best travel time for Thailand are the months of November to February. At this time, there is winter in Thailand, whereby the temperatures are pleasant and the climate is dry. In spring (March to May) it gets hotter, while in June the rainy season starts with very humid climate and high humidity, which can last until about October. I have backpacked around Thailand both during the best travel time (January / February) and in the rainy season (January / July). Of course, the climate is more pleasant in winter. However, if you're only chance to visit Thailand is summer, this shouldn't stop you from your trip. I had no issues visiting Thailand in June and July either. Conveniently, it is also much less crowded with tourists during rainy season.
During the rainy season, it also doesn't rain nonstop for days. Most of the time you have 1-2 short rain showers a day, which often last only half an hour. Otherwise it is dry. Of course you can still have bad luck (on Koh Phi Phi I had a few days of constant rain in the end of July), but things like this can just happen sometimes on your trip.
Pack light and don't put too much in your backpack for your trip to Thailand
I recommend you to pack your bag as lightly as possible. Most people have a habit of packing too much and only use half of it. In general, I would say that even for a longer trip to Thailand, you do not need more than 12-15kg of luggage. Note that you can easily wash your clothes anywhere for about 1 € / kg and there are no cold places in Thailand for which you will need lots of warm clothes. Therefore, you can limit yourself to the essential while packing your backpack.
Be prepared for delicious (but often spicy) food
Thai food is great and you will find amazing food on every corner. Expect, however, that the food is traditionally very spicy. Fortunately, in the tourist areas, the locals are already used to the taste buds of tourists and will often serve you the dishes rather mild. Nevertheless, it makes sense to mention when ordering the food again to the waiter that you cannot eat spicy food. Better safe than sorry!
Protect yourself from mosquitos in Thailand
Of course, Thailand as a tropical destination also has mosquitoes in many places. This can be quite exhausting and unpleasant, especially since the (low!) risk of malaria and dengue can exist. Generally, I advise against traveling with a mosquito net or similar, you won't use it and it is not needed. But what you should always have with you is a good (!) mosquito spray with a high DEET factor. You can get this in the pharmacies in Europe as well as directly in Thailand. If you use this properly, you should be fine.
Use enough suncream
In Thailand you are exposed to a lot of sunlight. You may not feel this directly in the big cities due to smog or the clouds (especially during rainy season), but you should always apply enough sunscreen. The sun is of course particularly aggressive in the tropical regions and you can easily burn your skin.
Have a sarong in your daypack when visiting temples
Especially for sightseeing in the temples of Bangkok and Chiang Mai, a sarong is incredibly practical. If necessary, I can always put my sarong around my waist to cover my legs to visit temples. You don't want to walk around Thailand with long pants due to the heat, and the sarong will allow you to still be able to visit religious sites and temples.
Keep the left-hand traffic in mind
In Thailand, people drive on the left! When crossing the street, you should look better in both directions and you should also keep this in mind when renting a scooter.
Backpacking Thailand tips for your accommodation
Regarding the accommodations in Thailand, you have an incredibly broad selection. In the tourist areas of Thailand you will find everything: hostels, guesthouses, hotels, luxury resorts. A bed in a dormitory is already available for only a few euros, and a private room in a guesthouse should not cost you more than 10-15 € per night. In general, the north of Thailand is cheaper than the southern islands, where prices can be a bit more expensive (but still comparably low). Generally, you get great quality and value for little money everywhere in Thailand.
I hope I could give you some important information about Thailand with my backpacking travel tips and you'll be well prepared for your adventure.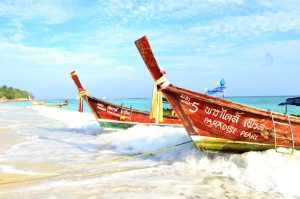 Best Places to Visit when Backpacking Thailand
I have traveled to Thailand several times and the country is still one of my absolute favorite countries. Here I would like to present you the most amazing attractions and places that you should not miss on your next trip through Thailand. I have divided Thailand into three "areas": the north of the country, the center of Thailand around Bangkok and the south of Thailand, where you can discover the great islands and beaches.
Backpacking northern Thailand
On your trip to Thailand, you should definitely make a trip to the north of the country. While you do not find a bustling metropolis like Bangkok or beautiful beaches like in the south, the north offers great nature, rainforest, mountains, wonderful temples and the best food in the country. Here I would like to introduce you to the four destinations which are most popular for backpackers in northern Thailand.
Backpacking Chiang Mai, Thailand
Chiang Mai is considered the cultural and spiritual center of Thailand and the city in the north of the country is the perfect starting point to explore the area. Chiang Mai is a real tourist magnet – and with good reason! You can reach the city practically by plane, bus or train and there is plenty to do and experience here.
Now I introduce you to 3 of Thailand's most famous must-do's in Chiang Mai.
You will also find a detailed article here about backpacking Chiang Mai.
Visit the temples in Chiang Mai
Chiang Mai is known for its unique temples and you should not miss these sights. Especially popular are Wat Chedi Luang and Wat Phra Singh in the old town. A real insider tip is also the beautiful and yet undiscovered Wat San Dok temple.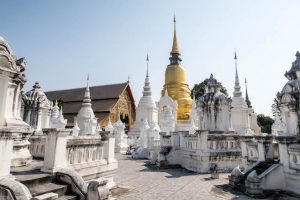 Visit an elephant sanctuary
Visiting an elephant sanctuary is now on the bucket list of most visitors to Chiang Mai. Here you can spend a day getting close to the elephants while feeding, petting and bathing them. A unique and great experience that you should not miss. In any case, you should avoid the elephant riding, because the animals are treated here terribly. Also, the "Tiger Kingdom", where you can take pictures with drugged tigers, is a place which I cannot recommend for ethical reasons.
Explore the surroundings of Chiang Mai
During your stay in Chiang Mai, you should definitely take the opportunity to leave the city and enjoy the beautiful nature. Especially popular are trips to the Doi Inthanon National Park, the Chiang Mai Canyon or a multi-day jungle trek through the villages and tribes of the locals. This is the complete contrast to the beach holiday in the south and very worth seeing in Thailand!
Backpacking Chiang Rai
The city of Chiang Rai is the less touristic neighbor of the tourist metropolis Chiang Mai and is still much undiscovered and less visited than other destinations in northern Thailand. Therefore, it makes sense to visit right now! Among the most popular attractions in Chiang Rai are the unique temples, especially the Golden Temple and the incredibly impressive White Temple (Wat Rong Khan).
Backpacking Pai, Thailand
The hippie village of Pai is a popular excursion from Chiang Mai – especially among backpackers who enjoy the relaxed atmosphere and beautiful nature here. I also enjoyed my stay in Pai very much. The place is cozy and a lot quieter than Chiang Mai or Bangkok. The best way to see Pai and the surrounding attractions is by renting a scooter. Hereby you can explore the beautiful landscape around Pai extensively.
You shouldn't miss the following attractions and sights when visiting Pai:
The Pai Canyon
The Pai Canyon is probably the most popular attraction in Pai and especially at sunrise or sunset, you have a fantastic view of the great outdoors. But be careful that you do not slip – there's a very steep drop!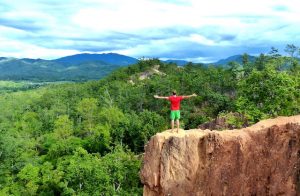 The waterfalls
Near Pai there are two smaller waterfalls (Pam Bok and Mor Paeng), which are easily accessible by scooter. While not particularly large and impressive, these are great for swimming and are the perfect way to refresh yourself from sightseeing in Thailand.
The White Buddha
The White Buddha of Pai is high on a mountain and is easily recognizable from a distance. The Buddha is not only impressive and worth a visit because of its size, but above all because of the great view when you arrive at the top.
The Yun Lai Viewpoint
This viewpoint is one of the most beautiful sights in northern Thailand, from which you have a wonderful view of the landscape. The perfect place to sit down with a cup of tea and enjoy the moment.
These were probably the most important Pai sights, but of course there is a lot more to see and a visit is well worth it!
The kingdom of Sukhothai
Similar to Ayutthaya (see below), Sukhothai used to be a significant kingdom and today you can admire the countless temples and ruins of the historic park. Sukhothai is a good alternative, especially if you do not have time for a trip to Angkor Wat in Cambodia. The city is also directly on the way from Bangkok to Chiang Mai in the north and a stop there is worthwhile.
Backpacking Central Thailand (Bangkok + Surroundings)
Let's continue with the best places to visit around central Thailand. These are, of course, first and foremost the highlights and attractions in and around Bangkok! The Thai capital not only has an incredible amount to offer, but is also the perfect starting point for trips to other nice places in Thailand. Below I introduce you to some of the best sights in Bangkok as well as the best excursions and tours that you can do from there.
Backpacking Bangkok
Of course, Bangkok has lots of attractions to offer. In the following I will present you the top 6 of the best things to do in Bangkok.
For more details, read everything you need to know about backpacking Bangkok here.
The Grand Palace
The Royal Palace is probably the city's most famous landmark and one of Thailand's most popular tourist destinations. Accordingly, it can be crowded and I advise you to stop by early in the morning or later in the afternoon. The entrance fee is 500 baht (surprisingly much for Thai standards) and you have to cover your shoulders and legs (but you can borrow clothes at the entrance).
Wat Pho
The Wat Pho temple complex is located next to the palace. Here you can visit countless temple halls, statues and monuments. The big highlight is the huge, golden Buddha. Admission will cost you 200 Baht for the Wat Pho, making it a lot cheaper than the Royal Palace.
Wat Arun
The Wat Arun is also called the "Temple of the Dawn" and is probably the most impressive temple in Bangkok for me. This one is on the other side of the river, but easily accessible by the ferries (one of them, for example, takes off right behind Wat Pho).
Chinatown
The area around the Chinatown in Bangkok is a fun place to visit. The streets are crowded and loud and I recommend you to let go and get los in the chaos of the hectic streets and the many colorful markets of Chinatown.
Chatuchak Weekend Market
The huge Chatuchak Weekend Market is one of the largest markets in the world, where you can walk through over 10,000 booths and shops on a huge area. This is often hectic and you can really find and see everything what you can imagine. The Chatuchak Weekend Market is located just north of the center of Bangkok, but is easily accessible. Also during the week some stalls are open, but it gets really crowded especially on weekends.
Skybars in Bangkok
Although not a classic sight, but certainly a highlight of your trip to Thailand is the visit to one of the countless skybars in Bangkok, from which you have an incredible view of the city skyline. Most of the skybars are located in either the Silom or Sukhumvit area, making them easily accessible by metro. Try to be there just before sunset – then you will experience the view both by day and by night.
Backpacking Ayutthaya, Thailand
The ancient royal city of Ayutthaya is considered one of Thailand's most popular tourist attractions – especially as the area is conveniently accessible as a day trip from Bangkok. Here you can visit countless temples and ruins. A day trip from Bangkok to Ayutthaya can be booked anywhere in Bangkok for just a few Euros. Otherwise, you can reach the city by train or bus and in the city it is worth borrowing a bike to explore the area.
A trip to Chanthaburi
The city of Chanthaburi in the east of Bangkok is still a real insider tip! There are no world-famous sights to see in Thailand, but here you can still experience the typical life in Thailand and have the perfect opportunity to escape the tourist crowds.

Visiting a Floating Market
Bangkok is home to some of the famous floating markets. A visit to this attraction is certainly one of the highlights in Thailand and you can explore the Floating Markets either as part of a tour or on your own. There are lots of floating markets in Thailand, you can find a good overview here.
The best beaches in Central Thailand
The beautiful beaches and islands are not only in southern Thailand, but also in the center of the country and thus easily accessible from Bangkok. For example, the island of Koh Chang near the border with Cambodia, which is especially popular with backpackers, is very popular. On the other hand, you should skip the coastal town of Pattaya. This place is practically accessible from Bangkok, but a victim of mass tourism and primarily known for the sex tourism of Thailand.
Backpacking southern Thailand
No tour of Thailand would be complete without a relaxing stay at one of the numerous islands and beaches in the south of the country. Although there are no historical sights to visit, there is still a lot to see.
Find everything you need to know about island hopping in Thailand here.
Here I show you what you should not miss in the south of the country.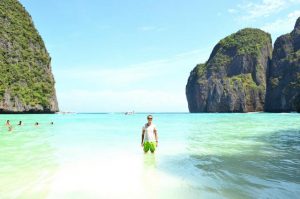 Relax on the beaches in Thailand
A few relaxing days at the beach are definitely part of a Thailand vacation to recover from sightseeing and backpacking. You will be spoiled for choice between countless islands and beaches and you will surely find your personal dream location. By the way, one of Thailand's biggest attractions for many years is the famous Maya May, which became world famous through the movie "The Beach". Unfortunately, this bay is the perfect example of mass tourism. During my visit, you could almost see nothing of the beach due to the huge amount of tourists and the nature was so strongly impacted by it that meanwhile the Maya Bay is closed until further notice for visitors.
Go scuba diving and snorkeling
A big highlight in Thailand is scuba diving and especially the island of Koh Tao is known for its good and inexpensive diving schools. I have also completed my diving license here. Whether you already have experience and would like to do some fun dives, want to do your dive training or just want to try scuba diving once – Thailand is the perfect place for that. You do not like being underwater for a long time and you prefer to stay on the surface? No problem! Even when snorkeling you can discover the great underwater world – this is less complicated, cheaper and requires no training.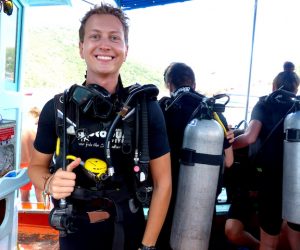 Explore the islands
You get bored on the beach and you do not want to spend days only relaxing in the sun? This is no problem either as the islands in Thailand have much more to offer. Especially on the slightly larger islands, such as Phuket, Koh Tao or Koh Samui it is worthwhile to explore the great nature of southern Thailand. For example, you can rent a scooter here (beware of the traffic and the dirt roads) and visit great landscapes, waterfalls and viewpoints. On many islands, the famous "Long Tail" boats also take you to more remote beaches and small islands. You won't get bored here!
Khao Sok national park
A particularly popular place to visit in the south of the country is the Khao Sok National Park. This incredibly beautiful spot of nature with rainforests, limestone mountains, caves and lakes is a must-do, especially for adventurers and active backpackers who do not just want to be on the beach! Here you can find more information about the Khao Sok National Park.
Mu Ko Ang Thong national park
Also, this national park is located in the south of Thailand and offers a real paradise for its visitors with the islands, lakes and rainforests. Especially as a day trip from the islands of Koh Samui and Koh Phangan, the national park is practically explorable. More information about Ang Thong can be found here.
Enjoy the nightlife on the islands in Thailand
Although not a tourist attraction, but for many Thailand backpackers indispensable on a trip around the country are the legendary beach parties. Above all, Koh Phangan is known for its huge parties (including the famous Full Moon Party), also Koh Phi Phi is full of party-loving backpackers. Here you can celebrate each night at beach parties. You want more relaxation? Then avoid the classic party islands and visit the more remote and idyllic beaches.
There are so many incredible attractions, beautiful places and cool activities in Thailand. That's exactly what makes Thailand so special – the incredible diversity. Even if you have little time for your Thailand vacation, you can gather as many different impressions and experiences here as in just a few other travel destinations in the region. And with its great tourism infrastructure, Thailand is also the perfect "gateway" for travelers and backpackers in Asia.
Conclusion about Backpacking Thailand
As you can see, Many travelers like to criticize Thailand as "too touristy" and "overcrowded". That may be true – but there are good reasons why Thailand is probably the most popular holiday destination in Southeast Asia. No other country in Asia has such great and diverse sights to offer as Thailand. The weather is (mostly) fantastic, the food is incredibly delicious and the low cost of living also make it the right place for low budget travelers. Thanks to the cheap costs, the friendly locals and the good tourism infrastructure, Thailand is a safe and easy destination to visit. As you can see, there are many good reasons to visit Thailand. Yes, Thailand is touristy – but with good reason! And that's exactly why you should explore Thailand. Thailand is the perfect place for backpackers and the country has much to offer. Since decades, Thailand is a famous backpacking hotspot and you'll easily see why when you visit the country.
I hope I was able to prepare you for your Thailand backpacking adventure!
Have you already been to Thailand? What do you think about it? Let me know in the comments!
Did you like my article and find it useful? Let me know in the comments - I'm always happy to hear from you :) Cheers, Patrick
*This post includes affiliate links. If you buy a product or a service through these links, I earn a small commission. There is no extra cost for you and your purchase helps me running this website and providing free information. Thanks for your support!