Conveniently nestled between Big Island and the smaller Molokai, this popular Hawaiian tourism spot is divided into five distinct regions, each having their own charm and should not be missed. In the following, you will find some of the unmissable attractions when backpacking Maui.
Why should you go backpacking in Maui?
The innumerable attractions and outdoor activities which you will find when backpacking Maui just about cater to the interests of one and all. While the relaxation savvy tourists can soak up on the sun drenched stretches of pristine sand, the more daring ones can opt for hiking trips to dormant volcanoes or experience a bird's eye view of Maui, by way of parasailing tours. Even otherwise the island is immersed deep in its own rich history and culture, making it a must visit destination for everyone. Although I already visited many beaches and islands (such as Bali, Malta, Cyprus and Thailand), nothing comes close to the beauty of Hawaii so far.
Where to stay in Maui?
Maui is often the most revisited island of Hawaii and also referred to as the The Valley Isle. Be it an adventurous family vacation or a nature trip, start planning your backpacking trip to Maui, where the world is your oyster. In fact, this is one vacation you can plan easily, because of the incredible choices available for all individuals, with dramatic mountain to Pacific Ocean views on offer for all. As the island itself is fairly big, make sure you choose your accommodation wisely and in a location that puts you near to the place which you wish to explore.
Are you rather backpacking Maui on a budget and looking for something on a lower budget? No problem either! There's a good and cheap hostel on Maui, the Banana Bungalow, at which I already stayed for a whole week. Of course, you'll also find everything in between.
The good thing about Maui? There's accommodation for every budget!
Low budget accommodation in Maui
If you're traveling Maui on a backpacker's budget, there are some cheap and affordable options available. A great place (where I already stayed myself) is the Banana Bungalow Hostel, where free trips and excursions around the island are offered! Other low budget accommodation with great reviews are the Tiki Beach Hostel and The Northshore Hostel.
Medium accommodation in Maui
If you're looking for an affordable place in a great location (perfect for surfers!), check out Napili Shores Maui
High-end accommodation in Maui
Are you up for a treat? The island has it all, and you can even rent a luxury home on Maui. If you're looking for world-class service and a peaceful resort, book your stay at the Four Seasons Wailea. One of the best rated and most luxurious resorts on Maui is Andaz Maui by Hyatt
What to do when backpacking Maui?
Maui is full of incredible attractions, sights and things to do – here are some of the highlights of Maui!
Snorkel the wild side at Molokini
This five-hour long adventure trip from Maui is sure to enthrall you. It takes one off the beaten path to explore the wild regions of this crescent shaped island of Molokini, which apart from being located in an extinct volcano crater, is home to a large coral reef and hundreds of species of fish. Divers get a unique opportunity to get up close to diverse wildlife in their natural habitat, especially along the Turtle Arches Reef area where you will view an abundance of green sea turtles.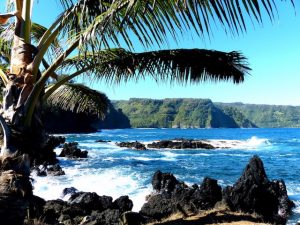 Maui parasailing tour
This is the utmost family friendly experience one can get in Maui. Parasailing from a height of 1200 feet above the island, one can get a dramatic view of mountains and the coastline stretching right up to the horizon. This gliding adventure can be availed by all enthusiasts, be it children or families, with an option of going solo, in tandem or triple ride. Simply board your vessel at Ka'anapali Beach and get ready to enjoy some absolutely awesome views both from land and air while backpacking Maui.
Spend quality time at the Haleakala National Park
Home to one of the largest dormant volcanoes in the world, the stunning Haleakala National Park is visited by millions of adventure seekers and backpackers every year. Standing at an elevation of 10,000 feet above sea level, this lofty peak is visible from every corner of the island. One can opt for hiking to the top early in the morning to get a glimpse of the spectacular sunrise from the peak. Make sure to do advance reservations online to gain access, not to forget the warm layers you may require to keep the chilly air out. The more fearless ones can trek further into the mouth of the volcano, with trails leading to the most leading attractions – the Waimoku Falls. The park is open 24 hours and can be entered either by foot, bike, motorcycle, or car by paying a nominal fee which is valid for three consecutive days.
Hana waterfalls and Rainforest hike
It is extremely easy to get your daily dose of nature, especially on an island as beautiful and diverse as Maui. This full day excursion through the forests leading to the Hana waterfalls is a scenic 4.5 km trek, through the ultimate wonderland of the Haleakala National Park. The tour includes a two- and half-hour breathtaking drive along the famous Hana road, providing innumerable crossings of streams and pools amidst a backdrop of dense rainforest. Visitors will enjoy this moderate walk through towering bamboo and come close to various waterfalls of different heights.
Maui submarine tours
Very few people are aware that the major attractions of Maui actually lie much below the surface of the ocean. Guests have the unique opportunity to view the paradise that exists below the water onboard a passenger submarine. This vessel transports visitors to view a once in a lifetime trip to see fish, coral and other marine animals in air-conditioned comfort. The lucky ones can view whales in the migration season between December and May.
Go camping
Camping may not be on the bucket list of many visitors but is highly recommended. It is a special way of unwinding and taking in the beauty of the island. Campgrounds are plenty in Maui, especially the Hosmer Grove Campground in Haleakala and the Kipahulu campground in East Maui. For the ultimate thrill seekers, a ferry ride to the island of Lanai will allow guests to camp on the stunning Hulopoe Beach Park.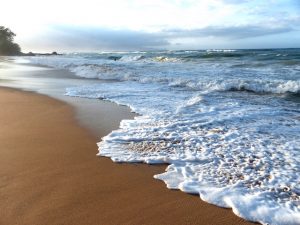 Helicopter tours
If you love adventure and nature, there is no better way to view the incredible Maui scenery than by undertaking a helicopter tour. These unforgettable trips take viewers over the islands and the hidden valleys to see the coastline of Maui from a different perspective. Guests will also have a chance to get close to active volcanoes and see the billowing smoke and red lava for themselves.
This is a guest post from Karla Ramos, who's travel blogging at Hungry Travel Duo. The pictures are from my last visit to Hawaii in 2013.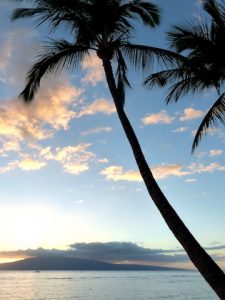 Did you like my article and find it useful? Let me know in the comments - I'm always happy to hear from you :) Cheers, Patrick
*This post includes affiliate links. If you buy a product or a service through these links, I earn a small commission. There is no extra cost for you and your purchase helps me running this website and providing free information. Thanks for your support!