If you'd ask me for my favorite cities in Europe, Spain's capital Madrid would easily make it on the list (same as London and Prague!). For me, Spain is one of the best destinations to visit in Europe and although many travelers tend to skip Madrid and rather head to Barcelona, I actually prefer Madrid much more! Sure, you don't have the beach and the famous Sagrada Familia, but there are lots of other fun things to do when backpacking Madrid! Further, Madrid also seems to be less touristic and a little bit cheaper than Barcelona and although I visited Madrid already two times, I'd come back anytime to spend more time in the city.
In the following, I'd like to tell you more about the best places to visit as well as some important travel tips and information you might find useful when backpacking Madrid.
Useful information and travel tips for your Madrid backpacking trip
Let's start with some basic information and useful travel tips for your backpacking holiday in Madrid!
Where should I stay when backpacking Madrid?
In Madrid, you find lots of good and cheap accommodation, such as hostels as well as guesthouses with cheap dorm beds or private rooms. A bed in a dormitory will roughly cost 15 – 20 € per night and the hostels are a great opportunity to meet other travelers and to have a good time.
Are you still looking for good and cheap accommodation in Madrid?
Some of the best hostels in town are Mola Hostel*, Way Hostel* and Ok Hostel* – all of them have incredible ratings and offer great value for money. Find a full list of all places with availability and current prices here!*
When is the best time to visit Madrid?
If people think about Spain, they immediately think about heat, sun and beaches. Let's start with the bad news – you're far away from the beach in Madrid (but you probably know that already). When it comes to the heat, you'll definitely get lots of sun and high temperatures in the summer (where it can even get way too hot!). However, keep in mind that Madrid is a place with four seasons and winters can get pretty cold, grey and rainy. Therefore, certainly bring a warm jacket when visiting Madrid in winter.
When it comes to the best time to go backpacking Madrid, I'd probably recommend avoiding winter, the middle of summer as well as the Easter holidays. The months in between, especially spring and fall, should be a good time to visit.
How do I get around Madrid?
While Madrid is a big city, I found the center pretty walkable and you will be able to explore and see most places by foot (be prepared for lots of walking though). Otherwise, there is a good metro system as well as busses which you can use. From the airport, there's also a metro line which takes you into the city center.
Keep the siesta in mind!
In Madrid (and in the whole of Spain), locals value their "siesta" and you will quickly realize that many restaurants, shops and places are closed in the afternoon (mostly between 2 and 4 pm!). During this time, the locals go for a break and take a rest from the heat, especially in summer. However, in the later afternoon, places will open up again and usually stay open until late in the evening. You'll soon realize that time goes differently in Spain compared to, for example, northern European countries and it's very common to go for a late dinner (around 9-10 or even 11 pm!). This is something I had to get used to, since in other places such as Germany, it's more common to have dinner around 6-7 pm and most restaurants will already be closed at 10!
Backpacking Madrid budget: How expensive is Madrid?
Your required budget for Madrid largely depends on your style of travel. Generally, the living costs in Spain are lower than in the US or northern European countries. However, we're talking about a capital, which automatically means higher prices. I found Madrid cheaper than Barcelona (especially since it's less touristic) and it's certainly possible to go backpacking Madrid on a low budget.
If you want to save money, take advantage of all the free things to do and visit, get snacks and food from the streets and supermarkets and sleep in one of the multiple hostels around the city. It's always difficult to give a rough estimate, but I'd say that 35-45 € per day should be enough to get by in Madrid.
How long should I stay in Madrid?
Madrid has a lot to offer and during my first visit, I stayed about 5 days in the city. This gave me enough time to go for sightseeing, enjoy the nightlife (and suffer from hangovers) as well as to do a day trip to nearby Toledo. If you only have a weekend, you should also be able to see the most important sights and get a nice feeling for the city in 2-3 days. You can always come back, right?
How's the nightlife when backpacking Madrid?
As you've just read, things tend to get pretty late in Madrid – and I'm not only talking about dinner, but also about nightlife! If you're expecting to go partying in Madrid, get ready for a long night! Most places will only get crowded around 2-3 am and it's common that parties last until the early morning hours.
I loved the nightlife in Madrid and for me, the city is easily one of the best places to party in Europe. During my first visit in Madrid in the end of August, it was the week right before the new semester at the universities started, which meant lots of student parties and long nights in the clubs of the city. Most hostels also offer pub crawls, which is a great chance to meet other people and to have a fun night out.
Of course, you shouldn't only party when backpacking Madrid since the city has so much more to offer. However, the nightlife in Madrid is awesome and you should certainly check it out!
Best places to visit and things to do when backpacking Madrid
In the following, I'll show you the best places to visit in Madrid with the help of some of my travel blogger friends, who gave me their recommendations!
Royal Palace
One of the first things I have done, both times I've visited Madrid, was go to the Royal Palace for a grand opening our trip to Europe. It's literally the most beautiful buildings in Madrid and one of the best things to do is tour its interior rooms. While the royal family doesn't live here, it is their official residence.
I highly recommend taking advantage of an audio guide rental for use as you move up the grand staircase through the palace's luxurious spaces open to the public; your experience there will surely be enhanced with the additional information. It's about eleven euros per adult to enter and some days are free of entry charge after a certain hour if you're a European Union citizen. The audio guide is a few euros extra but worth the money! The Royal Palace is open daily except if there are official state ceremonies going on, which is it still utilized for.
It's easy to get there either by walking or via public transportation. Don't forget to tour the palace's gardens adjacent to the building and look at the mountains from the balconies to the left of the building if you're in its royal courtyard (called Plaza de la Armeria) look at the palace facade. You feel transported to a mountain oasis with the view from there instead of in the middle of an urban, modern city in Spain!
– Mikkel from Sometimes Home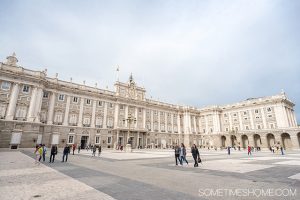 The Gran Via
The Gran Via is probably the most famous street of Madrid and often considered as the city's broadway! When backpacking Madrid, you should take your time and walk along the street, passing by shopping malls, fancy boutiques, theaters, cinemas and much more. The perfect place for people watching!
Retiro Park
The huge Retiro Park is a green oasis in the busy city and a great place to go for a long and peaceful walk or to lay down in the green grass to enjoy the sun. There are several statues and fountains in the park and especially the large lake in the middle of it is a nice place to visit and a good photo opportunity. If you need to chill and relax during your Madrid backpacking holiday, this is the place to be.
La Reina Sofia
One of the most popular museum destinations in Madrid is El Prado. But not to be overlooked is another treasure-house of some of Spain's best artwork, La Reina Sofia, or more formally known as Museo Nacional Centro De Arte Reina Sofia. Unlike el Prado, La Reina Sofia is the home to some of Spain's best contemporary and modern pieces of art. Here you'll find the work of featured artists such as Pablo Picasso and Salvador Dali. The biggest highlight of the museum is Picasso's Guernica, whose black and white canvas spans a massive wall and depicts what some critics believe to be one of the most powerful anti-war movements in history. Originally an 18th-century hospital, the building required radical renovation to create the space we see today. La Reina Sofia is located in the prime spot of Madrid known as Atocha, near the main Atocha train station and close to the bustling neighborhood known as Lavapies. For a more intimate visit, the museum is quietest in the morning but does offer free admission from 7 pm until closing for the budget minded travelers. Of note, La Reina Sofia is closed on Tuesdays so plan accordingly!
– Jennifer from The SoFull Traveler
Literary Quarter
Madrid's literary quarter spills its soul onto its streets through gilded letters. Arguably the first novel in the world came from Spanish writer Miguel Cervantes in the form of Don Quixote. And while his country house lay out in Castilla la Mancha, Cervantes had his digs in Madrid just down the road from arch-rival Lope de Vega. Lope de Vega, the more commercially successful writer at the time, has a grand house you can visit today. Cervantes' is lost forever.
The house of Lope de Vega reveals a sense of 16th century grandeur. Wooden beams, whitewashed walls. Tourists coming to pay their respects. But the rest of the literary quarter has its eyes on the future, not just the past. Ever changing art installations and street art mix with centuries old bodegas serving cerveza, of course, and taut, bitter green olives.
Lying between Plaza de Santa Ana and Paseo del Prado, it's a great place to wander around and fits well (if you're wearing comfy shoes) with the Golden Triangle of (visual) art. And if a taste for Don Quixote takes a hold of you, you can leave the city and visit the famous windmills and Cervantes house as a day trip.
If you don't have time for that, look out for the statue in the literary quarter.
– Abigail from Inside the Travel Lab
Visit a Rooftop Bar
As temperatures rise, there is nothing madrileños love more than to chill out in one of the city's many rooftop bars, known as terrazas in Spanish. These rooftops offer panoramic views and an attractive setting to enjoy a cool cocktail and some tasty tapas at sunset. What better way to relax after a day of sightseeing when backpacking Madrid?
Dozens of these terraces dot Madrid's skyline; at the most popular, it's best to arrive early or reserve in advance. Some coveted spots with fantastic views and atmosphere include Tartan Roof at Círculo de Bellas Artes, atop the Bellas Artes cultural center. From here, you can see Retiro Park, the Prado, and the iconic Metropolis building on Gran Vía. Note that there is a €4 elevator charge to access the bar. The Gourmet Experience at El Corte Inglés in Plaza Callao is another famous terrace. It overlooks the Gran Vía, the Royal Palace, and the Madrid skyline. No charge to enter.
The Terraza Cibeles cocktail bar at the landmark Palacio De Cibeles charges a €4.50 entrance fee, deductible from the price of your drink. From here, you can admire the Plaza de Cibeles, Paseo del Prado, and Madrid's marvelous skyline. The glamorous Terraza de Sabatini at the rooftop of Jardines de Sabatini ApartoSuites features artificial turf with garden tables and chairs. The terrace affords gorgeous views of the Royal Palace that are particularly stunning at dusk when the palace is illuminated.
– Ingrid from Second Half Travels
Mercado Antón Martín
One of the best ways to learn about Madrid's cuisine and gastronomic culture during a city-break to Spain's capital is to visit a local market. Market culture is incredibly strong in Spain and Madrid is no different, with each neighborhood in the Spanish capital boasting its own hall. While the most famous of Madrid's food markets is undoubtedly the Mercado de San Miguel – well-known for its tapas, central location, and high prices – if you want to see what a traditional Spanish food market looks like without venturing too far from Madrid's main sites, then make sure to head to the Mercado Antón Martín.
This market, located in Madrid's lively and multicultural Lavapiés neighbourhood, has two floors filled with stalls and small eateries hawking traditional Spanish delicacies. This is the place to go if you want to try the best Spanish olives, jamón iberico, local cheeses, and plenty more. There are also multiple bars and places to eat within the market where you can either enjoy things that are very much Spanish or something with an international flair.
Without a doubt, if you're interested in Spanish cuisine and want to see how locals eat and shop in Madrid, then no visit to the capital would be complete without stopping at Mercado Antón Martín.
– Maggie from The World Was Here First
Prado Museum
While we were visiting Southern Spain, we made a quick stop at Madrid and visited a few key places. Being an art lover, Prado Museum, which is in the heart of Madrid, was high on my wish list to visit. Inaugurated in 1819, Prado Museum is home to more than 7,000 paintings. The world-class Prado Museum displays an endless array of masterpieces created during the Golden Age of Spain. The museum is located in a 18th-century Royal Palace and displays around 2,300 pieces of artworks in more than 100 rooms. While you can't see everything in a single visit, plan to see just a section that interests you. Spanish paintings from the 12th century to the early 19th century form the majority of the collection. You can find artworks by Spanish artists such as Goya and Velazquez. Don't miss the Bosch's Garden of Earthly Delights and David with Head of Goliath by Caravaggio. The collection also covers Italian, Flemish, French, British, and German paintings as well as Neoclassical Italian sculptures. The Prado Museum has a suggest route guide which is a self-guided tour of specific works. Leave the big bags in the car as you can't bring them inside the museum and no photos or food is allowed inside as well.
– Priya from Outside Suburbia
Museo del Jamón
Museo del Jamón is the best 'museum' you've ever been to. That is, if you like the Spanish ham, a.k.a. jamón. It's actually not a museum at all, it's rather a local chain of small deli-style restaurants, in which you can have good beer and even better jamón and cheeses. There are around 10 of the museos in Madrid, with 3 in the very city center near Puerta del Sol. Even if you don't look for one, you're quite likely to bump into it. That's how I first wandered into the museo myself.
The museos serve best for a quick bite accompanied with a beer, tapas style. The selection of Spanish ham, such as the Jamón Ibérico and Jamón Serrano is the widest and you'll see many cured hams hanging straight from the ceiling. That's also why many tourists walk in just to take a photo with the hams.
The Museo has been around for a few decades already. Apparently, the first one opened in 1978 as a convenience store. The daughters of the founder now run the family business. Museo del Jamón can be found only in Madrid (not in Barcelona!).
– Veronika from Travel Geekery
Puerta del Sol
The Puerta del Sol in the heart of Madrid is one of the most popular spots in the city which you shouldn't miss on your Madrid backpacking trip, and for good reason too! This famous square is home to some fantastic works of architecture that are a must-see for anyone visiting the city for the first time. From the picturesque former post office building (that now hosts the President of Madrid) to the statues of Charles III of Spain and The Bear and the Strawberry Tree, there are plenty of sights to see and photograph. Aside from the architecture, the Puerta del Sol is also home to the "kilómetro cero" plaque that marks the symbolic centre of Spain, a location that has seen many a protest over the years!
When not seeing the sights in the plaza, travelers can sit back and enjoy the café culture and watch the world go by. If you plan to be in Madrid for New Year's Eve, make your way to the clock tower in Puerta del Sol before midnight (with grapes in hand) as this is where the Twelve Grapes celebrations begin. It is best to visit Madrid in the shoulder seasons (as it can get extremely hot in summer) so you can truly explore the city in its prime.
– Chrysoula from Travel Passionate
Temple of Debod
Do you know that there is an authentic Egypt temple right there in the middle of Madrid? No, it's not an Egyptian themed restaurant or an entertainment park, it's a real temple built more than 2000 years ago! Erected originally 15 km south of Aswan, in 1960 the temple of Debod was facing destruction to make a place for the Aswan High Dam. Unesco, however, was not ok with it, so the Egyptian Government decided to offer the temple as a gift to Spain, as a gratitude for the help with the saving of the Abu Simbel temples. Spain of course, accepted the unique gift, and in no time, the Debod temple was transported from the desert sands of Aswan to Madrid's Montaña Park.
Nowadays, the temple and the park around it are the perfect places to escape the hustle and bustle of the Spanish capital while having a picnic or enjoying the scenic sunset!
Temple of Debod opening hours:
• October 1 to March 31:
Tuesday to Friday: 9:45 to 13:45 and 16:15 to 18:15.
Saturdays, Sundays and holidays: 10:00 to 14:00.
• April 1 to September 30 (except August):
Tuesday to Friday: 10:00 to 14:00 and 18:00 to 20:00.
Saturdays, Sundays and holidays: 10:00 to 14:00.
• August: Tuesday to Sunday: 10:00 to 14:00. Evenings closed.
• Closed: Every Monday. Jan 1, Jan 6, May 1, Dec 25.
Admission is free!
If your time in the city is limited, but you want to enjoy it to the max check out Global Castaway's "2 days in Madrid" guide for the ultimate itinerary!
– Slavi from Global Castaway
La Casa Encendida
La Casa Encendida is an excellent place to visit on a rainy day, on an extremely hot day or simply if you want to immerse in social and cultural life. It is basically a center, divided into four floors and a terrace roof, that offers courses, workshops, and conferences on various topics. Additionally, there are also free indie concerts, parties and presentations of new products from famous brands.
From time to time representatives of various magazines and newspapers gather to discuss the latest trends and editorial exhibitions. If you would like to chat with them too or meet famous designers from Europe and America, La Casa Encendida's events are for you.
Keep in mind that this place is one of the busiest spots in Madrid, especially in the summer. Locals love it and come here often. On the roof of the center, there is a terrace where in spring and summer you can relax, have a glass of beer or wine, and enjoy some tapas. Sometimes it gets busy and people occupy not only all tables but the entire roof, sitting right on the ground.
The main goal of La Casa Encendida is to provide training and offer entertainment at the same time. Entry to events can be free or for a fee, you would need to check that in advance. I do recommend paying a visit to this center, especially if you happen to be in the area.
– Anya from Road is Calling
Mercado de Motores
If you're looking for something a bit different or quirky to do in Madrid, and you're lucky enough to be visiting on one of the weekends it's open, you absolutely have to visit the Mercado de Motores.
The Mercado de Motores is a vintage market with a range of bric-a-brac, handmade items and food stalls, but what sets it apart is the location. Set in the beautiful surroundings of Madrid's historic railway museum, the stalls are set up in between the exhibits. You might be checking out an up-and-coming designer's t-shirts next to a steam locomotive from the 19th century, or buying coffee and a piece of delicious cake beside a 1950s train.
Another brilliant reason to go to the Mercado de Motores is the fantastic entertainment. When I visited, there was an amazing jazz band playing in the main hall, and we watched the Goonies and Grease with free popcorn in an outdoor cinema in the grounds.
The Mercado de Motores is held on the second weekend of the month, and getting there from Madrid city centre is really easy. Take the metro to Delicias – it's just a short walk from there following signs for the Museo del Ferrocarril.
– Helen from Helen on her Holidays
National Archeological Museum
The National Archeological Museum is one of the most underrated gems of Madrid according to me. I am glad we included this in our 3-day Madrid itinerary. With four floors each dedicated to an era of history – Prehistoric, Ancient, Medieval and Modern history, the museum quite literally captures the history of human life on earth in a nutshell. Here you will find the fossils and remains excavated from sites of Spain and North Africa which are preserved in the museum. I enjoyed and spent more time in the pre-historic and ancient zone more than any other. Every floor has multiple audio-visual pods that explain the history behind each of the exhibits. It is a great place to visit if archeology and the history of human evolution interest you. It's also a fantastic place to visit with kids and make learning a joyful experience.
The entry fee is only 3 Euros and you can enter and exit the museum multiple times during the day. It is conveniently located close to the Retiro park and the iconic Alcala Gate of Madrid. The three famous art museums of Madrid are located within a walking radius of 4km from the national archeological museum. To aid you further in exploring the large museum and its rich collection there is an android app which you can download on the phone.
– Sinjana from Backpack & Explore
Palacio de Cristal
Palacio de Cristal is an old and classic conservatory in Madrid, in the Retiro Park. It's built in the shape of a Greek cross and is made almost entirely of glass. It's a beautiful building, and it's located in a peaceful location of the park.
In front of the glass palace is a pond as well, and you can hire a boat to paddle around, or just look at the birds living there. There are geese, black swans and terrapins living in the artificial lake. It used to be a greenhouse back in the days, but nowadays it is mainly used for art exhibitions, which is pretty cool considering the open space and glass windows. There is a similar building in London, known as the Crystal palace, and this glass palace was modeled after that building.
It is open from 10 o clock in the morning until 6 pm from October to April. And during the summer it's open from 11 am to 8 pm. The entrance is free. The Retiro park is well worth a visit as well, and it's located about 20 minutes from the Atocha Railway station. There are also buses and metro going to the park and Palacio de Cristal from almost anywhere in the city.
– Alexander from Swedish Nomad
Almudena Cathedral Madrid
The Almudena Cathedral in Madrid is one of the most unique cathedrals I have seen in my life and one of my favorites! Don't miss this place when backpacking Madrid. Only consecrated in 1993, the cathedral is a unique mix of old and new. It took over 100 years to build, but in the wider picture of cathedrals in Europe it is one of the newest – perhaps only surpassed by the Sagrada Familia in Barcelona. It's painted ceilings are particularly unique — painted to seem like jewels in the sky. The Blessed Sacrament Chapel is entirely decorated with rich mosaics. The cathedral does house a significant collection of historical art and artifacts, including the 16th century image of the Virgin de la Almudena. Like many churches and places of worship in Spain, the cathedral was built on what is believed to be the site of mosque build during Spain's moorish period.
Outside of the cathedral is a particularly moving statue of Jesus appearing to sleep on a park bench, encouraging people entering the cathedral to consider the Christian message of caring for the "least of these." Visiting the cathedral is by donation and it is located directly across from the Royal Palace in Madrid – making it a truly unmissable stop if you are heading to tour the Palace.
– Cate from Sacred Wanderings
Eating Churros in Madrid
Churros are a very typical breakfast in Madrid, and starting the day with a plate of churros and a mug of hot chocolate is a quintessential madrileño experience. These sticks of fried dough are sprinkled with sugar and come in a couple of different shapes. They can be left in long, straight lines, or alternatively, the two ends can be made to touch, forming a loop. The traditional Spanish recipe for churro dough calls for just three ingredients: flour, water and salt. This means that churros are vegetarian and also vegan.
In many Latin American countries, and even in the United States, churros have become a street food that is often sold from food trucks or street food stalls at fairgrounds. In Madrid, though, there are entire brick and mortar establishments that are entirely devoted to the production and sale of churros. These places are called churrerías, and you will find them throughout the city. Another type of establishment that sells churros is a chocolatería, which is an eatery that specializes in hot chocolate.
The usual way to eat churros is by dipping them in a cup of hot chocolate. Be warned, though, that the hot chocolate in Spain is probably much thicker and richer than what you are used to. It's almost too thick to drink, but it's perfect as a chocolate dipping sauce for churros!
– Wendy from The Nomadic Vegan
Chocolatería San Gines
For your morning coffee or chocolate in Madrid, you can't do better than Chocolatería San Gines. It's just off Calle Arenal about halfway between the Puerta del Sol and the Plaza de Ópera. You'll probably stand in line for a few minutes to order at the cashier just inside the door. You get your ticket from there, and then wait a couple more minutes for a table to open up. When you sit, you'll give the ticket to a waiter, and a very short time later, magic deliciousness appears on your table.
Basically, there are four combinations of standard fare. You can either have coffee with milk (café con leche) or hot chocolate, and you can either have churros or porras, which are basically just bigger churros. In case you don't know, churros and porras are the Spanish equivalent of donuts. They are just dough deep fried to airy tubes–and are usually sprinkled with powdered sugar–although they are so delicious, you can certainly forego the sweet garnish. I do.
The essence of the Spanish churro breakfast is not the churros, however. It's the chocolate. Warning: This isn't the thin gruel that Americans call cocoa or hot chocolate. This is a thick, dark, bitter chocolate that comes in a cup, but is really too thick to drink. It exists solely for dipping your churros. And then using your spoon to get the last bit out of the bottom of the cup.
By the way, Chocolatería San Gines is not just for breakfast. It's open 24 hours and is a favorite stop for Madrileños staggering home from the clubs at 3 a.m.
– Tom from Travel Past 50
Conclusion about backpacking Madrid
I hope I was able to give you some useful information for your Madrid backpacking holiday. As mentioned earlier, I love Madrid and I'm sure that you will enjoy your time in Spain's capital to the fullest.
Have you already been to Madrid? Did you like it? Let me know in the comments!
Read more: I created a summary of my experiences as a Wanderguide about Madrid on Travelade.com – make sure to check it out!
Did you like my article and find it useful? Let me know in the comments - I'm always happy to hear from you :) Cheers, Patrick
*This post includes affiliate links. If you buy a product or a service through these links, I earn a small commission. There is no extra cost for you and your purchase helps me running this website and providing free information. Thanks for your support!