Kenya is an incredibly diverse and great country that has much to offer. I spent a month backpacking in Kenya and had an exciting and fun time. Here I will tell you about the best places you have to visit when backpacking Kenia.
You can also see the highlights of my trip in the following video:
Here are 10 places you can't miss when backpacking Kenya!
Nairobi
While there's not much to do and see in Nairobi, you will most likely arrive and depart from here on your Kenya trip. I personally didn't spend much time in Nairobi and the city doesn't have the best reputation when it comes to safety. However, chances are high that sooner or later you will be in the city for a night or two, since it's also a good base to explore the surroundings from here.
Lamu Island & Lamu Town
The beautiful island of Lamu is located in northeastern Kenya, near the border with Somalia, and is still a real insider tip. Lamu is not on the typical backpacking itinerary in Kenya but was one of my big backpacking highlights in Kenya. Here you have beautiful and wide sandy beaches for you alone, away from the crowds. I spent the last week of my Kenya trip at the Lodge Kizingo, in the very south of the island, and had an incredibly restful and relaxed time. However, a trip to Lamu Town – one of the oldest cities in the world – is very much worth it too! Here, the Muslim influence is clearly noticeable and the place reminds with its mosques to the Middle East or North Africa. One thing is for sure – you should not miss Lamu!
Maasai Mara Triangle
My first safari of all time was in the Maasai Mara Triangle – and probably directly in the best safari area in the world! The huge amount of animals around was absolutely impressive – lions, wildebeests, zebras, elephants, giraffes, hippos, crocodiles – there was everything. The absolute highlight was watching two cheetahs sneak up on a wildebeests herd, attack, kill and eat one of the animals. I have been able to observe all of this at close range. I was just after the Great Migration in the park, which gave me another incredible sight – a riverbed full of hundreds of drowned wildebeests that were being eaten by vultures. A breathtaking sight (and unfortunately also terrible stench …).
Unfortunately, going on safari in the Maasai Mara can be very expensive. I camped there, which was the cheapest option – but also the most adventurous! I was actually surprised by a hippopotamus – the most dangerous animal in Africa (!) – in the camp but was able to quickly escape into the car. Also, I had to get used to lying in the tent at night and hearing the lions roar outside. An experience that I will never forget. There are also cheaper overnight accommodations outside the park, such as the Mara Explorers Camp.
Lake Naivasha
The beautiful Lake Naivasha is easily accessible from Nairobi and was the first destination of my backpacking Kenya trip. You should do a boat trip for sunset, where you can see hundreds of hippos in the water. Also, there is a small hike to the viewpoint on the Naivasha Crater Lake, which I can only recommend.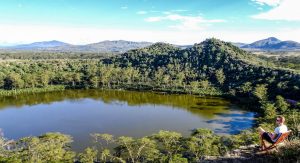 Hells Gate Nationalpark
This National Park is located on Lake Naivasha and is one of the smaller parks, where you will find thousands of zebras and giraffes, but rather few "dangerous" animals. That's why you can even get out and walk around on foot. Famous is the Hells Gate Park for its climbing rocks. I took a guide and tried rock climbing, which was a great experience.
Samburu County
Now it's getting wild – Samburu County is in the northern part of Kenya, away from the big cities and civilization. Almost no tourists come to this area, but I had the best experience of my backpacking trip in Kenya. From Nanyuki – the last major city – I went by car to the north. The landscape became deserted and more rural, passing through smaller towns and villages. Until the holy Mount Ololokwe was in front of me. That's where I met my two armed guides who were to protect me from wild animals and hostile tribes while I climbed the mountain. The view from the top of the Kenyan landscape was spectacular and my personal Lion King moment!
Ol Pejeta
The Ol Pejeta Nature Reserve is located near Mount Kenya National Park, right on the equator. The entry fee is much cheaper compared to the Maasai Mara Park and a great alternative to backpacking Kenya on a budget. In addition, Ol Pejeta is home to the last remaining white rhinos in the world!
Mount Kenya
This mountain is the highest mountain in Kenya and the second highest mountain in Africa! Unfortunately, I only saw it from afar, but the ascent of Mount Kenya is possible in a multi-day tour. One of the things I definitely want to do when I return backpacking Kenya!
Amboseli Nationalpark
The Amboseli National Park is beautifully located in the south of the country, right on the border with Tanzania and in front of the famous Mount Kilimanjaro, on which you'll have a great view if skies are clear. The Amboseli Park is perfect for safaris and is full of animals – here you have good chances to spot the Big 5!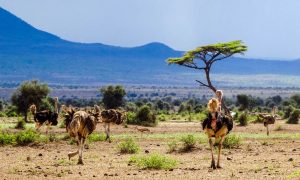 Watamu
After so many safaris and hikes, you need some time to relax on the beach – that's what makes Watamu perfect! Here are some nice accommodations and restaurants, as well as an endless, white beach. Perfect for relaxing or for water sports!
Best time to visit Kenya – when should you go backpacking Kenya?
Kenya has so many different areas that it is difficult to determine the best time to backpack Kenya. In general, the peak season is from mid-December to mid-March – then, unfortunately, most other tourists are in the country. Also, the months of June to October are good, during which also very little rain falls. In general, however, the weather in Kenya is very difficult to predict. For example, during the rainy season in November, I was on my backpacking trip to Kenya and was incredibly lucky with the weather, it has rarely rained. It should also be noted that between July and October the Great Migration of the wildebeest takes place. At this time, safaris and lodges are often fully booked, and the safari parks are full of tourists.
Transport in Kenya – How should you backpack around Kenya?
This is a little bit difficult. I was traveling with a friend who had a car. This is definitely the best way to see the country. This also allows you to drive into the national parks themselves and save money on expensive, organized safaris.
Have you been to Kenya? Would you like to visit? Let me know in the comments!
MerkenMerkenMerkenMerken
MerkenMerken
MerkenMerken
Did you like my article and find it useful? Let me know in the comments - I'm always happy to hear from you :) Cheers, Patrick
*This post includes affiliate links. If you buy a product or a service through these links, I earn a small commission. There is no extra cost for you and your purchase helps me running this website and providing free information. Thanks for your support!