Jordan is becoming increasingly popular as a tourist destination – and with good reason! The country in the Middle East has much to offer. In addition to the famous rock city of Petra (one of the new 7 wonders of the world!), you will find here the great scenery of the Wadi Rum Desert, the clear waters of the Red Sea and old ruins as well as the typical Arabian flair in the capital Amman. As you can see, there are some great places to visit when backpacking Jordan. In addition, the country is also considered safe and easy to travel. Therefore, I can highly recommend a Jordan backpacking trip to you!
In the following, I'd like to tell you more about the best places to visit as well as important travel tips for your Jordan travels!
Backpacking Jordan: Best Places to Visit and Things to Do!
Let's start with the best attractions and highlights in Jordan that you should not miss on a Jordan backpacking trip!
Jordan backpacking itinerary: Aqaba at the Read Sea
When I entered Jordan via the land route from Eilat (Israel) (see below), my first stop in Jordan was the city of Aqaba on the Red Sea. Although Aqaba and Eilat are almost interconnected, Aqaba is a lot cheaper than Eilat and I certainly preferred it. There are not that many well-known attractions in Aqaba, and one day should be enough to get an impression of the city. Visit the castle in Aqaba, look at the beautiful Al-Husseini Bin Ali mosque and the ruins of Ayla.
By the way, the beach is a lot emptier and more beautiful than the beaches in Eilat. Therefore, this is also the place to unwind and relax. While the beach right in Aqaba is not that big and beautiful, the South Beach, located down the coast, is perfect for a relaxing beach day (but you need a taxi or bus to get there).
I enjoyed the vibe in Aqaba, food was great and cheap and locals were super friendly.
Jordan backpacking tips: There are not that many accommodation options in Aqaba and you should book in advance. A place with great reviews is the Amir Palace Hotel
Backpacking Jordan highlight: Trip into the Wadi Rum Desert
After Aqaba, the next highlight on my backpacking Jordan trip was a 2-day tour into the Wadi Rum desert. The great desert landscape is one of the most famous sights in Jordan and you should not miss a tour around this stunning area. By the way, you can not explore the desert on your own but you need to go with an organized tour. I went with Wadi Rum Nomads, since the agency had great reviews online. I was completely satisfied with my trip to the Jordanian desert and I highly recommend it!
Keep in mind that it's best to contact the tour provider a few weeks before your planned trip, as it may be difficult to get a spot spontaneously in the main travel season. You also don't need to pay in advance and via e-mail you can reserve your spot for the desert tour.
As the buses from Aqaba to Wadi Rum seemed to be a bit unreliable and since we had to be there early in the morning to start our tour, we had a taxi arranged by Wadi Rum Nomads taking us from Aqaba to Wadi Rum (cost: 25 JD).
On the first day we did the classic jeep tour taking us to various sights of Jordan in the desert. We were in a small group (four of us) in the jeep and our nice driver / guide took the time to show us many great attractions around the desert. There were also several other jeeps with tourists on the route (most tour companies travel to the same places), but it was never overcrowded. For me, the desert was really impressive and one of the big highlights of my backpacking Jordan trip. The landscape is surreal, which is why it is often used as a filming location for the Martian surface (for example in "The Martian").
After we watched a beautiful sunset, the journey continued to the Bedouin camp. Here we slept in small cabins, while there was a large tent, where dinner was served and where we sat together in the evening. In the night, you also have the opportunity to gaze at the clear sky. Unfortunately, I was a bit unlucky with the weather and it was still incredibly cold in the desert at the end of March! My brother was there at the same time a year earlier and could even sleep in the open air. The temperature fluctuates a lot, but in any case, you should have warm clothes with you.
After the night in the desert, it was time for our second day in the Wadi Rum. Today we had a hike to Jabal Al-Hash Mountain planned! This mountain is located in the south of the desert on the border with Saudi Arabia. We drove about 45 minutes by jeep to the south, arrived and started the ascent. While we first walked relatively flat through the desert landscape, the last part was a rather steep climb up the rocks to the top. From the summit, we had a phenomenal view across the desert to the Red Sea and Saudi Arabia. I even got a text message with "Welcome to Saudi Arabia" – as you see, you're pretty close to the border.
Afterwards, our guide cooked lunch in the middle of the desert before we drove back to civilization. At 3 pm on the second day, we arrived back in the Wadi Rum village. From there, we got a taxi Wadi Musa (the town next to Petra) organized for 40 JD. For me, the Wadi Rum desert is definitely one of the greatest places in Jordan and I can highly recommend a visit!
Best Places to Visit: Petra
This is undoubtedly the most popular attraction in Jordan, and for many tourists the main reason why they go on a backpacking Jordan trip. And I definitely see why! Petra is awesome and it's a place I recommend everyone to visit once in their lives.
Since you should take enough time to explore the rock city, I recommend you to schedule two days for Petra. Be prepared that you will be walking a lot here. The most important sights in Petra are the treasury and the monastery, those are the ones which you certainly shouldn't miss.
Here's another travel tip for the perfect picture of the Petra: Of course, everyone would like to have the famous photo sitting in front of the treasury. When you approach the treasury, you will be approached by many guides who want to bring you up to the left (but you can only get there with a guide and you will need to pay him). If you want to save some money and get to a less crowded spot, walk a bit further and turn right at the tombs. There is another hiking trail (marked as the green trail on the official maps) that leads you up many stairs until you will get to the top. There is almost no one here, just a small tent where you can treat yourself to a tea or a coke with a breathtaking view of the treasury.
Petra is definitely a must visit on a Jordan backpacking tour and for good reason the most famous tourist attraction in Jordan. Petra is located just outside the city of Wadi Musa, which is the starting point for a visit. There are also enough hotels and restaurants for the tourists around the town.
From Petra there are daily buses to the capital Amman or back to the south to Aqaba.
Important: There aren't that many cheap and affordable accommodation options in Petra and they get booked out pretty fast. Therefore, try to book a place as early as possible. Popular choices for backpackers are the Rafiki Hostel, the Petra Gate Hostel (that's where I stayed) und (for privat rooms) the Rocky Mountain Hotel!
Backpacking Jordan: Things to Do in Amman
Sooner or later on your Jordan backpacking trip, you will visit the capital Amman. Although Amman does not have quite as impressive attractions as the Wadi Rum Desert or Petra, it is still worth a short visit. The most famous attractions are the Roman Theater and the Citadel, from which you have a great view of the city. You'll also find some markets and mosques in the city and it's fun to walk the streets and explore Amman. If you would like to visit a cozy café or a hip restaurant, take a stroll down Rainbow Street.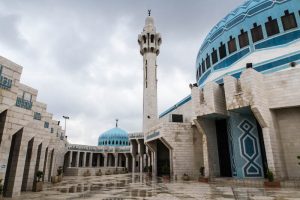 Day trip to the Dead Sea
You can also use Amman for a day trip to the Dead Sea and Mount Nibo. On Mount Nibo you have a nice view, but unfortunately the mountain is crowded with tour groups. At the Dead Sea, you have the fun opportunity to float in the water, which is a cool experience. For health reasons, you should not stay too long in the water and make sure not to get any water in your face and eyes. Definitely take a good shower afterwards. Alternatively, you can visit the Dead Sea from Israel.
Day Trip to Jerash
Another great day tour from Amman is a trip to Jerash. Here you can admire the huge ruins of a bygone civilization that stretch across a large area. Unfortunately, I had some bad luck with the weather in Jerash (it was pouring down!), but you should definitely use your stay in Amman for a trip to Jerash. You can reach the ruins either by public bus or via an organized tour. Jerash is certainly one of the best sights in Jordan and I enjoyed my trip very much.
Backpacking Jordan Travel Tips and Information
Now I would like to give you some important information and travel tips for your backpacking tour around Jordan!
How do I get to Jordan?
Unfortunately, Jordan is not quite as accessible as other destinations and flights to Jordan are unfortunately not that cheap. Keep your eyes open though as Ryanair flies from some European airports to Amman or Aqaba and you might find a bargain here. Otherwise, you can also combine your Jordan backpacking tour with an Israel trip and therefore cross into Jordan overland. Since I found a super cheap Ryanair flight to Ovda (in the south of Israel) for only 15 € (from the airport Baden-Baden Karlsruhe, Germany), I crosses into Jordan in the south coming from Eilat. After my stay in Jordan, I crossed another land border back into Israel (see below). If you cannot find a cheap flight to Jordan, look for flights to Tel Aviv or Ovda.
Get the Jordan Pass for your backpacking trip
For your trip through Jordan I recommend you to buy the Jordan Pass in advance. It saves you the visa fees, as well as the entry into Petra and for many further sights and attractions in Jordan. The pass will not only make your trip easier, it will also save you some money. There are three different options, but the only difference is the length of stay in Petra (1, 2 or 3 days). All further information can be found on the official website.
Safety when traveling Jordan
Although many people (especially after looking at the neighboring countries) don't believe it, Jordan is considered a very safe travel destination! You do not need to worry much as a tourist and it's easy and safe to travel the country (even if you're traveling solo). Of course, you should always be careful and take care that you will not get ripped off or scammed. However, there is no danger of terror and violent crime in Jordan and you will probably be able to finish your backpacking Jordan trip without any issues.
Backpacking Jordan Budget: How expensive is Jordan?
Jordan is not as expensive as e.g. Dubai and Abu Dhabi, but also not as cheap as the Southeast Asian destinations such as Thailand or Bali. While you can eat for about 3-5 €, you will pay for a private room at least 20 €. Especially the entrance fees (which are included in the Jordan Pass) and the tours (for example in the Wadi Rum desert) are not that cheap. On the other hand, you will also experience a lot and you can see amazing places in Jordan – therefore, it's certainly worth the money.
Travel tips for transport around Jordan
Let's continue with some tips for transport in the country. For longer distances, you have the choice between the "local" buses and the larger long-distance buses. The local alternative is cheaper, but the minibuses run only irregularly and only when the buses are full. Especially in smaller towns, this could take a while and if you have a tight schedule, this is not recommended.
Alternatively, there are the JETT long-distance buses, for which you can book your ticket in advance. Although there are some nice JETT busses for some routes, on my two trips (Wadi Musa to Amman and Amman to Allenby border) I was a little disappointed by the poor condition of the buses. In addition, the buses often go only once a day and at terrible times (for example, at 6 am in the morning). Well, you have just no other alternative.
If you are traveling with a companion, it might make sense to get a private taxi for some routes to be faster and more flexible. For example, I paid 25 JD for a taxi from Aqaba to Wadi Rum for the start of my desert tour and 40 JD for the private drive from Wadi Rum to Wadi Musa.
To get around the the cities (e.g. Amman), you can take a cheap taxi or use Uber.
When is the best time to go backpacking in Jordan?
Jordan is in the desert and is thus exposed to extreme weather, with very hot summers and (surprisingly cool) winter months. Consequently, these two seasons are not recommended for backpacking Jordan. The best times are the transitional periods spring and autumn. Then it should not be too cold and not too warm. Note, however, that temperatures can fluctuate a lot. While I still had single-digit temperatures and rain in Amman as well as freezing nights in the desert at the beginning of April, my brother had lots of heat just one year earlier at the same time in Jordan! Therefore you should pack shorts and T-shirts, but also a sweater and a jacket.
Internet in Jordan: Getting a mobile sim card
In general you will find Wi-Fi in hotels in Jordan as well as in many cafés and restaurants. If you want to be flexible, it makes sense to buy a sim card and you'll find cell phone stores around almost every corner of the cities. Note that you must have your passport with you as it must be registered when buying a SIM for internet in Jordan. What I found a bit weird is that it is almost impossible to buy "smaller" amounts of data and each package had at least 15 GB of data, which is of course too much for a few days in Jordan.
By the way: In the Wadi Rum desert you will not have mobile network and therefore no internet.
Crossing the border from Israel to Jordan (and vice versa)
There are three different border crossings between Jordan and Israel, so a trip to Israel can be combined very well with Jordan. Personally, I crossed into Jordan overland in the south of Israel (from Eilat to Aqaba) and left from Amman to Israel via the King Husseini Bridge crossing. I would like to tell you briefly about both border crossings.
Wadi Araba Border: Getting from Eilat (Israel) to Aqaba (Jordan)
A taxi from Eilat to the border costs about 30 NIS (make sure they turn on the meter). The departure from Israel was uncomplicated and without big questions. Note, however, that you have to present your "Arrival Card", which you got when you arrived. In addition, an exit fee of 105 shekels needs to be paid (the amount varies depending on the respective border crossing, but doesn't need to be paid if you leave Jordan by plane).
Now you have to walk a few meters by foot until you arrive at the immigration on the Jordanian side. The luggage was checked briefly, I handed in my Jordan pass and my passport and everything was done pretty fast. On the Jordan side, the officials are much friendlier than when entering and leaving Israel. Behind the Jordan border, there are plenty of taxis (with fixed rates) to get to the various locations in Jordan. Make sure you don't get scammed though and don't pay more than what's written on the official sign.
King Husseini Bridge / Allenby Border: Getting from Jordan to Israel
This border crossing is significantly larger and more crowded than the Wadi Araba border in the south. You can reach the border crossing either by taxi or by JETT bus, which departs once a day from Amman at half past seven in the morning. First we had to hand over our passports on the Jordanian side, where we had to pay an exit fee of 10 JD. Afterwards, the bus took us across the bridge to the Israeli side. There, the luggage was checked again and we had to undergo another interrogation. Because of my Pakistan visa, I had to wait for two hours until I was allowed to continue. However, if you do not have "problematic" stamps in the passport, it should be much faster.
Please note that the officials wanted to see our booking confirmation for the return flight and you should have a printed copy of it. Outside of the border building, there are a lot of (expensive) taxis. Just walk further to the right where you will find small mini busses, taking you to Jerusalem's Damascus Gate for about 10 €.
How long should I go backpacking around Jordan?
Many tourists only go on a 2-day tour from Israel to Jordan with the main goal to tick off Petra. I wouldn't recommend this though.You will certainly not be able to see Petra in such a short amount of time and there are just too many other beautiful places in Jordan that you would miss.
I recommend spending about a week backpacking around Jordan. This will give you plenty of time to explore both the Wadi Rum Desert and Petra (the two highlights of the country). You will also have the opportunity to get to know the capital Amman and to do day trips (for example to Jerash). Although there isn't that much to do in Aqaba, you could spend a day or two there for some relaxing time at the beach. As you see, a week is perfect to see the highlights of Jordan.
Conclusion on backpacking Jordan
I hope I could give you an overview of backpacking in Jordan. I had a great time and can highly recommend visiting and traveling around the country. Especially, I'd recommend combining your Jordan trip with Israel since it's a great opportunity to visit both countries on the same trip if you have at least 2 weeks time.
Have you already been to Jordan? Did you like it? Let me know in the comments!
Did you like my article and find it useful? Let me know in the comments - I'm always happy to hear from you :) Cheers, Patrick
*This post includes affiliate links. If you buy a product or a service through these links, I earn a small commission. There is no extra cost for you and your purchase helps me running this website and providing free information. Thanks for your support!