Hanoi, the capital of Vietnam, is for many travelers the starting or ending point of a Vietnam backpacking trip. The city's international airport makes it easy to reach Hanoi, and since most tourists travel the country from north to south or vice versa, sooner or later you will arrive in Hanoi. I enjoyed my stay in Hanoi very much. The city is a lot less modern and developed like Ho Chi Minh City (Saigon) in the south of Vietnam, and that's exactly what makes Hanoi special for me. Here you'll find narrow streets, hectic markets, local food stalls and countless scooters making backpacking Hanoi so unique.
In the following, I would like to tell you the best things to do and see when backpacking Hanoi as well as the best travel tips for your trip!
Backpacking Hanoi: Best things to do and see!
These are the things you shouldn't miss on your Hanoi backpacking adventure!
Ho Chi Minh Mausoleum
The mausoleum of Ho Chi Minh – the famous independence fighter and president of Vietnam – is a highlight when backpacking Hanoi. You have the opportunity to see the embalmed body of the Ho Chi Minh here! Sounds scary, right? With strict safety precautions (for example, you cannot take any water inside and you have to hand over your camera at the entrance), you are allowed to enter the Mausoleum where the body rests (strictly guarded by soldiers). A strange but unique experience. The cult of personality of Ho Chi Minh is very extreme in Vietnam and it was interesting for me to witness it.
Important: The mausoleum is closed on Friday and Monday. Admission to the mausoleum is free.
In addition to the mausoleum, you can also visit the former presidential palace and Ho Chi Minh's residential building next to it.
Presidential Palast
Right next to the mausoleum you will find the former palace of Ho Chi Minh. You can visit it directly after visiting the mausoleum. Here you can see for example the car collection and some conference rooms of the former president and the palace is beautifully located on a lake.
Same as the mausoleum, the palace is closed on Monday and Friday. The entrance fee is 40,000 dong.
Ho Chi Minh Museum
After the famous struggle for independence, the former president of the country is seen like a hero, almost like a god. You will realize the hype about Ho Chi Minh everywhere in Hanoi and especially after your visit to the mausoleum. Here's your chance to find out more about the famous Ho Chi Minh in the museum dedicated to him, where you can experience some decent personality cult and propaganda. Very interesting and worth seeing!
Entrance: 25.000 VND
One Pillar Pagoda
Right in front of the Ho Chi Minh Museum you will find the "One Pillar Pagoda", a historic Buddhist temple. You can quickly check it out on the way to the museum, during my visit it was pretty crowded with other tourists.
Hoan Kiem Lake(+ NGoc Son Temple on the Jade Mountain)
This lake in the heart of Hanoi is a popular tourist magnet. There is always a lot going on right on the lake and locals and tourists sit down on the shore, enjoy the view or go for a walk. In the middle of the lake is also the famous NGoc Son temple (turtle temple) on the Jade Mountain, which you can access over a bridge. Especially at sunset, the lake is beautiful to see and a visit in the evening should be on your list when backpacking Hanoi.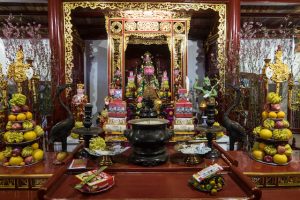 Water Puppet Show in Hanoi
Hanoi is famous for its Water Puppet Performances. This is a unique attraction in Vietnam, which was "invented" during floods in the 11th century. At a water puppet show, stories and traditional scenes of everyday life in Vietnam are narrated by puppets in a water basin on stage, accompanied by traditional music.
The water puppet show is a bit odd, but also unique and therefore worth seeing. That's why you should not miss it when backpacking in Hanoi. There are several theaters, I visited the Thang Long Theater right at the northern end of Hoan Kiem Lake. Depending on the seat you want to sit on, tickets cost a few Euros (more or less) and I was able to buy my ticket directly for the same day. But I would not try to buy the tickets very last minute, as most of the shows are sold out (at least in the main travel season). Alternatively, you can also book them online.
More information about the Water Puppet Show I've visited can be found here
• Performances at the Thang Long Water Puppet Theater: 3pm, 4:10 pm, 5:20 pm, 6:30 pm, 8 pm
• Ticket prices: Depending on your seat 100k, 150k or 200k dong
Imperial Citadel of Thang Long
The citadel is considered a World Heritage Site and is one of Hanoi's most famous attractions. Historically, it is very significant, as it was the former historical center of the old imperial city. Although the area is also quite large, there is not that much to see. To be honest, I was a bit disappointed and expected something more from such a famous landmark. Well – if you're in Hanoi, it's worth a visit anyway, just because of its historical significance. Around the citadel, you will also find other attractions of Hanoi, such as the Military Museum and the Temple of Literature, with which a visit can be combined easily
You can walk around the large area independently and the most exciting place to see for me was the big gate. From the top you can also have a very cool view.
Admission: 30,000 dong, closed on Mondays
Temple of Literature
The "Temple of Literature" in Hanoi was founded during the imperial dynasty and is particularly well-known as it was the site of the country's first university. This is not "just" a classic temple, rather it is a whole area full of decorated rooms, altars, gates and courtyards.
Generally I do not find the temples in Hanoi or Vietnam quite as spectacular and breathtaking as for example the temples in Myanmar or Thailand. Vietnam is very much influenced by East Asia and the temples in Vietnam generally reminded me a lot of China or South Korea. Probably due to the political system, religion does not play such a big role in Vietnam as it does in other countries of Southeast Asia, and many Vietnamese are not really religious, but rather spiritual or superstitious (for example, they believe in communication with the ancestors and burn money on the streets to send it to them).
Entry: 30,000 dong, closed on Sundays
Explore the old town of Hanoi
The coolest area of Hanoi, which is also home to most backpacking hostels, guesthouses and attractions, is the Old Town. Here you can see the "typical Vietnam" with the small winding streets full of people and scooters. It is hectic and busy and it can be exhausting to move through these chaotic streets. However, it is an experience you can't miss in Vietnam! Here you will find street food, countless markets and it certainly won't get boring.
Dong Xuan Market
This is one of Hanoi's most famous markets, located in the northern part of the old town (and just in front of the famous train tracks, see below). The Dong Xuan market is one of Vietnam's typical markets. Especially interesting (but not always for the faint of heart) is the food market – I will never forget how I saw a locals slaughtering turtles here …
The market is similar to other Asian markets, but a quick look inside is worth it if you are backpacking Hanoi.
The Opera House
The Opera House in the French Quarter of Hanoi is a beautiful colonial building, just south of the old town. If you're in the area, it's worth stopping by. Of course you can also attend a performance there.
The West Lake
This lake is much bigger and less touristy than the Hoan Kiem lake mentioned above. Since the West Lake is also located just outside the city center (north of the citadel), it is rarely visited by tourists. Unfortunately, I did not have the best view here, because the sky was very cloudy during my visit. I especially liked the beautiful temple in the lake – see below.
Tran Quoc Pagoda
I already mentioned that the temples in Hanoi did not really impress me that much. However, one temple which I really liked is the Tran Quoc Temple, which is located directly on the West Lake. There is a beautiful, large pagoda which you can visit. You are a bit further away from the old town and the other attractions of Hanoi and I got a scooter taxi (via Grab) to get back into the center.
Dong Kinh Nghia Thuc Square
This big roundabout right on the northern shore of Hoan Kiem Lake is especially fun for one thing – watching the Vietnamese traffic! Right next to it there is a slightly higher building with a café, restaurants and bars. Sit here on one of the terraces on the higher floors and enjoy the cool view of the square.
Hỏa Lò Prison Museum
The Hoa Lo Prison was already in use during the French colonization, where political prisoners were detained, interrogated and executed. It is depressing and at the same time interesting to see the narrow and dark cells and to read under what inhumane conditions the people were held there.
In later years, the prison was used during the Vietnam War and captured American soldiers were hold here (as described in the museum, under "good conditions"). Even the well-known US politician John McCain was detained in Hoa Lo. The Hoa Lo prison was also called "Hanoi Hilton" during the Vietnam War.
Entrance costs 30,000 dong.
Vietnam Military History Museum
The military museum in Hanoi is roughly located between the Temple of Literature and the Citadel. There are a few rooms with photos and descriptions to see, but they were not really that exciting. Nevertheless, the Vietnam Military Museum in Hanoi is well worth it because of the outdoor area. Here you can see several tanks, fighters and even wrecks that were used during the Vietnam War. You can also climb a flag tower for a cool view.
More info about the museum can be found here.
Admission costs 30,000 dong and the museum is closed on Mondays. The museum is also closed between 11:30 am and 2:00 pm every day.
Vietnamese Women's Museum
There is still a rather classic role model of women in Vietnam (and in Southeast Asia in general) and equality of men and women is in far distance. Therefore, it's actually pretty cool that there is a museum in Hanoi dedicated specifically to the women of Vietnam. Here you will learn a lot about the everyday life of Vietnamese women, as well as their roles during the Revolution and the Vietnam War.
The entrance fee is 30,000 dong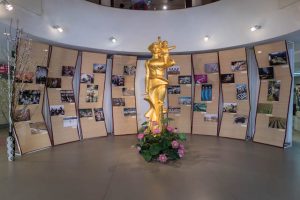 The Train Street + Bridge
This is one of the coolest things to do and see when backpacking Hanoi. The railway tracks run in Hanoi from the train station along the old town and finally on the bridge over the Red River out of Hanoi.
What's so special about it? The railroad tracks are not inaccessible as in other countries, but go directly through the city center. Near the train station you will find the section called "Train Street". Here, the tracks run right past homes and there is a pretty cool area where countless cafés and restaurants are built along the tracks. Here you can take cool photos on the tracks and enjoy a coffee or a beer next to it while waiting for the train.
Keep in mind that the tracks are still in use! Although the train does not run often (probably twice a day, once in the afternoon and once in the early evening), it still runs on the tracks. When the train comes, the tourists are pushed off the tracks and have to squeeze to the edge. Better be quick, because the train rushes through the streets surprisingly fast. You'll also have a great view of the train from one of the rooftop cafés.
If you follow the tracks, they gain elevation at some point and pass above the streets north of the Dong Xuan market, leading to the Long Bien Bridge. This is a great photo opportunity and you can walk on the tracks or next to them on the road across the bridge. But be careful that the train doesn't come!
St. Joseph's Cathedral
St. Joseph's Cathedral is located in the city center and near the lake. For Europeans, a church may not be as interesting as a temple, but it's cool to see a church in Vietnam and you can have a quick look.
Perfume Pagoda
The Perfume Pagoda is a Buddhist temple complex located just outside Hanoi. That's why you have to get a tour to get there and I've skipped it. Therefore, I cannot tell you if it's worth it or not. However, I've seen tour providers on every corner who offering to bring you there for little money, if you're interested.
Important travel tips when backpacking Hanoi
Here you'll find all travel tips you need to know for your Hanoi backpacking adventure.
How do I get from the airport to the city?
You can take a taxi from the airport to downtown Hanoi, but it is a bit more expensive (about 10-15 €). It's cheaper and more practical to take the public bus. You can either take bus number 7 or 17 and get directly from the airport to the center with several bus stops. Taking the bus costs only about 20 cents!
How do I get a SIM card?
I recommend to buy a cheap sim card for mobile internet for your Vietnam backpacking trip. There are some big phone providers in Vietnam, I had a card from Viettel. For only a few Euros, you get a few gigabytes here. In downtown Hanoi, there are some official Viettel stores where you should buy your Sim card. During your purchase, you need to register your passport (bring it with you).
Important: Do not buy a SIM card at the airport in Hanoi. I thought that this would be the easiest place to buy a sim card, but in retrospect I learned that there are only scammers. Not only will they sell the sim cards for double or triple the price as in the official store, the cards are also not properly activated or with less credit than promised. 5 days after my purchase, my card did not work anymore and the official store said that I got scammed and that I should not have bought the card at the airport and rather in an official store.
Where's the best nightlife in Hanoi?
Hanoi is not only known for its sights, but also for its nightlife! Especially in the old town after dark, the narrow streets are full of small plastic chairs and tables, dirt cheap beer and delicious Vietnamese food is sold and locals and tourists sit together and enjoy the atmosphere. Especially along Ta Hien Street and Bia, it is packed with people and you will find countless bars and even nightclubs. It reminded me a bit of the famous Khao San Road in Bangkok, but there are a lot more locals in Hanoi and not "just" backpackers and tourists, which makes a cool atmosphere.
What to eat an drink when backpacking Hanoi?
Hanoi and Vietnam in general is obviously also known for its delicious food. You should definitely try the following dished in Hanoi (besides the classics such as Pho and Banh Mi!).
Try Bun Cha Hanoi
My favorite food in Vietnam was probably the famous Bun Cha Hanoi. You may find that in other parts of Vietnam, but it was invented in Hanoi. For this meal you get a broth with small pork balls in it as well as a bunch of rice noodles and leaves, which you gradually mix into the broth. It tastes great and should be on your "to-do list" for Hanoi!
For Bun Cha I can also recommend a great restaurant, right in the old town – the Bun Cha Ta!
Drink Egg Coffee
Although you can find Egg Coffee all over Vietnam, Hanoi has some of the best and oldest cafés where you can try the delicious Egg Coffee. This coffee was invented in Vietnam due to a milk shortage in the past when milk was simply replaced by egg whites. The result is one of the tastiest drinks I've ever had. The think foam does not taste like egg, as I expected before, but rather sweet and like tiramisu. Yum! There is strong coffee under the foam and you need to stir well to mix both.
I especially recommend the Egg Coffee at the Café Dinh, the Giang Café as well as the café right opposite of the Central Backpackers Hostel.
Cha Ca Street
In Hanoi there is a street named after the famous Cha Ca dish – a specialty in Hanoi, Vietnam. This is grilled fish, which is fried in front of you directly on the table along with spices, vegetables and greens. Especially famous is the Chả Cá Thăng Long restaurant, where I had a delicious meal.
Kem Trang Tien Rice Ice
In this famous, local ice cream shop, you can taste delicious rice popsicles!
How long should I spend in Hanoi?
I really liked Hanoi and found the city a lot more authentic than Ho Chi Minh City. I give you the travel guide for Hanoi, about 2-3 days to stay there and explore the sights in Hanoi. However, a stay in Hanoi is well worth it due to the great location for excursions and tours.
What are good tours and trips from Hanoi? How do I organize them?
Backpacking Hanoi is not only fun due to the sights in the city, but the capital is also a great starting point for (multi-day) trips to the beautiful north of Vietnam.
Don't miss a tour to the famous Halong Bay. There are countless day trips offered, which you can book once you're there. You can also visit Halong Bay for two or three days. Also popular is a day trip to the "dry Halong Bay" in Ninh Binh.
Another beautiful spot is Sapa, in the middle of the rice fields in northern Vietnam as well as the Ha Giang Loop, which you best explore by motorcycle. As an alternative to Sapa, you can also visit the rice fields in Mai Chau south of Hanoi.
As always in Asia, you can book and organize tours directly once you're there.
Therefore, it's worth it to stay a little longer in the north of Vietnam!
What's the best time for backpacking Hanoi?
In Hanoi, winter exists and although there is little rain, it can be very cool. In the summer it gets very hot and wet, from July to September the rainy season is the strongest. Therefore, the best time to visit is during the transitional months. Generally, winter is also a good time to visit Hanoi due to the cooler temperatures, but you should have warm clothes with you (especially if you head into the mountains).
What budget do I need for backpacking in Hanoi?
Hanoi and Vietnam in general is a very cheap destination. For a few Euros you can stay in hostels or guesthouses and eat on the street. Most Hanoi attractions cost only € 1-2 admission! Further, the beer is particularly cheap in Hanoi and you get draft beer in some places already for 50 cents! Generally you can get around Hanoi with a budget of about 15-20 € per day.
Is Hanoi safe?
Generally, Hanoi is a safe destination. But beware of pickpockets and the famous thieves on scooters. Those take advantage of it if you carelessly walk with a handbag or your mobile phone through the streets. They will drive past you on the scooter and try snatching your bag or phone directly out of your hands. Therefore, you should be careful when using your mobile phone while walking next to a busy street and rather turn a bit to the side when checking it.
Conclusion on backpacking Hanoi
I hope I could tell you more about backpacking Hanoi and North Vietnam. I'm sure that with all the things to do, you can easily spend 2-3 beautiful days in Vietnam's capital city and with my travel tips you should be well prepared for your backpacking trip to Hanoi.
Have fun in Hanoi! Let me know in the comments how you liked it.
Read more: I created a summary of my experiences as a Wanderguide about Hanoi on Traveled.com – make sure to check it out!
Did you like my article and find it useful? Let me know in the comments - I'm always happy to hear from you :) Cheers, Patrick
*This post includes affiliate links. If you buy a product or a service through these links, I earn a small commission. There is no extra cost for you and your purchase helps me running this website and providing free information. Thanks for your support!