Not many tourists decide to backpack around Ethiopia – since Ethiopia is different than the typical travel destinations. Ethiopia is adventurous, hard to reach, underdeveloped. Maybe even dangerous? Generally, you know and hear little about Ethiopia as a backpacking destination. Nevertheless, the country has sparked my interest and I have decided to travel from Egypt through Sudan to Ethiopia as part of my Africa trip. And I did not regret it! Ethiopia is still far from open to mass tourism. Nevertheless, I do recommend a backpacking Ethiopia trip.
IMPORTANT: When I visited Ethiopia, I was unable to access apps and pages such as WhatsApp and Facebook because the government had those applications blocked. Before your visit, make sure to get a good VPN client to access the internet without any issues!
In this video you can see my highlights from Ethiopia!
Reasons why you should go backpacking in Ethiopia
First of all, I will tell you the best reasons why a backpacking Ethiopia trip is a good idea!
The incredible and diverse landscape of Ethiopia
This is probably the main argument why one should travel to Ethiopia. The landscape of Ethiopia is simply incredible and, above all, diverse. Those who have never been to Africa may easily label the whole continent as a desert. This is of course wrong and does not do justice to the diversity of Ethiopia. While the cities of Ethiopia do not have much beauty, you should leave them quickly to enjoy more time in the nature.
The most popular Ethiopia attractions for a round trip are all in the north of the country, in the Ethiopian highlands. One of the most impressive landscapes of my backpacking trip to Ethiopia was a tour to the Simien Mountains. This mountainous landscape with its vastness is stunning. If you like hiking and nature, you will love Ethiopia. Also, there are countless monkeys to see, which are also surprisingly trusting.
But Ethiopia has more to offer than mountains. You can also experience the opposite in Ethiopia – the unique Danakil depression. This landscape is one of the lowest points in the world, here you are far below sea level. A tour into the Danakil Depression – the most hostile region on earth – leads you to a huge salt desert, and a downright toxic sulphur landscape. You can also climb the Erta Ale, an active volcano, and see the magma streams from the crater rim!
As you can see, traveling to Ethiopia has so much to offer, it certainly will not get boring! The varied and diverse landscape should be a good reason to backpack Ethiopia.
The hassle-free Ethiopia travel visa
The visa is a real problem in many African countries. Often, a tourist visa is rather complicated to get, the applications require some paperwork and in quite a few countries, a tourist visa is also pretty expensive.
In Ethiopia, you won't have these issues. The Ethiopia visa is not only cheap but also easy to get (at least for German passport holders). Depending on how you travel to Ethiopia, you can even get it "on arrival" at the airport! Generally, getting the Ethiopia visa won't be a big issue for most travelers.
The Ethiopian food
Many African countries are not known for their varied cuisine. Since food is often scarce, it is cooked and eaten in a simple manner in many countries and parts of Africa. Ethiopia differs from other African countries here – because the Ethiopian food is incredibly delicious!
The staple food in Ethiopia, which you will probably find at every meal, is Injera – a "wobbly" sourdough bread. From this bread, you rip a piece and dip it into the typical Ethiopian dishes, which often consist of curries and sauces. Often you will be served a large, flat injera with various dips on it. Very tasty, and above all, healthy!
By the way, the Ethiopian food is also good if you are vegetarian or vegan. While meat is often the staple food in many other countries, many meals in Ethiopia (often due to orthodox or religious reasons) are plant-based.
After feeding on oily foul and bread without exception while backpacking Sudan, I really enjoyed the Ethiopian cuisine. By the way, in most cities you can also find a variety of western dishes, such as burgers and pizza.
Backpacking Ethiopia on domestic flights
Backpacking overland around Ethiopia may be difficult. The country is very difficult to access, the roads are bad and above all the mountain landscape in the north makes it incredibly difficult to get from one place to another. What looks like a short distance on a map can in reality often take several days on public buses. So what's the best way to travel through Ethiopia?
Fortunately, there is an airport in every tourist destination (even in the village of Lalibela) and Ethiopian Airlines flies daily all of Ethiopia's well-known destinations. The flights are not as cheap as Air Asia or Ryanair, but it's still worth it – here you can save yourself several days in tight and crowded public buses with a one-hour flight. Although I usually travel a lot over land, in Ethiopia it was almost impossible.
Here is an important tip: If you fly with Ethiopian Airlines in the country, you get all domestic flights at half price (and thus usually under 100 €). The tickets can be easily booked in the offices of the airline or in tourist agencies in the cities. If you want to be flexible here, there is no reason to book all domestic flights in advance – this can be done on the spot. An Ethiopia backpacking trip may seem very stressful and uncomfortable at first glance due to the transport – but you can easily travel through domestic flights to Ethiopia.
By the way, you can also find quite a few cheap flights from Europe to Addis Ababa (the capital of Ethiopia).
The fascinating cultural experience of a backpacking Ethiopia trip
On a trip to Ethiopia you will certainly get a culture shock. And that's exactly what makes Ethiopia so incredibly worth seeing. You will be surprised and certainly shocked. And your backpacking Ethiopia trip will be remembered for a long time to come. Because Ethiopia is fascinating.
Ethiopia offers a millennium-old culture whose ruins and treasures you can explore, especially in Gondar, Lalibela and Aksum. The country is often referred to as the "cradle of humanity" – according to all scientific knowledge, the prehistoric human comes from Ethiopia.
In addition, Ethiopia also enchants through its different cultures and religions. While the north of the country is mostly orthodox, and you can admire ancient rock churches here, the eastern part of the country (with increasing proximity to Somalia) is Muslim. In the south you will find the peoples of the Omo Valley – here live some of the most isolated tribes and civilizations in the world!
There are few countries that have such a cultural treasure as Ethiopia, and I am sure that the unique culture will overwhelm you on your Ethiopia backpacking journey.
Backpacking Ethiopia is (relatively) safe
Many African countries are not necessarily known for their safety. Above all, a look at the world map will make you tremble – since Ethiopia is in a dangerous geographical situation, surrounded by Somalia (arguably the most dangerous country in the world!) and the civil war-plagued South Sudan. Additionally, Ethiopia has been at war with neighbouring Eritrea for decades.
Despite everything, Ethiopia is considered as a (relatively) safe travel destination. However, I would also like to emphasize the word "relative". Of course, Ethiopia is not Switzerland or Denmark. In Ethiopia, as in most other countries, you should be cautious in some ways – especially in the big cities and in the dark. At night, you certainly should not run around outside, and you should never show valuables openly. As a tourist, of course, you will attract many beggars. Ethiopians also have the strange habit of simply following you silently for long periods of time (for no direct or apparent reason). That was often strange, and the locals can be incredibly pushy. Sometimes you have to say "no" confidently and definitely and send people away. Nevertheless, I never was threatened myself in Ethiopia and therefore I felt relatively safe. However, I also heard stories that tourists were attacked in Ethiopia (at night) – as I said, you should be careful anyway. Nevertheless, I would say that backpacking Ethiopia is safer than many other African countries.
However, especially in Africa, the security situation can change incredibly fast (I travelled to Ethiopia in February 2018). Before you start your backpacking trip to Ethiopia I recommend you familiarize yourself with the current security situation.
Not many people go backpacking in Ethiopia
Surely most of your friends have been to Southeast Asia before. Most probably many were already in the US and a few adventurous acquaintances maybe in South Africa or Tanzania. But Ethiopia? Only very few tourists venture into this unknown country. Here you do not already know what to expect from countless stories and pictures on social media.
That's what makes it so interesting to travel to Ethiopia. The country is still a real insider tip! Most of the tourists I saw in Ethiopia were part of tour groups. Only very few people dare to travel to Ethiopia for backpacking and to get to know the country on their own.
I hope I could convince you with these reasons to travel to Ethiopia! The country is absolutely unique with its scenery and culture and I'm sure you will not regret your trip to Ethiopia!
Backpacking Ethiopia travel tips
I can only recommend to anyone to go backpacking in Ethiopia – because you will have an exciting and impressive time. Below I will give you some useful travel tips for backpacking Ethiopia!
Travel Tip #1: Find out more about the Ethiopia visa
Compared to other African countries, the visa for Ethiopia is relatively easy to get. You can even get it right at the airport in Addis Ababa when you arrive to Ethiopia (at least German passport holders). However, you can apply for it in advance – this is especially essential if you travel to Ethiopia by land. I travelled from Sudan to Ethiopia and had to apply for the visa already in Germany.
Internet is slow and inaccessible – get a VPN for Ethiopia!
In general, when traveling, I am often surprised at how good the internet connection and above all the mobile internet in partly underdeveloped countries is – often a lot better than in the digital "developing country" Germany! Unfortunately, Ethiopia is not one of those positive surprises.
There's no way to say it nice: The internet in Ethiopia is catastrophic. Especially outside of Addis Ababa, the Wi-Fi is incredibly slow, and it was often impossible for me to do research on the internet, let alone send pictures.
In these cases, I actually always buy a mobile sim card to use fast internet and not rely on bad Wi-Fi. But this is not easy in Ethiopia either. First, you need to register and unlock your sim card at an official store of Ethio Telecom (the state's only provider). For this you need your passport as well as copies of the visa and the passport. After going through the whole procedure, I suddenly got told that since several months the government had shut down all the mobile internet in the country (and the SIM card was useless).
I was stunned at first how it can be that a government shuts off the entire mobile internet for months. Well – welcome to Ethiopia. However, I was even more shocked when I arrived in Lalibela after a short flight and was told that the government had even switched off the Wi-Fi in the entire region for a few days. As a result, the whole district was completely cut off from the outside world. Reasons were probably government protests. I said goodbye to my parents on WhatsApp in the morning and said that I'll call in two hours after I've landed – and now I've been stuck in Lalibela for several days without any contact with the outside world. Who said backpacking in Ethiopia would always be enjoyable?
One of the most important Ethiopia travel tips is therefore that the internet connection is extremely unreliable. Better make worried parents and friends at home prepared for this. Apparently, the internet blockade from early 2018 was lifted – but you never know what's happening in Ethiopia.
Another important travel tip for backpacking Ethiopia:
Many sites and apps (including WhatsApp and Facebook) are (or were early 2018) blocked and can only be opened with a VPN client. So definitely have a VPN app installed on your smartphone and laptop before your trip.
I recommend to get VPN Express. This VPN client is one of the best premium VPN providers, offering reliable service at good rates. They have 24/7 customer service and a 30-days money back guarantee in case you're not happy. Like this, you can easily access WhatsApp, Facebook, Instagram, Netflix and so on.
There are also free VPN services on the market, but I had issues using them an they are often unreliable and didn't work properly. Therefore, investing in a good VPN makes sense for your Ethiopia trip to stay connected.
Travel Tip #3: Use domestic flights for backpacking in Ethiopia
Personally, I like to travel by land and by public transport. This is how I explore a country well and on a low budget and this was also my plan for Ethiopia. On the map, most of the sights in Ethiopia are also in the same "corner" and seem to be quite close to each other.
Well, I was wrong. Most of Ethiopia's travel destinations are in the north of the country. But the public transport infrastructure is catastrophic. Large parts of the country are almost completely inaccessible by bus, due to poor roads and mountainous landscape. Even small distances (for example from Gondar to Lalibela) take two full days by bus. If you really need to explore Ethiopia by bus, you should bring tremendous patience and time.
Fortunately, however, there are domestic flights with Ethiopian Airlines, which depart from all major tourist destinations. These are not insanely cheap, but not super expensive either and worth it anyway. After all, you often save several days on a bus here.
A very important tip:If you fly into the country with Ethiopian Airlines, you will receive a 50% discount on every domestic flight. Especially if you plan a lot of flying, this is definitely worth it. The flights can also be spontaneously booked locally – there are no price differences to the prices on the internet.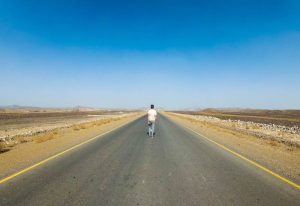 Ethiopia Travel Tip #4: Backpacking Ethiopia is not cheap
Ethiopia is one of the poorest and most underdeveloped countries in the world. Accordingly, one should expect that backpacking in Ethiopia is incredibly cheap. Wrong thought. Because Ethiopia is a lot more expensive than expected.
Sure, public transport is cheap, street food too. Depending on the quality you can find reasonably priced accommodations (there are only a few hostels though). Everything that has to do with tourists (and in this case all guides and tours) are incredibly expensive. And unfortunately, in Ethiopia you can also see most of the sights and destinations (for example the Danakil Depression and the Simien Mountains) only if you join a tour. No matter how you try, it's inevitable – see below for more on that issue. Therefore, you have the choice either to pay $ 200-300 for a 3-day tour or to miss some of Ethiopia's highlights. If you skip all tours, there is not much left to do and see – the cities have nothing to offer (with a few exceptions).
Unfortunately, admission fees, for example for the churches around Gondar, are often arbitrary and exaggerated. While the locals pay nothing, foreigners are asked to pay even more. By the way – the famous rock churches of Lalibela cost an outrageous $ 50 admission (!). I've probably seen most of the world's wonders and most famous sights on this planet – nowhere else in the world have I had to pay $ 50 entrance. A few weeks ago, I paid 2 € when visiting the pyramids in Giza. Even the landmarks of Paris, New York or Rome are cheaper. And then you're asked to pay $ 50 in one of the world's poorest countries. It makes no sense and you are inevitably ripped off as a tourist.
I still cannot explain why Ethiopia (and many other African countries) are so incredibly expensive. Of course, the "normal" population and workers do not see anything of this money (despite the high costs, guides always ask for tips) and I wonder where these revenues go. If you have an explanation for it – please let me know in the comments.
Travel Tip #5: Do research on the current security situation for Ethiopia backpacking
I felt relatively safe while backpacking in Ethiopia and the country is a much safer as a travel destination than many other African destinations. Nevertheless, my visit had a bitter aftertaste through the strange internet blockades of the government and the happening protests in the population. While we were driving through a small village on our way from Lalibela to Mekele, our driver said that only a few days ago, government protests were being brutally crushed and people were killed. Of course, you will not hear much of such incidents in our media, so you try to collect enough information before the trip. There is also the risk of attacks on tourists, especially at night in the big cities.
As I said – I personally felt relatively safe and Ethiopia is probably a lot less dangerous than many other countries in the area. Nevertheless, you should be careful and well informed.
Travel Tips for Ethiopia #6: Expect intrusive locals
I have been warned about this in advance by other travellers – and they were right. The locals in Ethiopia can be insanely pushy. As a foreigner, of course, you will attract attention and will be approached by the locals when walking through the street. Further, the Ethiopians have a strange habit of simply following you (often silently). Some locals ran after me for half a day without reason! This is not necessarily dangerous, and I do not think that those people have bad intentions. However, it is very weird and unpleasant – here it helps to act determined and confident and also to say directly that you want to be left alone. Of course, many locals also want to sell you something or drag you to the next tourist office.
By the way, you will also be constantly confronted by beggars (often children). These will approach you with "Hey Money"– very bizarre, but widespread across Ethiopia as a welcome to tourists. I thought it was really sad how the smallest children are already trained to see foreigners only as a source of money and that "money money money"is the only thing they can say in English. By the way, you should not give any money in these cases – because this only motivates the parents to use their children to beg instead of sending them to school.
Travel Tip #7: Many areas are only possible to visit on a guided tour
This will not please all the individual backpackers out there. Unfortunately, it is a fact that many parts of Ethiopia cannot be explored on your own. Accordingly, you're dependent on (often overpriced) tours and guides to see the highlights of the country.
The Simien Mountains National Park would normally be easy to explore alone. Unfortunately, a local "Mafia" rules here, making access to the park without a guide (from $ 175 for 3 days) almost impossible. I met two travellers there who tried everything to avoid a tour. But no possibility. In the past, all taxi and truck drivers who drove tourists into or out of the park were threatened or attacked by locals. Accordingly, you simply have no way to get into the park without an organized tour. Welcome to Ethiopia.
The Danakil Depression with the active Erta Ale can be visited only with guide and military support (due to the border region to the "enemy" state Eritrea). Here you pay for a 3- or 4-day tour (with very good negotiation skills!) $ 300. Tipping not included. However, the region can only be explored in an organized tour, there is no infrastructure or civilization here.
Actually, in November 2017, a German tourist tried to explore the Danakil Depression with a self-rented jeep on his own. Unfortunately, the Ethiopian military believed him to be an Eritrean terrorist and tragically shot him dead while he approached a tourist group in his car. Therefore, better do not come up with stupid ideas just to save some money.
The Omo Valley with its ethnic diversity and secluded tribes can be reached with much patience and days of public transport without a tour, but you will only be able to visit the tribes with a hired guide after all.
These examples show that backpacking in Ethiopia is completely impossible without (on-site) organized tours. Because if you skip the highlights like the Simien Mountains, the Danakil Depression and the Omo Valley you only have the cities left to visit, such as Addis Abeba, Gondar and Mekele. And then – with all respect – an Ethiopia trip is not really worth it either.
Ethiopia Travel Tip #8: Research your backpacking trip in advance
As you have already read above, information on the ground is sometimes quite difficult to get. One big reason for this is the internet situation in the country. Therefore, you should research your backpacking Ethiopia trip roughly in advance and maybe even write down a few overnight addresses in the respective places. Also, you should inform yourself about the respective costs for taxis or tours, so you have a rough idea and won't fall victim to the typical tourist rip-offs.
Backpacking Ethiopia Travel Tip #9: Bring warm clothes with you
Ethiopia and Africa are often associated with desert and heat. However, this is only partially true – especially in the mountainous north of the country, it can often be very, very cold on the heights. This will be felt especially during camping in the Simien Mountains. But even in the cities like Gondar and Lalibela, you often need long clothes especially in the evenings. Do not take only T-shirts and shorts with you on your backpacking trip to Ethiopia!
Travel Tips for Ethiopia #10: Just enjoy your backpacking Ethiopia adventure
As you have seen, backpacking in Ethiopia is certainly not as easy and enjoyable as in Southeast Asia. Accordingly, the country can only be recommended to "experienced" travellers. If you've never left Europe before, Ethiopia may not be the place to start. Because the culture shock will definitely hit you in Ethiopia.
I myself was often annoyed and frustrated with the country during my Ethiopia backpacking trip and even though I was thrilled with the diverse and unique landscape, some experiences also left a bitter aftertaste.
When backpacking Ethiopia, you should expect that not everything will always go according to plan and that it can sometimes be tiring and exhausting. Ethiopia is a true adventures experience and you should try to enjoy it independent of what might go wrong.
Backpacking Ethiopia – Places you have to visit!
Ethiopia boasts a unique landscape and its millennia-old culture. Mountains, rock churches, isolated tribes, salt flats and even an active volcano – in Ethiopia you will find all that. In the following, I'll tell you about the best sights and places in Ethiopia, which you should see when backpacking Ethiopia.
Ethiopia Backpacking – Attractions Gondar
Gondar is probably one of the most culturally significant places on your backpacking trip to Ethiopia. Here you will find the ruins of the former palace of Fasil Ghebbi. You should definitely visit this place. By the way, in the old ruins I felt more like being in Europe than in Africa. In addition to the palace, there are also some Orthodox churches (for example, the Debre Birman Selassie Church), which you can visit (usually for a fee). Also worth seeing is the Royal Orthodox Bath – the Fasilides Bath in Gondar. Generally, one full day should be enough to visit the most important Gondar sights. The city is (for Ethiopian standards) relatively touristy and there are some hotels and accommodation options. I stayed here at the Florida International Hotel Gondar – a good hotel, especially if you're tired of staying only in low budget places.
By the way, a visit to Gondar can also be well combined with the town of Bahir Dar – directly on Lake Tana. I have skipped this, but according to other travellers Bahir Dar is worthwhile if you just want to rest on the lake for a day or two. You can even see hippos here on a boat trip! Check out Manuhie Backpackers Lodge for a good and affordable place to stay in Bahir Dar.
By the way, Gondar is also the perfect starting point to organize your trip to the Simien Mountains. More about that below.
The Simien Mountains – Highlight of my backpacking Ethiopia tour
The Simien Mountains National Park my highlight in Ethiopia. If you enjoy nature and hiking, this destination is essential on your Ethiopia backpacking tour. The scenery in the mountains is breath-taking, and while there are tour operators who will take you on a one-day trip from Gondar to the Simien Mountains, I highly recommend that you opt for a 2-, or even better, 3-day hike into the mountains – it is worth it!
By the way – unfortunately it is not possible for you to visit the Simien Mountains on your own and without a guide. The "local Mafia" has in recent years threatened and attacked all taxi and truck drivers who have transported tourists to the park. Therefore, it is currently impossible to visit the Simien Mountains without a tour. In Gondar there are various providers, where you can spontaneously organize and book tours. You definitely have to negotiate here – a good price is $ 175 for a 3-day tour including guides, tent gear, sleeping bag, transport and food.
The Simien Mountains in Ethiopia are incredibly worth seeing. During a multi-day hike, you can see how the vegetation changes the higher you get. Therefore, bring warm clothes, especially in winter – it gets pretty cold at night. The view is incredible, and you can also see wild animals (especially monkeys). At the campsites, your guide prepares dinner for you after the long hiking days and you meet other travellers around the campfire and let the day fade away. Internet, toilets and showers are not available.
A big highlight for me was also watching thousands of monkeys jumping down the cliffs (to protect themselves from leopards at night) right during sunset. The three days in the Simien Mountains were amazingly beautiful and you should definitely add this national park to your Ethiopia backpacking itinerary.
Visiting Lalibela in Ethiopia
While I was very excited about the Simien Mountains in Ethiopia, I was rather disappointed with Lalibela. But let's start from the beginning: The small town of Lalibela is located between Gondar and Mekele but is not connected by any main road and is best reached by plane because of the mountainous landscape and poor infrastructure (alternatively, it takes two days on public buses from Gondar). Accordingly, it is already associated with some effort and expenses to reach Lalibela. Unfortunately, the place had little to offer and appeared more like a large, dusty construction site.
The only reason why Lalibela is an essential part of an Ethiopia itinerary for most tourists is the rock churches of Lalibela – one of the most famous and well-known Ethiopia attractions. These 11 churches, which according to the legend were created overnight by King Lalibela through the divine hand and the support of angels, are all located in an area in the middle of the village – the churches are carved out of a single rock. While this is amazing, the unsuspecting tourists will need to face an unpleasant surprise. Admission to Lalibela costs an incredible $ 50! Nowhere else in the world have I paid so much for any attraction. And then, of all places in the world, you are asked to pay such a fortune in one of the poorest countries in the world – it makes no sense. The problem of Lalibela is that, apart from the churches, there is absolutely nothing to see. If you are already in town, you have no choice but to pay. Alternatively, you should delete Lalibela from your Ethiopia backpacking itinerary directly – which I would probably recommend.
Sure, the stone churches are certainly culturally impressive and valuable. However, despite the high entry fee which really feels like a tourist scam, there is no information or description about the churches either (a guide costs will cost you extra). Therefore, you walk through the underground rock churches without any guidance and you'll have seen the whole area relatively fast. Further, huge metal constructions are built to protect the rocks spanning above most churches and therefore prevent really beautiful photos.
Lalibela is probably one of the most famous places to visit in Ethiopia – but I was rather disappointed and would evaluate very carefully whether including this destination on your backpacking Ethiopia trip is really worth the cost and circumstances.
Ethiopia Backpacking – Visiting Mekele
Mekele in north-eastern Ethiopia is one of the larger cities in the country. Although there is not really much to see, you'll find plenty of restaurants, cafés (some even with Wi-Fi!) and bars. The city is especially used as a base for tours into the Danakil Depression. And this is an adventure you shouldn't miss when backpacking Ethiopia!
A tour to the Danakil Depression Ethiopia
The Danakil Depression in Ethiopia is unique and a must-see! Nowhere else in the world will you be able to see such an incredible landscape. The Danakil Depression is considered one of the lowest regions of the world and is named to bear the most hostile living-conditions on this planet. You can visit this Ethiopia highlight on a 3- or 4-day tour. There are several tour operators and I went with the agency ETT and had good experiences. By the way, you have to negotiate the price – especially if you inquire in advance online, you will be quoted much more. $ 300 is a good price for the 3- or 4-day tour (I got told that the price doesn't change if you're going for 3 or 4 days). This price also includes a private taxi transfer from Lalibela or Aksum – just ask when contacting ETT via email.
By the way:I was advised against the 4-day tour. You will visit the same sights and locations as during the 3-day tour, plus you get an extra afternoon to rest in the desert. But since it is not necessarily luxurious in the Danakil Depression (without any bathrooms and electricity), 3 days are enough to see everything and you're not missing out on anything if you skip the 4thday.
Early in the morning, we drove off with our driver and guide in our jeep. Mekele was left behind and we got further into the uninhabited and desert-like east of the country. After several hours, we arrived in the salt desert in the afternoon. Here we were able to observe the camel caravans, which carry the mined blocks of salt to the next town (taking them several days). We were able to watch the beautiful sunset directly on the salt lake before we spent the night in the desert camp under the open sky.
At the next morning, we went to Dallol – this region is full of sulphur springs, which makes the soil appear in toxic red and yellow colours. You can move freely here, but you have to be very careful where you step. It is incredibly hot here; the notorious sulphur smell of rotten eggs is in the air. An incredible experience. You will not find such a landscape anywhere else in the world and I felt like I was on another planet.
Afterwards, we were also able to observe the local workers doing salt extraction in the desert. You can see the workers beating chunks out of the salt surface under burning heat – a sweaty profession with which no one wants to trade voluntarily.
Now wo continued to the big highlight of the Danakil Tour – the Erta Ale volcano! This volcano is considered one of the most unique sights of Ethiopia. Here you have the opportunity to see an active volcano up close. After arriving at the basecamp at the foot of the volcano, we were able to rest a bit. After dinner and nightfall, we finally started our hike – equipped with torches we climbed the volcano crater. The climb took about 3 hours. We made it – we were on the edge of the Erta Ale volcano!
This natural spectacle is spectacular. I have already climbed some (active) volcanoes and seen them up close, such as the smoking Mount Bromo or the Ijen Plateau in Java, Indonesia. Never before have I been able to see the glowing magma streams directly in the volcano! We were able to get very close to the crater rim but had to protect our eyes and our mouth from the toxic smoke. Every time the wind turned, we got the biting smoke directly in the face, causing watery eyes and coughing. Every step had to be well considered, it was very dangerous. The natural spectacle was incredible and the (bad) photo is not properly giving credit to this experience.
Afterwards, we spent the night directly on the volcano crater, in sleeping bags on the ground. After only a very short night and before sunrise, we started our hike down again to the basecamp.
As you can see, a tour of the Danakil Depression is an incredible experience and one of the great highlights of an Ethiopia backpacking tour. Even though the $ 300 you'd need to spend for a tour is not very cheap and the experience won't be luxurious either, this is an experience you won't be able to have anywhere else in the world.
Backpacking to Aksum, Ethiopia
The city of Aksum is located in the very north of Ethiopia and is considered culturally and historically significant and valuable, since it was the centre of the former kingdom. However, I decided against a detour to Aksum on my trip to Ethiopia, because this place (like so much in Ethiopia) is a bit complicated to reach. The easiest way to get here (if you don't want to fly) is from Mekele.
The most famous Ethiopian landmark in Aksum are the steles – the ruins of a bygone civilization, from the time when Aksum was still a major trading centre. When visiting Aksum, you should also visit the Tigray rock churches between Aksum and Mekele – travellers had good experiences there (however, you will need a guide again).
Addis Ababa – Start and end of an Ethiopia backpacking trip
You will not be able to avoid the Ethiopian capital Addis Ababa on a backpacking trip through Ethiopia. Most likely, you will have the start or end point of your trip here (and many times both, unless you travel over land around Africa).
Addis Ababa is not necessarily known for its sights. The capital of Ethiopia has, like most African cities, not really much to offer. Therefore, a day should be enough to explore the city centre. Go visit the "Meracto" – the largest open market in Africa – where you can absorb the real African chaos. Take good care of your valuables because of pickpockets.
Historically very shocking and worth seeing is the Red Terror Martyrs Memorial Museum (fee of charge), where you will learn more about the terrible terror regime in the 70s in Ethiopia. Another famous place is the National Museum of Ethiopia. This exhibition is all about the country's beginnings and history, and you can marvel at the bone model of Lucy – the "first human".
The most modern district of Addis, where you will also find plenty of accommodation options, is called Bole. There are hotels, guesthouses and hostels, various shopping malls, modern restaurants, bars and cafés. Bole is also considered very safe and therefore probably the best place to stay when visiting Addis. Close by, you can visit the Bole Methane Alem Cathedral.
Attractions of Ethiopia in Harar
Harar is located in the east of Ethiopia, towards Somaliland. Harar is Muslim and differs accordingly clearly from the orthodox north of Ethiopia. There are several mosques and colourful markets to explore. While Harar is a detour from the classic Ethiopia itinerary, it is a perfect stopover if you continue to travel to Somaliland. Read more about Harar!
A tour in the Omo Valley of Ethiopia
The beautiful Omo Valley in Ethiopia is home to some of the most remote tribes in the world. Here you can experience a unique ethnic diversity and get an insight into the world of the Ethiopian tribes far away from the tourist hubs.
Unfortunately, exploring Omo Valley on your own is very difficult (or almost impossible), and you will need to rely on tour guides again (as so often in Ethiopia). The easiest (but unfortunately also the most expensive) way to visit the tribes is with an organized tour from Addis Ababa. However, if you have time and patience, there is a cheaper way – in this blog post you will find a detailed description of how to visit the Omo Valley.
Resume on backpacking Ethiopia
I hope I was able to tell you more about backpacking Ethiopia! Let me know in the comments – have you been to Ethiopia? Are you planning to visit? What are your thoughts?
Did you like my article and find it useful? Let me know in the comments - I'm always happy to hear from you :) Cheers, Patrick
*This post includes affiliate links. If you buy a product or a service through these links, I earn a small commission. There is no extra cost for you and your purchase helps me running this website and providing free information. Thanks for your support!