Bangkok, also known as the "City of Angels", is one of Asia's most fascinating metropolises and a popular destination for backpackers from all over the world. The capital of Thailand is loud, chaotic, dirty, modern, wild, hot, exhausting, exciting – and simply unique. For many travelers and backpackers, Bangkok is also the first stop on a Thailand or Southeast Asia backpacking trip thanks to the large international airport. In short, most tourists in Asia will be in Bangkok sooner or later! And even if the city can be very overwhelming in the beginning,you shouldn't escape immediately to the more relaxed Chiang Mai in the north or the islands in the south of Thailand. Because Bangkok certainly has some great sights and attractions. Take a few days and enjoy the chaos of Bangkok. You will not regret it! I have been to Thailand's capital several times and discover new neighborhoods and highlights in Bangkok each time I visit. Incidentally, Bangkok was also the place where I ever set foot in Asia – on my very first big backpacking trip! That's why "The City of Angels" and Thailand in general will always be something special for me. In this article I would like to give you some important information and tips for backpacking Bangkok and your vacation there. In addition, I will introduce you to the best Bangkok attractions that you should not miss when visiting the city!
Backpacking Bangkok: Places to See & Things to Do!
Bangkok has lots of great attractions to offer, and you can spend days exploring the city without getting bored. Here I would like to introduce you to the most interesting and best attractions of Bangkok, which you should not miss.
Grand Palace and Wat Phra Kaeo
This is probably the most famous place to visit in Bangkok and often the first spot tourists visit. The Royal Palace also houses the famous Wat Phra Kaeo Temple, the temple of the Emerald Buddha. Here you can admire the beautiful architecture of the palace and see one of the city's most important temples. The royal family plays a very important role in Thailand, so this place in Bangkok is special.
By the way, the entrance fee is 500 baht and you have to make sure that you have your legs and shoulders covered . If necessary, you can also borrow long clothes at the entrance. Unfortunately, it can be very crowded here, so it is worthwhile to visit the palace early in the morning.
Wat Pho
Just south of the royal palace is the Wat Pho Temple, where you can see the famous Reclining Buddha. This one measures 45 meters! This statue is the great highlight of the Wat Pho temple and probably the reason why this place in Bangkok is so worth seeing. The entrance will cost you 200 baht.
Lumphini Park
This large green area is considered the "green lung" of Bangkok and lies between the modern business districts of Silom and Sukhumvit. Here you can relax on a long walk, recover from backpacking in Bangkok and enjoy peace in the hectic metropolis.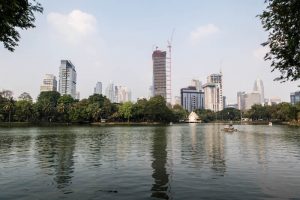 Rod Fai Train Night Market
This night market is very popular for tourists in Bangkok, especially because of the beautiful view with the countless colorful, brightly lit stalls. While I was visiting, the market was busy and not as "local" as the markets in Chinatown, but not too touristy either. A good middle ground. Here you can taste some great treats of the Thai cuisine and enjoy the beautiful atmosphere. By the way, you get the famous view of the night market (see photo below) from the parking deck on the 4th floor of the Esplanade department store, right in front of the night market. Keep in mind that there are two Rod Fai night markets in Bangkok, here I describe the "new" Rod Fai, which is located directly at the metro station "Cultural Center". The old night market is a bit out of Bangkok and I have not visited it yet.
Golden Mount Temple
This temple, located in the old part of Bangkok, is a little less known than the famous Wat Arun and Wat Pho, but still worth seeing. The special feature of the Golden Mount is, as the name implies, the great location on a small hill in the city. Some steps take you up through a green area to the top, where the temple is located and includes with a viewing platform. You'll get a cool view of Bangkok.
Wat Ratchanatdaram and Wat Thepthidaram
I discovered these two temples more by accident (when looking from the Golden Mount on them) and these temples are still real insider tips in Bangkok. They are right next to each other and close to the Golden Mount. During my visit, there were almost no other tourists there, which makes the temple very relaxing compared to the other famous sights in Bangkok. By the way, you can get to the top floor of Wat Thepthidaram, from where you have a great view.
Wat Arun
Let's jump to one of Bangkok's greatest landmarks, the "Temple of the Dawn". This is probably the most beautiful and most extraordinary temple in the city, which you must not miss. This temple towers over Bangkok and is hard to overlook. You can find it on the western side of the Chao Phraya – the big river through Bangkok. The Wat Arun is incredibly beautifully decorated and you should definitely see it up close. The entrance fee is 80 baht.
Khao San Road
For decades, Khao San Road has been famous and infamous as a hub for backpackers and tourists from all over the world. Even Leo DiCaprio has already walked down this street in "The Beach"! Here you will find everything you imagine when it comes to the typical "Thailand Backpacking" experience – and all stereotypes will be fulfilled. Wild bars, drunken gap year students, grilled scorpions, laughing gas balloons, buckets full of alcohol, ladyboys – Khao San Road has it all. Many people avoid this street and it's easy to see why. Generally, Khao San Road and the surrounding area is a cool place for backpackers in Bangkok to meet other people and to have a fun evening. That's why I recommend a visit despite all the negative stereotypes – just be prepared. However, keep in mind that Bangkok is much more than Khao San and you definitely shouldn't spend your entire stay there. You love it or you hate it – but Khao San Road is definitely one of Bangkok's most famous and infamous sights.
Chinatown Bangkok
Bangkok's Chinatown is definitely worth a visit on your backpacking adventure! This neighborhood is located on the banks of the Chao Phraya River, just south of Khao San, Golden Mount and the Royal Palace. Here you will find countless markets, narrow and hectic streets and the typical Asian market chaos. I recommend you to just let go and wander through the streets and markets. Here you can buy everything you can imagine!
Flower Market
Close to China Town is one of Bangkok's most famous markets, the flower market. As the name implies, you will find countless flowers here and unlike many other (especially food and meat) markets in Bangkok, this market is beautiful to look at and a great smell is in the air. Personally, I was at the flower market in the afternoon and at this time it was surprisingly empty – maybe there is more going on in the morning.
A boat cruise on the Chao Phraya River
The Chao Phraya River winds through Bangkok like a snake and a boat trip on it should definitely be on your to do list when backpacking Bangkok. You can book a private and touristic river cruise here. However, you can easily explore the river on one of the many ferries that are part of Bangkok's public transport. Although these are often very crowded, the water helps you getting around a lot faster than on the crowded streets. For example, after visiting the Royal Palace or the Wat Pho temple, you can continue by ferry on the Chao Phraya to Chinatown.
Jim Thompson House
This Bangkok attraction is the former home of famous American entrepreneur and artist Jim Thompson, whose disappearance in 1967 still has some myths around it. Thompson was a well-known and important person and you can admire his art collection on a tour of his home and the surrounding gardens. The Jim Thompson House costs 200 baht admission and you'll get a half-hour tour of the property. Although I would not name Jim Thompson's house as an absolute "must see" in Bangkok, if you have time or are particularly interested in Thompson, it's well worth a visit.
Chatuchak Weekend Market
Bangkok is of course known for its markets. The most famous and popular market here is probably the Chatuchak Weekend Market, which is Thailand's biggest market! This one is also open during the week from Wednesday to Friday, and of course, especially on the weekend full of people. In the busy and crowded streets you will find everything you can imagine. Let yourself drift away, observe the locals and dive into the Asian cultural experience.
Airport Graveyard
This place has become increasingly popular with tourists in recent years and you can admire and visit the wrecks of some airplanes here. Note, however, that there are some locals "living here" who demand a certain and often flexible entrance fee from the visitors. Since aggressive behavior has occurred here in the past, you should pay this fee if you want to visit the airport cemetery in Bangkok.
Go for a Thai Massage
Bangkok and Thailand are known for the great and cheap massage studios, where you can relax for little money. Do not worry, the massages are normally not sexual. If you want, you can find those as well (sex tourism in Bangkok is definitely a thing), but usually you can already see from the outside whether it is a normal massage studio or if "special services" are offered. Generally you get a massage anywhere in the city, for about 5 € you get a great 1-hour foot massage or full-body massage. A perfect way to rest and relax after a busy day of backpacking in Bangkok.
Enjoy a drink on top of a rooftop bar
Bangkok has not only famous sights but also an amazing skyline that you can not miss. That's why you should visit one of the many skybars in the city. Those are mostly along Sukhumvit Road or in Silom and Lumphini Park. Here, the beer costs you a few euros more than in the supermarket (up to 10-12€ in some places), but you also get a great view. Be careful not to wear shorts and flip-flops here, you might be refused to enter.
The best day trips when backpacking Bangkok
As you can see, Bangkok has countless attractions and interesting places to offer. If it gets a bit boring or exhausting in the city, you can use Bangkok as a convenient starting point for day trips. Here are some popular Bangkok day trips that you can do either with a tour agency or independently by public transportation.
Day tour from Bangkok to Ayutthaya
The ancient capital of the Kingdom of Siam, Ayutthaya, is located just outside of Bangkok and is certainly worth a visit. Because Ayutthaya is probably one of the best known Thailand attractions, you should spend here (at least) one day. You will find countless temples, ruins and you can learn more about the history of Thailand. If you visit Ayutthaya for one day as part of a tour, you will be able to visit several of the most famous sights and destinations in the city. If you are visiting independently, you can rent a bike and explore the area.
The Floating Markets around Bangkok
There are countless floating markets in Bangkok and the surrounding area where you can spot the locals on the famous long tail boats trading, buying and selling. These markets are unfortunately not located directly in the city center of Bangkok, but just outside. You are spoiled for choice between many different markets which you can visit. Note, however, that especially the most famous ones of them, have become more and more touristy and less authentic over time. A floating market is a great experience anyway. Some of Bangkok's best known floating markets are the Damoen Saduak Floating Market, the Amphawa Floating Market and the Taling Chan Floating Market.
Read more about the different floating markets around Bangkok here.
Trip from Bangkok to Koh Kret
This island in the famous Chao Phraya River is a great place to escape the urban jungle of Bangkok. You can explore the small island by bike or on foot and enjoy the nature and culture away from the hustle and bustle. Koh Kret is located north of Bangkok and the best way to reach the island is by boat.
Day tour to Chanthaburi
The city of Chanthaburi, in the southeast of Bangkok, is still very undiscovered by tourists and a true Thailand insider tip. Here you can see the real life in Thailand.
Important travel tips and information for backpackers in Bangkok
A holiday in a big city like Bangkok with so many attractions and a completely different culture can seem overwhelming at first. Here I would like to give you all important information and travel tips for Bangkok so that you are well prepared for your backpacking journey in the Thai metropolis.
Transport in Bangkok: How do I get around in Bangkok?
Avoid Tuk Tuks: The famous tuk tuks are important in many Asian countries and a practical means of transport in some cities. Unfortunately not in Bangkok! Here the tuk tuks are notoriously known for ripping off unsuspecting tourists. Either too much money is required here, or you get a super low price – but then the Tuk Tuk driver will take you instead of the discussed attraction in Bangkok to the nearest gift shop or gemstone shop pressuring you to buy fake and useless products. Most travelers do not have good holiday experience when using tuk tuks and you should avoid them completely.
Make sure to use the meter: By taxi, you can get around well and for little money in Bangkok. But only if the driver turns on his meter! Although this is a legal requirement of the government, it is often necessary to remind drivers and some refuse. In this case, just wait for the next taxi. Luckily, you can also order taxis practically with the app "Grab" – here the price is specified directly in the app (like Uber).
Use the Metro or the Skytrain: In Bangkok there are a few (unfortunately too little) skytrain lines and the train is very modern and takes you a lot faster around than by car. Especially if you move around Sukhumvit and Silom, the skytrain is the best option. The large Suvarnabhumi Airport is also connected to the Skytrain, the smaller Don Muang Airport unfortunately not yet. Unfortunately, you can not reach the famous tourist areas around Khaosan Road, Chinatown and the Grand Palace with the Skytrain but they are building new lines at the moment.
Use the Boats: In Bangkok you can also get around quickly and conveniently by boat or ferry! There is a large network of connections here and luckily there is no traffic jam on the water. Ferries and boats transport passengers for little money on the Chao Phraya River and on the city's smaller Khlongs (canals).
Respect the culture and wear appropriate clothes when backpacking in Bangkok
In Bangkok, it's usually hot and humid, which is why you're most comfortable in shorts and T-shirts. But keep in mind that out of respect for the culture, you can only enter the temples of the city with long trousers and covered shoulders. You also have to take off your shoes and socks in front of the temple. I always carry a sarong in my backpack when visiting Bangkok, which I can quickly wrap around my waist if necessary.
Never say that it's your first time visiting Bangkok
You are often asked by locals if you are in Bangkok for the first time. While not everyone is likely to plan anything bad here, you are prone to the typical scams when admitting that this is only your first day in Bangkok and that you do not even know the city at all. That's why I give you the tip for your Bangkok stay to always pretend that you were already here before and that you'd know the city well.
Get a local sim card for your Bangkok trip
In Bangkok, it's important to have functioning mobile internet. Like this, you can easily orientate yourself on Google Maps, order a taxi with Grab or just do some research on the Bangkok attractions. Although there is Wi-Fi in almost all restaurants and hotels, I still recommend to buy you a sim card with Internet for your Bangkok vacation. These sim cards are available for just a few euros (depending on the data volume) and you can buy a SIM card directly at the airport or in one of the many malls and shops. You have several providers to choose from, all of which are similar, such as Avis and dtac. Like this, you have fast 4G Internet everywhere in Bangkok and around most places in Thailand during your backpacking trip!
Don't believe that the Grand Palace is closed
It is probably the oldest and most famous tourist scam of Bangkok and still tourists regularly fall for it. When approaching the Grand Palace, you might meet some locals trying to convincingly assure you that the Great Royal Palace would be closed today due to some incident or holiday. However, they will offer to drive you to another attraction in Bangkok. Do not believe a single word! These people just want to rip you off and take you to the nearest gift shop. Just keep going, the Grand Palace is open!
Watch out for fake products (especially gems)
Another famous scam in Bangkok is the sale of counterfeit products, such as gemstones. The locals will assure you that it's real and a "good price", but mostly it is cheap and faked goods. If you want to shop in Bangkok, you should be very careful and do proper research.
Drink enough water to stay hydrated
In Bangkok, it is incredibly hot and especially if you just arrived in Southeast Asia, your body must first get used to the heat and the climate. I advise you to drink enough water to avoid dehydration.
Use lots of suncream
Although the sky in Bangkok is often cloudy or the sun overshadowed by the polluted air, you should be careful. This still does not protect you from the extreme sunlight! Use plenty of sunscreen with a high SPF, otherwise you can burn your skin in Bangkok unfortunately.
Be prepared for lots of traffic in Bangkok
Bangkok is a huge metropolis and unfortunately the public transport network is not yet developed to connect every part and area in Bangkok by metro. Especially during rush hour you have to expect a lot of traffic in Bangkok, where even short distances can take much longer. Most important is that you plan well in advance if you need to take a taxi to the airport or train station.
Try the street food when backpacking Bangkok
Bangkok is known for its delicious street food that can be found everywhere and at around every corner of the metropolis. If you skip all of this due to hygiene reasons you really miss something on your Bangkok backpacking adventure. Because here you will often find the most delicious food in town for little money. Generally, I have only had good experiences with the street kitchens in Bangkok and have not had any problems yet. Funny enough, I do not know anybody who got sick from eating street food in Bangkok – but there are some friends of mine who got food poisoning and stomach problems in more expensive western restaurants in Thailand. The reason? In the food stalls in the street you can see the products and they are cooked before your eyes. In addition, food is cooked and produced much faster than in tourist restaurants, since all the locals eat on the street all the time. My travel tip for Bangkok? Just keep your eyes open where locals eat – that's always a good sign.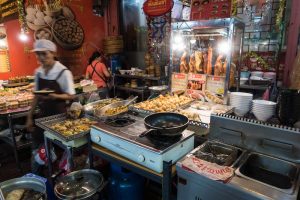 Be prepared for spicy food
In Thailand, people love to eat very spicy! A simple curry might even get tears in your eyes. I always tell the waiters when ordering to to cook my dish without too much chili. Sometimes this works well, sometimes less.
You'll find everything you need in a 7 Eleven
If you're walking through the streets of Bangkok on your Thailand backpacking trip, you'll quickly notice the 7 Eleven stores that are on every corner. These stores are awesome, because here you really get everything you need! From food to hygiene products, coffee and sweets – at 7 Eleven you'll be served! Practically, these stores are usually open 24 hours a day, 7 days a week.
What about the red light districts and sex tourism in Bangkok?
Unfortunately, Thailand and especially Bangkok has a reputation as a sex tourism destination. However, this is only a small side of the city and should not deter you from a Bangkok vacation. Nevertheless, you will sooner or later see the stereotypes with your own eyes during your stay in the city. Especially in the well-known nightlife areas you can see many old, white men with young Thai girls. Sadly, sex tourism is also a part of Bangkok. If you want to see it all for yourself, you can walk through the Patpong night market or the Soi Cowboy nightlife district in the evening. Here you will be continuously invited to the famous ping-pong shows or sex shows in Bangkok.
What are the different airports in Bangkok? How do I get into the city?
Bangkok has two airports, Suvarnabhumi Airport and Don Mueang Airport. The Suvarnabhumi is served by most "big" airlines from Europe, the US, etc., while the Don Mueang is used by Asian (low budget) airlines. The Suvarnabhumi is connected to the Skytrain, which brings you fast and cheap to the center of Bangkok. Unfortunately you can only reach the Don Mueang Airport by taxi.
Do I need a visa for backpacking Thailand (or Bangkok)?
This depends on your nationality. With a German passport (this is also true for many other nations – but make sure to double check) you can enter Thailand for a month without a visa. However, the airline at the departure airport may ask you for a valid return ticket. If you are on a longer trip to Asia and want to be flexible, I would simply explain that you travel on the land route to Cambodia or Laos. If this is not accepted, I would spontaneously book the cheapest flight out of Thailand (20-30 €). At the immigration in Bangkok, nobody is usually interested in your return ticket. By the way, you will get a departure card at the immigration, which you should keep well, as you have to show it on your departure.
Where should I get my accommodation in Bangkok?
There are countless accommodation options and neighborhoods in Bangkok, so you have the choice here. The most popular tourist destinations in Bangkok are probably the area around Khao San Road, Silom, Siam and Sukhumvit. Silom, Siam and Sukhumvit are among the more modern districts of Bangkok. There are no special sights here, but many upscale hotels, restaurants, bars and shopping malls. In addition, these areas are also connected to the metro and therefore convenient. If you are traveling as a backpacker, I give you the tip to look for accommodation in the area around (close to) ​​Khao San Road. This party street is the classic backpacker mecca in Bangkok. But beware – I advise you not to stay at the Khao San Road directly, as it is always loud and busy. Find a place a few streets away. In the area you will find countless cheap hostels and guesthouses. Although the Khao San area is not connected to the Metro, you are conveniently close to some of Bangkok's most famous attractions, such as the Grand Palace, Wat Pho and Chinatown. For partying and to get to know other backpackers, the Khao San Road is great.
Is backpacking in Bangkok safe?
In short, yes, Bangkok is a safe destination. This also applies to the whole of Thailand (apart from a small area in the south on the border with Malaysia, where it sometimes comes to issues). The biggest danger in Bangkok will probably be the traffic! Sure, Bangkok is a big city and of course you should take good care of your valuables here, especially in crowded markets. Also, there are some typical tourist scams and rip-offs that I have already mentioned earlier. You should be careful anyway. However, in Bangkok you do not have to expect violent robberies and even at night it is safe to walk through the streets.
How's the hygiene in Bangkok?
Of course, Bangkok does not have the same standards of hygiene as Europe. Nevertheless, I did not have any problems in Bangkok yet and as I already mentioned, that should not stop you from enjoying the delicious street food. Just open your eyes and eat where the locals eat. By the way, you should not drink the tap water, but it is not a problem to brush your teeth with it.
What's the best season to go backpacking in Bangkok?
Bangkok is considered a tropical destination year-round, but you should keep an eye on the climate while planning your holiday. The best time for a backpacking trip to Bangkok is the European winter, as it is not so hot and little rain falls. In the spring (March / April) it gets very hot in the city, while the rainy season starts in the summer (around June / July) and it gets very humid and wet in Bangkok. Although this is not the optimal travel time for Bangkok, it should not stop you from a visit. I was already in Bangkok during the rainy season and the good news is that it rarely rains all day. Mostly you have 1-2 short, strong rains for about half an hour and then you can easily continue sightseeing in Bangkok.
How long should I spend in Bangkok?
That's hard to say and in Bangkok you can probably stay for several weeks without being bored in the bustling metropolis. However, if you do not have much time, you can visit the most important Bangkok attractions in 2 days. However, I recommend to use Bangkok as a base for day trips as well. For example, if you want to visit Ayutthaya, you should plan an extra day. Do you need more inspiration or are you even traveling with family? Read about all the fun things you can do in Bangkok with kids!
Personally, I have been to Bangkok several times already and have never been bored for a second and every time I discover new cool and interesting places in the Thai capital!
Read more: I created a summary of my experiences as a Wanderguide about Bangkok on Travelade.com – make sure to check it out!
I hope I could tell you more about backpacking in Bangkok. Have fun in Thailand!
Did you like my article and find it useful? Let me know in the comments - I'm always happy to hear from you :) Cheers, Patrick
*This post includes affiliate links. If you buy a product or a service through these links, I earn a small commission. There is no extra cost for you and your purchase helps me running this website and providing free information. Thanks for your support!