My trip was kindly sponsored by Agrotourism Cyprus and therefore involves advertisement for tourism in Cyprus. As always, all opinions and reviews are my own.
I didn't know much about Cyprus. Therefore, I was super excited when I got invited to spend 5 days on the island with Agrotourism Cyprus in the beginning of August 2018. I was flying into Paphos, a region on the western side of Cyprus and probably one of the most popular and beautiful destinations of the country. I got picked up by my lovely driver Demos and in the following days, I had the chance to explore rural Cyprus. In the following, I will tell you more about my experience with Agrotourism Cyprus and my tour around the countryside of Paphos.
By the way – here's a video about my Agrotourism Cyprus experience in Paphos!
Villages of Agrotourism Cyprus in Paphos
As part of my tour with Agrotourism Cyprus, I had the chance to visit several small and rather rural villages around Paphos. While many tourists visiting Cyprus probably stay along the coast and in the city of Paphos, it's been great to actually see more of the local life. The villages I visited were rather non-touristic and therefore, I've been able to get an interesting insight into the village life.
Goudi Village
I spent my first two nights on my tour with Agrotourism Cyprus in Goudi village, which is about 45 minutes north from the southern coast of Paphos. There's a fast road combining the south and the north of the island and Goudi village is conveniently located close to the main road. My accommodation was Elpida's Stonebuilt houses, which was the perfect start into my Cyprus Agrotourism experience. I had my own big apartment with a beautiful view of the landscape of Cyprus and a nice pool. My fridge was filled up with local delicacies for breakfast, including fresh grapes, cheese, sausages and vegetables – a perfect start into the day!
Lysos Village
On my second day with Agrotourism Cyprus, I visited Lysos Village. Only a little bit more than hundred people live here – therefore, it's the perfect place to relax and enjoy the rural life. Here's where I met Mr. Panagiotis, who gave me a village tour and also showed me his Agrotourism Cyprus guesthouse "Marmaras", which actually belonged to his grandfather and was now redesigned. Next to the 3 studios for rent, there's also a huge open room with big glass windows and a great view of Lysos.
Steni Village
One of my favorite villages with Agrotourism Cyprus in Paphos is certainly Steni village. Steni is next to Lysos and similar in its size. After a fantastic lunch at local's favorite Neromylos Tavern, I was welcomed be Mr. Elias, who's the head of the community council. It's been easy to see that Mr. Elias is completely in love with "his" village and spends a lot of time and effort to support Steni. And the results are clearly visible – Steni just got voted to be the cleanest village of Cyprus!
I visited the museum of village life in Steni – which consists of a collection of hundreds of artefacts, utensils and tools which were used in the past in Paphos. The whole museum was created and funded by Mr. Elias – super impressive and worth a visit! Afterwards, Mr. Elias even drove me to a church which is located in the mountains just outside of Steni. The view of the island was incredible!
Miliou Village
My accommodation for my last 3 days with Agrotourism Cyprus in Paphos was in Miliou Village. While my Agrotourism property in Goudi was more of a local guesthouse experience, in Miliou, I stayed in the Ayii Anargyroi Natural Healing Spa Resort. The resort was much bigger than Elpida's Stonebuilt Houses, with a large pool, a restaurant and of course a relaxing spa! After all the sightseeing, it's been great to calm down and relax. In the Ayii Anargyroi spa, I enjoyed a swim in the sulphur jet pools as well as a personal massage. After my treatment, I was able to relax in the peaceful quiet room with a beautiful view of the landscape of Cyprus. Super relaxing and well needed!
Kathikas Village
If you're looking for beautiful, colorful streets and a Greek flair, Kathikas village is the place to visit. This village is super Instagrammable and I enjoyed exploring its streets. If you're planning to spend the night here, the Agrotourism Cyprus establishment "Loxandras house" has you covered.
Just outside of Kathikas village, you'll find the Vasilikos Winery. Paphos is actually a popular wine country, and the Vasilikos winery is the place to learn (and taste!) more of it. I was welcomed at the winery by Mrs. Marina Andronikou, who is the General Secretary of Cyprus Agrotourism and who showed me the winery as well as Kathikas village. We finished the day with a delicious feast at the Yiannis Tavern in Kathikas.
Episkopi Village
Only a short drive from the city of Paphos, you'll find Episkopi village, located in the Ezousa Valley. I was welcomed by Mr. Andreas Chrysanthou, who's working at the Episkopi Pafos Environmental Information Centre. Andreas was super nice and explained a lot about his work in Episkopi and Agrotourism in Cyprus. He gave me a tour around the environmental information centre including the garden, and we walked further into Episkopi village. Since Episkopi is located in the valley, the village was built into a hill offering beautiful views of the surroundings. We enjoyed the sun and our frappé in the local café, where all the locals of Episkopi seem to come together.
Afterwards, I met Mr. Pambos Piskopos for a tour of the Cyprus Agrotourism establishments Androniki and Piskopos – two guesthouses located in Episkopi. With its proximity to Paphos city and the beautiful location in the valley, these properties seem to be a great location to unwind and to enjoy rural Cyprus.
Food in Paphos with Agrotourism Cyprus
One of my favourite parts of Cyprus was certainly the delicious food! The Greek influence in Paphos' cuisine is clearly visible, which means that every meal is a feast with loads of grilled meat, seafood and wine! Here are a few restaurants around Paphos which I truly enjoyed!
Y&P Fish Tavern in Latchi
On my first evening with Agrotourism Cyprus, I tried the local fish meze in the Y&P fish tavern, located directly at the harbor. I barely couldn't finish all the delicious dishes I got served!
Moustakallis restaurant in Latchi
The meat meze I tried at Moustakallis restaurant in Latchi was incredible! The restaurant is huge, but completely full of locals as well as tourists, and probably the place to be in Latchi. By the way, you'll certainly realize some similarities between Moustakallis restaurant and the Y&P fish tavern – and for good reason! The two owners are brothers!
Neromylos Tavern in Steni Village
This is a local's favorite and the place where many tourists stop for lunch whe driving around rural Paphos. The beautiful garden right next to the museum of village life in Steni is the perfect location for some traditional food!
Yiannis Tavern in Kathikas Village
If you stay in Kathikas in the evening, Yiannis tavern is your perfect dinner choice. There's a huge garden where you can enjoy the peaceful evening in the village with all those local delicacies.
Hondros Tavern in Paphos
The Hondros Tavern is located just up the street from the harbour front. Here's where I had my last lunch in Cyprus – and it's been a great feast! Portions are huge, staff is friendly and you can actually see how the famous Cyprus café is produced.
Mosfilos tavern, Polis
The Misfiles Tavern in Polis is conveniently located on the main street and therefore a good lunch stop on your way in and out of Polis. The restaurant is rather small and with a local atmosphere. You can enjoy nice traditional dishes from Cyprus here.
Neromylos tis Kouyioukkas
Would you like to learn more about the local production of bread, olive pie and haloumi cheese? This store is located just outside of Giolou village on the highway. Many locals stop here to buy local bread – and as mentioned, you can also learn a little bit more about the food production here.
Aphrodite Delights in Yeroskipou
On your way out of Paphos city, this store is the perfect place to try the famous Cyprus candy. A family business since many years, the delights are definitely worth a try and a nice souvenir from your visit to Paphos.
Sightseeing in Paphos Cyprus
As you've seen, I spent a big part of my time with Agrotourism Cyprus exploring rural villages and communities. However, there's more to see in Paphos! Here's what else I experienced and visited on my tour around Paphos.
Stavros tis Psokas
The Stavros tis Psokas forest station is a popular weekend destination for locals and located in the hilly Paphos forest. The scenic road through the valley and forest leads you to the forest station, where I was able to visit the unique Cyprus Mouflons.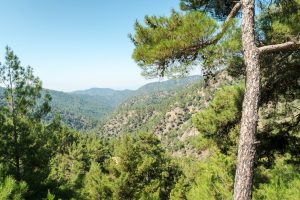 Blue Lagoon Bay Cruise
For me, the most beautiful spot of Paphos Cyprus is hands down the blue lagoon. The lagoon is located in the Akamas Peninsula National Park and several tour companies offer cruises along the coastline. The starting point is Latchi harbour, where I boarded the glass-bottom boat of the company Alkion. At 10:30 am, we departed and drove along the coast. Every now and then, speakers on board told us a little bit more about the nationalpark and the natural attractions along the coast. Finally, we arrived at the famous blue lagoon – and I seriously couldn't believe how crystal clear the water is! We had enough time at the lagoon to go for a swim and to enjoy the beautiful water. While there were several other boats (it's been high season), the lagoon was still big enough and I didn't feel as if the area was too crowded.
Read more details about the Blue Lagoon of Cyprus in my detailed post!
Paphos archaeological park & Tombs of the Kings
The city of Paphos is especially famous for its archeological sites and heritage. When you're visiting Paphos, you certainly should visit the archeological ruins. While the archeological park is located right next to the harbour of Paphos, the tombs of the kings are located a short drive north. At both locations, you can walk around a larger area and visit the tombs and old houses. This is the perfect place to learn more about Paphos' past and history.
Paphos Castle & Paphos Harbor
No visit to Paphos is complete without a visit at the harbour! The promenade is full of cafés and stores and the perfect place for a nice stroll along the coast. At the end, you'll find the Paphos castle. The observation deck on top gives you a nice view of the Paphos harbor area.
Final review of my Paphos tour with Agrotourism Cyprus
I enjoyed my 5 days in Paphos to the fullest. My itinerary was a great mix of sights, nature and the experience of the rural countryside of Paphos. If you're interested to see more of Paphos than only the main cities and attractions, Agrotourism Cyprus will be able to give you a deeper insight into the country. Thanks for the nice trip!
Did you like my article and find it useful? Let me know in the comments - I'm always happy to hear from you :) Cheers, Patrick
*This post includes affiliate links. If you buy a product or a service through these links, I earn a small commission. There is no extra cost for you and your purchase helps me running this website and providing free information. Thanks for your support!