Africa Backpacking Guide: Destinations, Highlights & Tips!
Here you will find all information about backpacking in Africa! Below, I'll give you travel tips on the best destinations in Africa as well as lots of other information worth knowing to help you prepare for your Africa backpacking trip.
Africa is often considered the most difficult continent for travelers – and with good reason. The tourism infrastructure is often non-existent, some countries are unstable and known for high crime rates and traveling on a low budget might seem difficult. It is fascinating and inexplicable to me how some of the world's poorest countries are among the world's most expensive destinations. Backpackers in particular often find it difficult to travel the continent on a low budget, but I will show you how it might still be possible.
I'll show you first of all the Africa travel destinations which I have already explored myself. Further, I will give you some helpful travel tips for backpacking around Africa.
Important: In many African countries, internet is censored and access to some websites and social media platforms (WhatsApp, Facebook) may be blocked. For this case, I highly recommend downloading and installing a VPN client in advance. Find all information here!
Africa Backpacking: My previous destinations in Africa
Africa is probably the most fascinating continent for me and I can not wait to find out more!
• Morocco: In the summer of 2014, I planned to travel to Morocco with three friends. Since these have canceled at the last minute, I went alone – my first solo backpacking trip!
Here you can read everything about backpacking Morocco.
• Kenya: In Kenya I had the chance to travel with a local friend for one month – this is still one of the greatest travel experiences I've ever had!
Read everything you need to know about backpacking Kenya.
• Egypt: In the winter of 2018 I traveled for two weeks around Egypt along the Nile through the country, from Cairo to Luxor and Aswan (and further across the border into Sudan).
Find all information in my guide about backpacking Egypt.
• Sudan: From Egypt I traveled to Sudan and along the Nile, through Karima, past the famous Meroe pyramids and finally to Khartoum, the capital of Sudan. Although Sudan is not considered a classic destination in Africa, it's been an awesome time.
Read more about my experience in my Sudan backpacking guide.
• Ethiopia: After Sudan my journey continued through Ethiopia. I spent about 3 weeks in the country and explore the most famous and popular sights and attractions.
Read all details about backpacking Ethiopia here.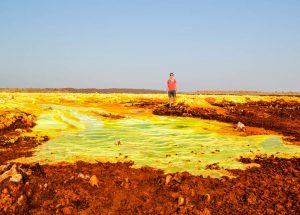 Travel tips for backpacking Africa
Now I would like to give you some general tips and information on backpacking in Africa.
Is Africa suitable for a backpacking trip?
Let's be honest: Africa is not one of the classic backpacking destinations like Southeast Asia or South America. Accordingly, Africa (apart from popular holiday countries such as Morocco and South Africa) is more suitable for more experienced backpackers, as it can also be quite complicated and exhausting to travel around the continent. Nevertheless, I can suggest you to go on an Africa Backpacking trip, as you will gain experience here like on no other continent in the world.
Is it possible to travel Africa on a low budget?
The cost is often one of the big problems and obstacles for Africa travelers. Living generally is not expensive in Africa (public transport and street food are dirt cheap), but everything related to tourism (including tours, safaris, and often visas and accommodation) is incredibly expensive. Of course, there are exceptions and you can for example travel Morocco, Egypt and South Africa on a small budget. But especially a trip to East Africa, with popular destinations such as Kenya, Tanzania and Uganda, can quickly become very, very expensive, making backpacking on a budget difficult. Especially safaris and guided tours (for example, to the gorillas in Uganda or Rwanda) cost you quickly hundreds of euros, as well as excursions to climb the Kilimanjaro in Tanzania.
Unfortunately, the problem in Africa is that in many countries you can not explore the most popular sights and destinations on your own (due to lack of infrastructure or security). That's why you'll probably have to rely on expensive tours because there's not much else to discover in the country – I've seen this in Ethiopia, for example, where tours to the Danakil Depression and the Simien Mountains are unique, but cost hundreds of Euros.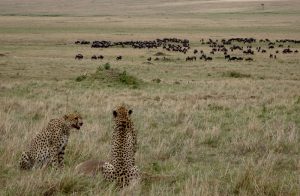 How's the visa situation?
Of course, this depends entirely on the country you visit and on your nationality and I cannot give any specific information here. In some countries (i.e. Morocco), many nationalities do not need a visa, in other countries, Germans can can get it at the airport (i.e. Egypt) or can apply online quickly and easily (i.e. Kenya). In some countries it is also very difficult and requires a lot bureaucratic effort to get a visa. For example, I had to apply for my visa for Sudan in Egypt, which took a few days, and subsequently register the visa at an official authority after immigration. Especially the countless states of West Africa are known for their often difficult to obtain visas, which are also associated with high costs. Here a single visa can cost you more than 100 €! Many countries, such as Eritrea and Algeria, are also very isolated and it is incredibly difficult, time-consuming and bureaucratic to get a visa. Therefore, before your Africa backpacking trip you should do your research and chose the countries you want to visit wisely depending on the visa situation.
Are there cheap flights around Africa?
This is another problem that backpackers and travelers in Africa often face. The distances in the continent are huge and it is often difficult to get from one country to another. Unfortunately, there are no real "low budget" airlines in Africa as in Europe or Asia. On the contrary – short flights within Africa often cost you more than an intercontinental flight from Europe to Africa or Asia! In some countries you can fly relatively cheaply within the country (for example, in Ethiopia), but taking a plane is only partially suitable for a longer Africa backpacking trip and you will depend on the often slow and unreliable public transport system.
Can I travel overland in Africa?
As just mentioned, it is often expensive and cumbersome to travel Africa by plane. Therefore, an Africa backpacking trip is best done by public transport or by rental car. Note, however, that many roads are often in catastrophic condition, buses regularly break down, and it often takes an incredibly long time to travel a short distance. Here you need patience and perseverance. If you want to immigrate overland in a new country, you should inform yourself well in advance about the border crossing. Border crossings are often (and especially in Africa) a bit dodgy, and in some countries you have to pass through countless checkpoints, lots of bureaucracy and corruption. So be well prepared.
Is backpacking Africa safe for travelers?
Of course, this can not be generalized for the entire continent. In Africa, you have some of the most dangerous countries in the world, which you should definitely not visit at the moment (i.e. Somalia, Libya and some Central African states). In addition to unbelievable poverty, there is also terrorism and violence. Nevertheless, and especially since we in Europe know little about Africa, it is recommended to take a closer look and not call en entire country wrongly a "no-go zone". For example, we only know Sudan as a civil war country where no tourist dares to go. However, certain parts of the country (the north and east) are considered safe and I have only experienced positive things and incredible hospitality. Of course, you should avoid the border with South Sudan and the West adjacent to Chad. Another example here is Somaliland – this autonomous region is not internationally recognized as a separate country, but is much more stable and secure than Somalia and can be visited by adventurous travelers coming from Ethiopia.
Popular destinations in Africa, such as South Africa or Kenya, have their dangerous places as well – especially the big cities like Johannesburg and Nairobi. Here you should inform yourself exactly which areas you should avoid and especially you should not be on the road at night. Violent crimes are unfortunately common there, and as a foreign tourist, of course, you are noticed from afar and automatically associated with wealth. Other destinations in Africa, such as Namibia, Ethiopia and Morocco, are considered quite safe for backpackers, but pickpockets could always be around and you better be careful (as everywhere in the world though). In general, I recommend that you research every potential destination in Africa before planning a trip, as the security situation can often and quickly change, especially in Africa.
Which countries are the best for an Africa backpacking trip?
As previously reported, backpacking in Africa can often be difficult. Classic destinations in Africa, which are well suited for backpacking, are probably Morocco and South Africa (possibly in combination with Botswana and Namibia). Although not directly suitable for backpacking beginners, but still recommend is my overland trip from Egypt through Sudan and to Ethiopia. A trip through East Africa offers you great sights and experiences, such as the various safaris in the National Park, but are often associated with high costs. If you have a certain budget (or are willing to skip some activities), the countries in Southeastern Africa, such as Kenya, Tanzania, Malawi and Zimbabwe, are suitable. Note, however, that you should not underestimate the distances and that you might need a lot of time for a trip through several countries.
Is it easy to travel Africa solo?
Of course you can travel alone around Africa. However, solo backpacking will not be as easy as in Southeast Asia, Europe or South America. In many countries and regions there are no hostels, you will not meet many other foreigners and it can also get very lonely. If that's okay with you, then this should not stop you from an Africa backpacking trip. Alternatively, you could join a guided tour.
How do I get to know other travelers in Africa?
As described above, it is not so easy to meet other travelers in Africa. If you are planning an Africa backpacking trip and are still looking for travel companions, it is worth taking a look at this Facebook group. Couchsurfing is also suitable, perhaps even to come in contact with the locals.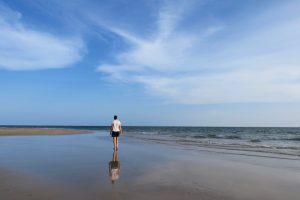 Why do so many travelers skip Africa?
As already described, Africa is not an easy continent to travel. The costs, the security, the visas, the poverty, the diseases, the hygiene. There are countless good reasons why backpackers should avoid Africa. Nevertheless, I can only recommend to everyone to give it a try – because this continent is unique and an exciting travel experience is guaranteed.
Which vaccinations do I need for Africa?
Before your Africa backpacking trip, you should check out the vaccinations you need, which vary from country to country. In some African destinations, vaccinations against yellow fever, typhoid fever, rabies, cholera and meningococci are either recommended or even required. It's best to get advice and consultation from a tropical doctor.
Health and safety in Africa: Which medicaments should I take with me?
Unfortunately, apart from poverty, Africa is also known for countless illnesses and diseases. Many countries in Africa have an incredibly high HIV prevalence, malaria is omnipresent in some regions, and West Africa in particular became notorious a few years ago with the Ebola outbreak. In addition to the vaccinations mentioned above, you should therefore be well prepared for other diseases. Since the medical care depending on the destination and region can be very bad, you should have a good first aid kit with you. In addition to the general medication (for diarrhea, stomach problems, etc.) I give you the advice to get some disposable syringes from your doctor at home. Because in some hospitals in the world, I would rather not trust the hygiene regulations and I'd prefer to let the doctor use my own syringe. Regarding malaria and dengue fever there is unfortunately no vaccine, here a good mosquito spray with DEET factor is the best way to keep safe. Note, however, that many regions of Africa (for example, much of Kenya and Ethiopia) are too high for the malaria mosquitoes, and the risk here is more in tropical regions along the coasts. Because of the side effects, I would take the malaria prophylaxis only when absolutely necessary and in remote high-risk regions. Additionally, you can buy the often very expensive malaria medicine in Germany in many local pharmacies (for example in Kenya) without a prescription and only for a few euros! If you have symptoms of a tropical disease, you should quickly go to a doctor (preferably to the hospital).
What are the highlights of Africa? Where are the best safaris destinations?
There is so much to see in Africa and countless destinations are worth a visit. The list of attractions in Africa is long – the pyramids of Giza, gorillas in Uganda, safaris in East Africa, the Victoria Falls in Zimbabwe, the Sossusvlei Desert in Namibia. In addition to these classic travel destinations, there are also some unknown highlights in Africa that you should explore, such as the Simien Mountains, the Meroe Pyramids or Lamu Island! If you are interested in safaris, the best region is East Africa (especially Kenya and Tanzania) and Botswana, but you can also find great safari parks in other countries, such as South Africa or Zimbabwe.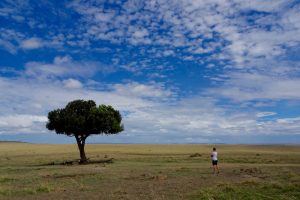 How much time do I need to go backpacking in Africa?
You probably will not be able to "tick off" Africa with just one backpacking trip. Therefore, you should choose in advance a few destinations. Depending on your budget and schedule, I recommend focusing on one country or a few instead of traveling to multiple countries in too little time. It is important to note that not everything will work out as planned when backpacking in Africa – therefore, you should have a certain flexibility with your schedule and not plan too much for one backpacking Africa trip.
How's the internet connection in Africa? Do I get Wifi?
Unfortunately, Africa is not popular for the fastest internet in the world, but the connection speed depends on the country. In general, however, it can be said that while WiFi in Africa is often slow and unreliable, you can get good internet access by purchasing a cheap local sim card in each country. In fact, I was very pleasantly surprised that I was able to buy a few gigabytes of high speed 4G internet most of Kenya and Sudan for just a few Euros. However, I also had bad experiences – due to government protests throughout Ethiopia during my stay, the internet connection in the country was severely limited and partly completely shut off. Depending on the country, you may also need a VPN client to access certain pages (for example, Facebook and Whatsapp).
In many African countries, internet is censored and access to some websites and social media platforms (WhatsApp, Facebook) may be blocked. For this case, I highly recommend downloading and installing a VPN client in advance. Find all information here!
What's the best time of the year to visit Africa?
That depends on the region. In general, of course, Africa is considered a hot destination, and especially the desert regions in North Africa should be avoided in midsummer. On the other hand, in winter, some areas (for example in the mountains of Ethiopia and in the highlands of Kenya) it can be very cold, especially at night. Only with t-shirts and shorts you should not go to Africa! South of the equator, of course, our summer is winter and vice versa. In many countries there is also a rainy season that should be avoided.
How do I get the local currencies in Africa? Are there ATMs?
Depending on the country, it is easy or difficult to get cash once you're there. In many more developed countries you will be able to pay with a credit card without any problems and you'll find ATMs at every turn. In other countries you will need cash. Especially in rural areas, there are often no or few ATMs and you should be prepared for it. Always have enough cash (Euros or US $) with you to exchange if needed. For example, in Sudan, due to inflation and the exchange rate, the only way to get money is to exchange bills on the "black market". Here is an important tip for Africa: When withdrawing money, you should always be careful. If possible, use ATMs in closed buildings (airports, shopping malls, banks) and avoid using ATMs at night.
What do I need to keep in mind when taking pictures?
Africa offers fantastic photo opportunities. However, you should know that in some countries, local are not a big fan of cameras (to say it mildly). All government sites, military posts or police officials should never be photographed, as this can cause serious problems in many countries. Before you take pictures of locals, you should always ask carefully if this is okay for them. Especially in rural and less touristy regions, locals often have a great problem with being photographed, and recently a traveler in Chad has been physically assaulted after taking a photo on a bus.
Is it difficult to travel around Africa as a backpacker?
This can not be answered with "yes" or "no" and depends on many factors. However, I would not describe backpacking in Africa as "simple" and your trip to Africa will probably involve a lot of organizational effort.
But it's worth it! Africa is fascinating, impressive and breathtaking. And I can only recommend you to explore more of this continent.
MerkenMerken
MerkenMerken
MerkenMerken
Did you like my article and find it useful? Let me know in the comments - I'm always happy to hear from you :) Cheers, Patrick
*This post includes affiliate links. If you buy a product or a service through these links, I earn a small commission. There is no extra cost for you and your purchase helps me running this website and providing free information. Thanks for your support!